Going to a museum can be expensive! Especially if you have a lot of people in your family.
There are ways to get around this though and that is what I am going to share with you today.
Did you know you can get free museum tickets? I'll share how to do so and a few tips to make your trips more enjoyable.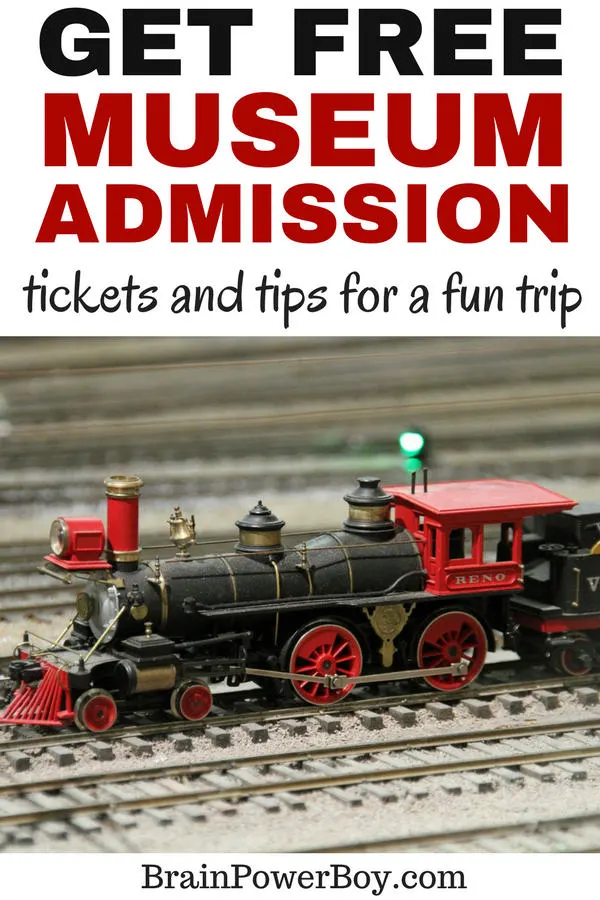 This post may contain affiliate links which means we may receive a small commission, at no cost to you, if you make a purchase through a link. All opinions are our own and we share things we think would be of interest to boys.
Free Museum Tickets
Museums offer free tickets! It's true. Here are some awesome ways to score free tickets.
Smithsonian Free Museum Tickets
My favorite way to get free museum admission is through Smithsonian Free Museum Day.
Each year, Smithsonian participating museums, offer free admission on a certain day. In 2017 the date is Saturday, September 23.
You can sign up on their website to get free admission for two to participating museums. We have taken advantage of this great program ever since we found out about it a few years ago.
One ticket is for two people. You will need to go to the Smithsonian Museum Day website and sign up for tickets which you can print out to take with you. Some museums also allow you to show the tickets on your smartphone.
Go check out what is offered in your state and get your free tickets here.
Military Family Admission
If you are a military family be sure to call museums you are interested in visiting and ask if they offer free admission for active military or veterans. Many do!
Another ideas is for Active duty military personnel and their families. They can go to this Blue Star Museums page for information on participating museums that offer free admission each summer.
Free Tickets in Your Community or State
While this seems a bit obvious, you should google "free museum tickets" and "your state" or "your city" to see what comes up. I was surprised at all of the options available.
There are a lot of little museums that you might not think of or even know are there. In the last place we lived there was a small, but very good, old car museum that was in the middle of a neighborhood in our city. I would have never known it was there if I hadn't been searching for free museum tickets!
Many large museums offer free days. These are days that they open the museum to anyone who would like to come and don't charge admission. It is a wonderful way to bring your family to an expensive museum. Be sure to see the tips section below for additional information.
When we lived in Illinois we had access to a lot of free museum days at the big museums in Chicago. If you plan to travel there, be sure to check that out. Other big cities offer the same thing.
Get Free Library Passes
Some libraries have free passes to the museums in the area, including children's museums. You will need a valid library card from that library in order to check them out.
These can be used on most days although some restrictions may apply. There may be limits to how many times you can check them out, as well as how many people can be admitted for free.
Be sure to call your local library and ask if they offer this great benefit!
Tips for Getting the Most Out of Your Free Visits
Here are a few tips based on our visits in the past. I hope they help you to have a great experience.
Note that parking and special exhibits are usually not included with your free admission. You may want to check for extra charges depending on which museum you choose. We have never run into that but I heard that others have been a bit upset to see $10.00 -15.00 parking in some areas.
If you have travel plans be sure to check online first so you can plan your trip around the free days.
It pays to get there early if at all possible. We try to get there soon after opening so we have a spot to park and it is not so busy. By the time we are leaving it can be getting quite crowded and people are waiting for our parking spot.
If you have little kids, plan to go outside and utilize the museum grounds to burn off some energy in the middle of your visit.
Many museums have wonderful exhibits outside as well. We have found the neatest things exploring outside the buildings.
Take a lunch and snacks! We either eat in the car or outside on museum grounds (if allowed) to save money on lunch or take a refreshing break.
Multiple museums in one day can be too much for many kids. It is overwhelming to see so much at once and can be hard if they need to be very quite while visiting.
Find a topic your child is interested in and find a museum to match. The learning that takes place will be off the charts!
Go hands-on! Check museums for kid's sections that feature hands-on learning and play. Many, many museums have added this into their exhibits.
We have found museums to be a lot of fun and a great learning opportunity for all of us.
We have gone on a submarine tour, played with a ton of different things at children's museums, made art, tried different tools, got wet while figuring out how to create dams, and my son even got to go up in a plane last year. Really!
You might also enjoy:
LEGO Convention and Event Guide
Experiences Plus Guide for Boys