There is nothing like a good book and we feature the very best books for boys right here! Reading is important to a boy's learning life and we want to help you get, and keep, your boys reading.
I have rounded up the very best books and put them in one easy to access place. By "best" I mean that to find a good book we went through stacks of books and weeded out the boring ones, the ones that were not compelling, and the ones that talked down to boys.
For example, when I was looking for books on pirates we went through a huge stack of pirate books. Most of them never made it onto the list because they were not good enough. I hope this is helpful for you and saves you a whole lot of time. You can just use our lists and be sure to find high quality, engaging books to share with your boys.
Pin it or bookmark it but save it for later as this list is going to be updated frequently. Every time we find a new awesome book for boys, or create a new book list, we will be adding it here. You can use it to find great books for your boys to read.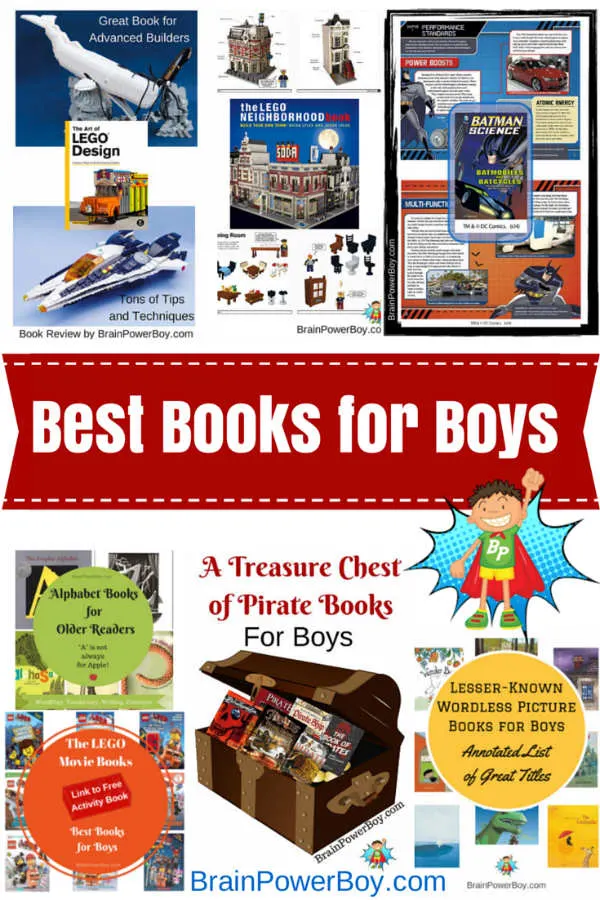 Best Books for Boys
Best Books for Boys by Age
Many people asked me to write lists that show the very best books for specific ages. It took me a while to do so in part because I don't really follow age recommendations myself. If a book is on a topic my son likes, I get it for him regardless of the age it is intended for.
However, I can also see the value of knowing books that fit the age range your child is in. This can be true both for both for age appropriateness and for reading levels.
And so, here you go. I am going to do book lists by age for all ages so check back often.
LEGO Books
We had so many posts on LEGO that we had to move them to their own page. Go see all of the LEGO Books That You Won't Want to Miss! Let me tell you there is a lot there to see. Everything from single LEGO instruction books to LEGO stories and building guides to LEGO non-fiction and fiction reading books and much more. Think of it as your top spot for finding the LEGO books for your boys.
Coding Books
Super Scratch Programming Adventure
Alphabet Books
Alphabet Books for Older Readers
Alphabeasties and Other Amazing Types
Opposite Books
Poetry Books for Boys
The Year Comes Round: Haiku Through the Seasons
Seeds, Bees, Butterflies and More! (poems for 2 voices)
Stardines Swim High Across the Sky
Cooking with Boys
Picture Books for Boys
Pirate Books for Young Buccaneers
Silly Underwear Books to Make Boys Giggle
Lois Ehlert Books and Art Activity
Books that Celebrate the Bond Between Mother and Son
Hands-on Farm Books and free printable Farm Animal Shadow Puppets
Musical Stories with free make your own music online links.
Read and Play with Book Sensory Bins
Funny Pirate Books To Make Boys Laugh
Books Made Into Movies for Older Boys with activities
Funny Halloween Books for Boys
Funny Christmas Books for Boys
Books for Grandmas and Grandsons to Read Together
Interactive Lift-the-Flap Truck Books
Stellar Fiction Astronaut Books for Your Space Fan
30+ Sports Picture Books for Your Sports Fans
Foxly's Feast Wordless Picture Book with Fun Food Fox – cute kitchen fun food activity included.
Helicopter Books for Toddlers, Preschoolers and Kindergarteners
Wordless Picture Books for Boys
Classic Wordless Picture Books
Lesser-Known Wordless Picture Books
The Benefits of Wordless Picture Books
Fun Wordless Picture Books to Read
Non-Fiction Books
Pocket Genius: Facts at Your Fingertips (series)
Treasure Chest of Pirate Books
Dig into Dinosaur Fossil Books
Dinosaur Question and Answer Books
10 Awesome Non-fiction Shark Books
Forest Food Chain Books with Free Printable Food Chain Game.
Non-Fiction Astronaut Books That Are Out of This World!
Learning About History: Wars & Warriors Historical Coloring Books with historical annotations.
Learning About History: Vehicle Historical Coloring Books with historical annotations.
The Best Star Wars Dictionaries and Encyclopedias
Great Non-Fiction Football Books for Boys
Non-fiction Basketball Books that are a Slam Dunk
Pokemon Books: Handbooks and Activity Books
Fiction Books (see also picture books)
Newbery Medal Winners Boys Will Actually Read
Book Series for Boys:
Top 5 Reasons for Getting Boys Hooked on Book Series
9 Thrilling Series Books for Teen Boys That They Won't Be Able To Put Down
A Dozen Spectacular Series Books for Boys 9 – 12
Rockin' Book Series for Boys 7 – 9
Fantastic Book Series for Boys 5 – 7
Terrific Book Series Boys 3 – 5 Will Love
Classic Book Series for Boys That Stand the Test of Time
Superhero Origin Stories Series
Chapter Books
Minecraft Book Series, 25+ Books Fans will Dig
Outdoor Activity Books for Boys
The Kids' Outdoor Adventure Book
Art Books for Boys
My Big Book of Art and Illusions
Henry Matisse Book and Art Activity
Math Books for Boys
The Book of Perfectly Perilous Math
That's a Possibility: A Book About What Might Happen
Millions, Billions, & Trillions: Understanding Big Numbers
Science Books
Maker Books Boys Will Really Like!
Other
The Best Magazines for Boys – with Real Reviews
Learn with Play: 150+ Activities for Year-round Fun and Learning. (I am co-author of this wonderful book!)
See also Boys' Learning where we have articles on reading and learning.
Have you signed up for our newsletter? Get exclusive content and extra goodies just for subscribers!