List books are widely considered to be high interest books for boys. The facts are laid out in an appealing manner, there are a lot of different facts and statistics to dig through and since they don't have a whole page of black and white text some boys are more likely to read them.
In case you are not sure what a list book is I will give you a brief explanation. These books have a large collection of lists on a specific topic or a variety of topics, such as 50 facts about elephants, top 10 ballparks in the United States, 45 facts about baby animals, 10 of the weirdest pets etc.
Each book does it a little bit differently but essentially it is a book filled with tidbits and fact lists. There is not a lot of text and all of the books chosen are visually appealing and are super interesting. I tried to find the best books for boys – ones I thought they would really get into.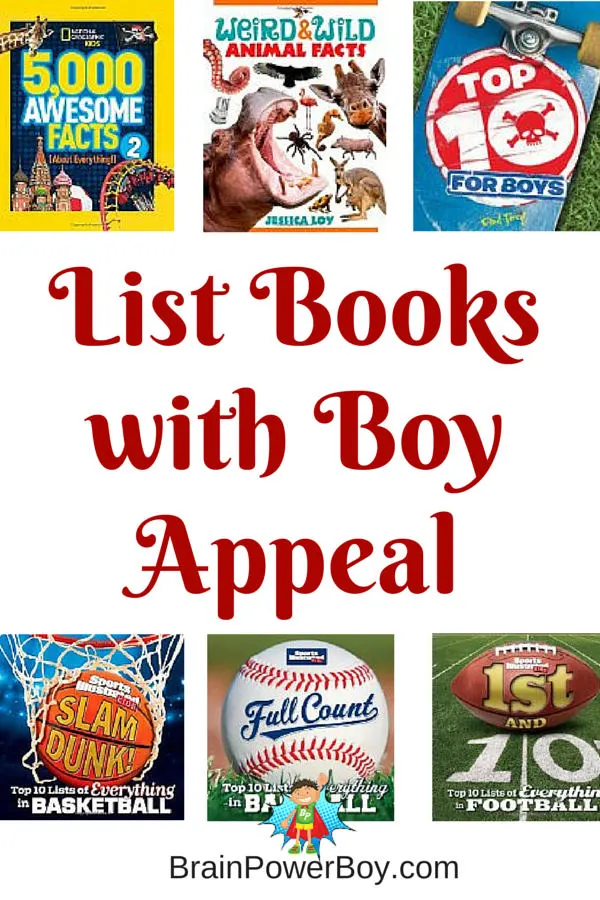 This post may contain affiliate links which means we may receive a small commission, at no cost to you, if you make a purchase through a link. All opinions are our own and we share things we think would be of interest to boys.
Best Books for Boys: List Books
Here are some list books that are perfect for your sports fans.
These books are really quite wonderful. These books provide a lot of information in an appealing package – can't ask for much more than that.
I urge you to try these with your boys if you have not done so already. Pick one on a topic they will enjoy or try the more general titles. Many boys I know can't put list books books down.
Looking for more? Try:
Survival Books for Boys
Gross Books for Boys
Funny Poetry Books
The Very Best Minecraft Books
Or . . . see them all.