We are big into LEGO here on Brain Power Boy because it is such a big part of our lives! We play with it, and talk about it often (ok,  most every day!) When I decided to start this website on boys' learning I knew this wonderful toy would have to hold a featured spot, and it does.
Many boys really enjoy playing with LEGO and there is so much they can learn from doing so. It is not only a great toy but a great learning tool and an artist's medium as well.
It provides so many possibilities for play, creativity, use of imagination, perseverance, logical and spatial learning and more. There is so much you can do with those tiny bricks–simply amazing.
I hope you will enjoy this list of all of the articles so far.  Be sure to bookmark or pin this because we will continue to add to it over time.
You can also sign up for our newsletter below so you don't miss a thing. I have a big list of ideas set for future articles and other bricky things that I just have to share with you.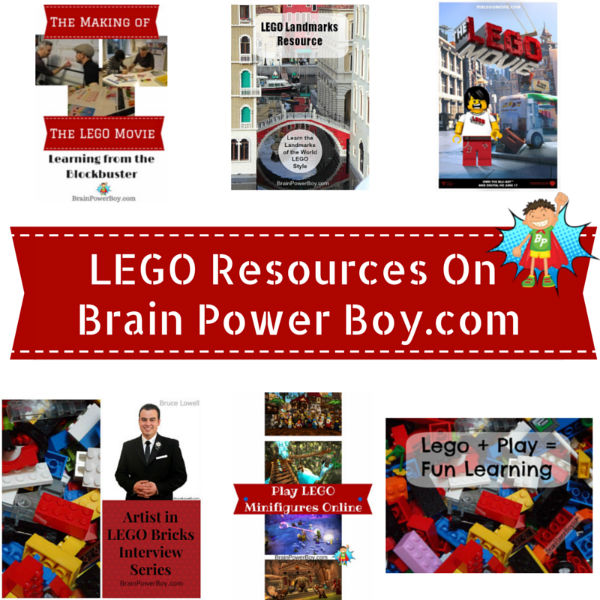 Books:
Pop over to our best books for boys page for awesome books.
The LEGO Movie:
Ways Boys can Learn from the movie
Best Books for Boys: The LEGO Movie
LEGO Activities for Boys:
10 Reasons Duplo is Great for Kids
Free LEGO Printables:
180+ Free Printable Coloring Pages
Free Printable Facts Lunch Box Notes
Events:
Convention and Event Guide with Tips for Attending
Gifts
Our gift guide for boys page has some great gift ideas.
Designs:
Series of posts featuring LEGO Designs for your boys to build.
Includes Holiday builds, Leprechaun Traps, robots and more.
Learning:
We were getting so many brick related learning ideas that we moved them to their own page.  Find ideas for math, science, and much more.
Organization and Storage:
Organization and Storage Considerations
How to Save Money on LEGO:
How to Save Money Like a Ninja
How to Score Used Bricks and Get Them Cheap!
Artist in LEGO Bricks Series:
This is a series of interviews with builders. They talk about playing with bricks and boys learning. Pictures of their builds are included.
Bruce Lowell who has his work in The LEGO Movie
Nathan Sawaya from The Art of the Brick
Chris McVeigh who does awesome brick sketches
 Sean Kenney author of the Cool LEGO Series of books
Warren Elsmore author of Brick City and Brick Wonders
Jordan Schwartz author of The Art of LEGO Design