We are going to teach you to how to save money on LEGO like a ninja.
Kids asking for another expensive LEGO set? There is no doubt LEGO can cost you an arm and a leg and the prices just went up again. No worries, we are here to help you.
The key is making sure you are getting the best deal possible when you buy. That way you can make your kids happy without breaking the bank.
We are big LEGO fans and purchase a few a LOT of bricks. If your boys are always asking for more LEGO (I know how it is)  we've got you covered.
Today I gathered my tips into one place and am happy to share them with you. I'm spilling it all because I want to try to help you save money on LEGO too. Check out the tips and go forth and score cheap LEGO like the ninja shopper you are!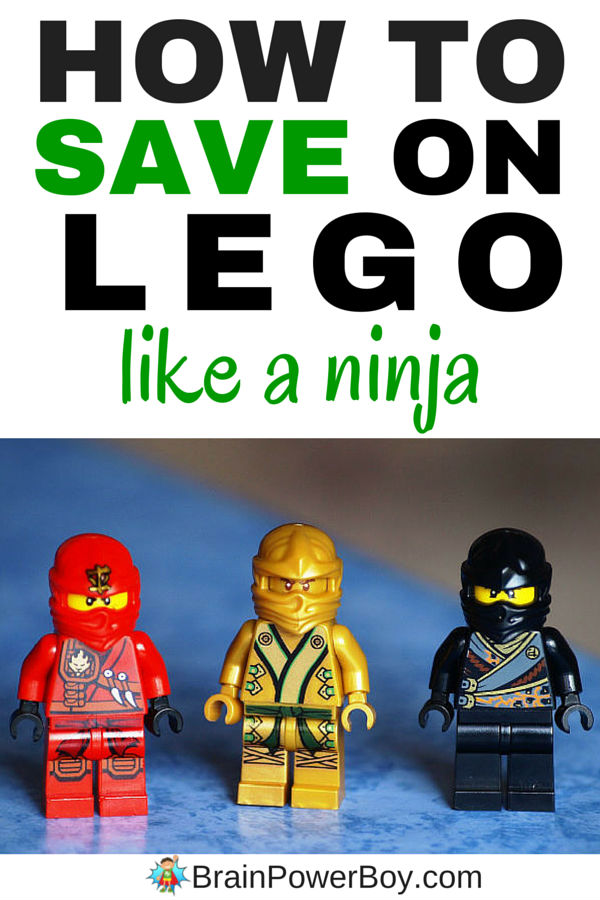 This post may contain affiliate links which means we may receive a small commission, at no cost to you, if you make a purchase through a link. All opinions are our own and we share things we think would be of interest to boys.
How To Save Money on LEGO Like a Ninja
I am frugal.  My goal is to get sets for close to 1/2 off retail. Not easy!  I do not like to pay more for something than I have to–I really, really hate that! I am a sale watcher, coupon/coupon code user, and I know my prices because I am determined to get good deals. Yup, I'm pretty into it.
Over the years I have come up awesome ways to save like a ninja on those coveted bricks and get great LEGO deals. I am going to teach you the way of the warrior. Well, ok maybe not quite, but I will share some tips that really work.
Before we get started you need to check out the Ninja Guide. Then we will cover specific stores. There isn't one best place to save–bummer eh? You HAVE to shop around. But if you follow these tips you will save.
A Ninja's Guide for Scoring Cheap LEGO
Always know retail prices. One of the best ways to save money on LEGO is to go to The LEGO Store, and jot down the actual retail price of the items you are interested in.
Know that sets are available for a limited time. After that time passes you will pay a premium price, so if you need a specific set, don't wait until the last minute.
Pass by the first sale on new sets. They get cheaper down the road. Of course, if your child really wants the set and you know you are not going to be able to wait then watch for the sale that happens soon after they come out and snag it.
Christmas shopping? Buy ahead!  People clear the shelves close to Christmas and you won't find the most popular sets.  Find your sale early and go for it.
Use Ebates. Cash back on purchases when you shop at specific stores is always nice.. Find a deal on Ebates and pair it with a sale (sign up for free by following the link.)
Use Camel Camel Camel (see Amazon below) to scope out the lowest price seen on a specific set. Jot it down. This gives you something to shoot for.
Bonus Ninja Move for you: Follow me on Facebook. I post the best deals I find, plus other awesomeness.
Store Wisdom or The Best Places to Shop:
Amazon
I was reading a deal site not long ago and someone said that Amazon was a terrible place to buy LEGO. What?!  That is oh so wrong. Maybe they are novice shinobi.  You just need to know what to look for.
Amazon will sometimes put the retail price of sets higher than the actual suggested retail price and then slash through that price and call it a deal. No deal! You have to know retail prices before shopping Amazon but you can find cheap LEGO sets there for sure.
Use Camel Camel Camel price checker and tracker. Get a line on the price history of an item on Amazon and know if now is a good time to buy.  Don't forget to set it to track a price as well.
Deal of the Day offers 2 items on a special sale. Deals on sets and bricks come around once in a great while.  I watch for it and will post it on FB as soon as I see it.
Lightening Deals are a great way to save money on LEGO and Amazon usually does a big lightening deal on sets around Black Friday. (I'll cover this on FB because I am shopping it myself and love to share with you.)
Use Amazon Prime's slick feature that allows you to shop deals 1/2 hour early (totally worth it on a hot item like this!) I have a special offer for you: Try Amazon Prime 30-Day Free Trial. Try it free for 30 days. If you don't like it, cancel before the membership ends and you own nothing.  We love our prime membership.
Clearance deals can be worth a look. I linked to clearance for you because it can be hard to find.
Walmart
Walmart can have good LEGO deals but you have to watch for them.  They had an incredible deal on a bucket recently (we bought 2) and I posted it on FB. It sold out fast but those who were able to get it were very happy. Yay for cheap LEGO!
Shop Walmart at the holidays. They have bundles. For example, they will put together 3 Star Wars (or Ninjago!) sets and offer them bundled at a reduced price.
Watch for the DUPLO and LEGO bucket sales during Black Friday sales. You can order online if you aren't into BF shopping. Buckets are a great way to add to your basic brick collection.
Walmart clearance. Know your prices and make sure you are really getting a deal.
Walmart does price match with online stores but not with Walmart.com – odd eh?
Barnes and Noble
This is hit or miss but I have gotten a decent deal here a couple of times.
B&N does occasionally have coupons/and or coupon codes for 30% off toys.
The thing I like about B&N is that they tend to have unusual sets.
Toys R Us
While I won't come right out and say don't buy LEGO here. I will say that I don't buy here. It is rarely a good deal and we want to save money on LEGO not spend more!  I am listing it because they have the free builds.
Even with the B1G1 1/2 off sale that they run a few times a year it is rarely worth bothering with. They mark the prices up above retail so you end up saving maybe around 15% off.  I can always do better than that – and you can too!
Go for the free builds but leave without purchasing overpriced sets.
Aldi
Aldi usually has small sets around the holidays. I watch but don't often buy here as it is not usually something we want. But then, we have a lot of LEGO already so if you are looking for small stocking stuffer sets this may be a good bet.

Target
Black Friday at Target rocks the LEGO deals. It does depend on what you are looking for but they have a great sale.
Watch for Target's November coupon book. It often has LEGO coupons in it. Yay! Wait and pair that with a sale for a good deal.
Check Target Cartwheel for additional, though rare, deals.
Clearance at Target goes fast! You have to watch and check back often if there is something marked down that you want. The pricing markdown amounts go 15% – 30% – 50% – 70% – 90%.  I have never been lucky enough to find sets at 90% but I did find a few at 70% over the years.  NINJA BONUS TIP: Target's markdown schedule for toys is on Wednesdays.
Price match at Target is easy and they are always awesome about it.  I price match there often.
Target runs regular sales on sets. When I know we want something I watch the ads and wait until the price is right.
Check online. They have additional sets and sometimes run sales not seen in stores.
Use your Target Red Card and get an extra 5% off and free shipping online.  Love that!
LEGO Store
If you live near a LEGO store (and may I just say LUCKY you!) hit their free builds each month. They offer a totally free mini set that you can build and take home. Free Bricks – how awesome!
We L. O. V. E. the Pick-A-Brick wall. Purchase a small or large cup and fill it above the rim with bricks and elements.  Use your ninja moves to pack wisely. We tend to go for the unusual colored bricks (like orange,) and a whole lot of small pieces.
They have a small clearance section that you should check each time you shop – you never know!
The stores and online shop have a nice VIP program where you can earn points and get a $5.00 credit for each $100.00 you spend. It is worth signing up for it. As you know, it all adds up. Become a LEGO VIP for free now.
LEGO Store Online
If you don't live near a store (we don't – boo!) The online  Pick-a-Brick wall can be a great place to pick up pieces. They do cost a bit more per piece this way as opposed to getting the cup in the store but they have a decent selection of pieces and you get what you want. We like the minifig pieces you can buy to construct your own minifigs.
The LEGO Shop Online often has a free item with purchases of over $50.00. I have seen a neat tractor, a Spiderman jumper etc. We love free.
Get free shipping with orders over $75.00 (update – they now ship free with orders over $35.00!) and a free shipping deal for any size order will usually occur around Black Friday.
My Ninja Weapons for Saving Money on LEGO
As I said, I am frugal. Everyone who knows me well will agree. I am also very good at finding deals. Here are my secret weapons that used together help me to get LEGO at a discount. I can always get a good deal on the sets we want. It just takes time and a bit of effort.
Know the retail prices.
Use Camel Camel Camel to see what the bottom price is so far.
Check Deal News or Slick Deals to see if the set I want is listed and check this occasionally.
Rely partly on past experience and knowing what a good price is, which comes with buying way too much LEGO!
Shop all of the stores online and check which stores have stock on the items I want need.
Wait. I check stores and sites occasionally and watch for sales, coupons, deals etc to see if I can find cheap LEGO sets.
Before buying I check for coupon codes and or check Ebates to see if I can get an additional amount off.
Combine discounts. If I have a $5.00 off $50.00 from Target I will likely end up focusing on matching a sale with the coupon and my Red Card discount.
When the price is right I jump in and buy right away. Especially on Amazon as their prices can change on a dime. (Ha!)
I use my Amazon Prime to best advantage and snap up deals with Prime Early Access to get in 30 minutes early, plus I use their free 2-day-shipping. (Awesome!)
I always check clearance when I am in the stores. I have gotten the best deals this way.
Of course, I also buy used LEGO because you can never have too many bricks! See How to Score Used LEGO and Get it Cheap for tips on buying.
Sign up for our newsletter if you don't want to miss it.
I hope this helps you save money on LEGO  and be able to buy more without emptying your wallet. I never buy at retail prices and have saved a LOT of money over the years using these techniques.
If you want to take the easy way out, simply follow me on FB as I will be posting deals when I find them.
Either way, now it is time for you to get your ninja moves on. Go forth and save!