Looking for an easy way to make a LEGO table? Try the LEGO Table IKEA hacks we found. They are totally doable and your kids will love it! DIY for the win!!
When I lived in Illinois, a trip to IKEA was an event.
They had a cool kids play area and so much in the store to look at. You could spend the day there! Best of all their prices are great.
It is easy to take something from IKEA, and make it into something even better, like these incredible DIY LEGO table IKEA hacks.
This post may contain affiliate links which means I may receive a small amount, at no cost to you, if you make a purchase through a link. All opinions are my own and I share things I think would be of interest to boys.
If you are not familiar with IKEA you can take a look at their store here. They offer reasonable items that come flat and you assemble them yourself.
DIY LEGO Table IKEA Hack Considerations
There are several IKEA tables that you can hack to make these LEGO tables.
Here are a few things to keep in mind when choosing your project.
Your personal budget. Some transformations are cheaper to make than others. These use everything from a simple side table, to a dining room table, to a whole system built into a room!
Where are you going to put the table? Consider the amount of space available.
How many kids will be using the table at once?
How many bricks do you have? You don't want them to outgrow it right away!
How much room does your child need to build? Some kids like to really spread out while others are fine with a smaller area to build on.
Do you want seating options or will they sit on the floor?
Do you want storage built into the LEGO table or will you store most of the bricks elsewhere?
If you keep those things in mind while choosing you will be sure to find the perfect DIY LEGO table for your family.
On to the LEGO Table IKEA hacks! We searched around to find the very best ones. I hope you like them as much as we do!
DIY LEGO Table IKEA Hacks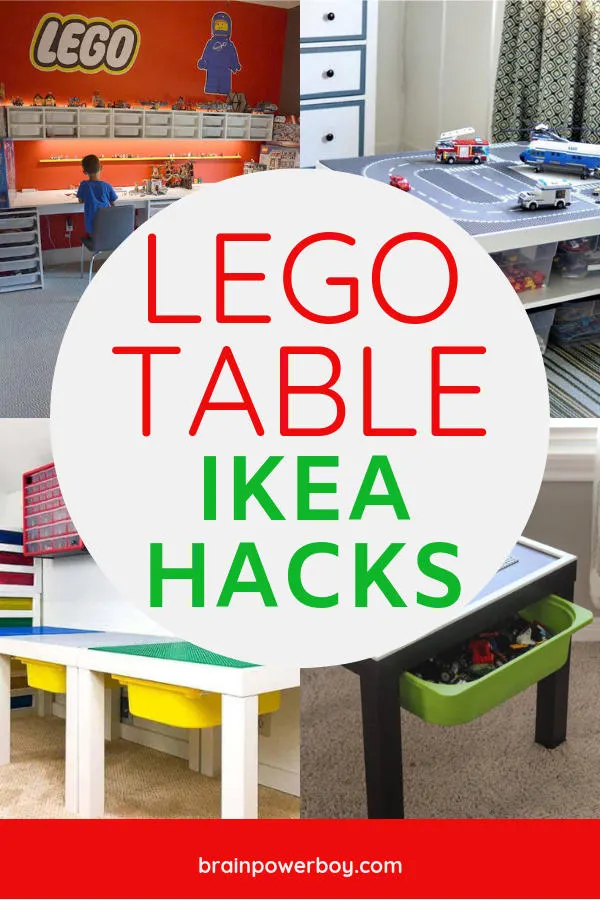 LEGO IKEA LACK Table With Road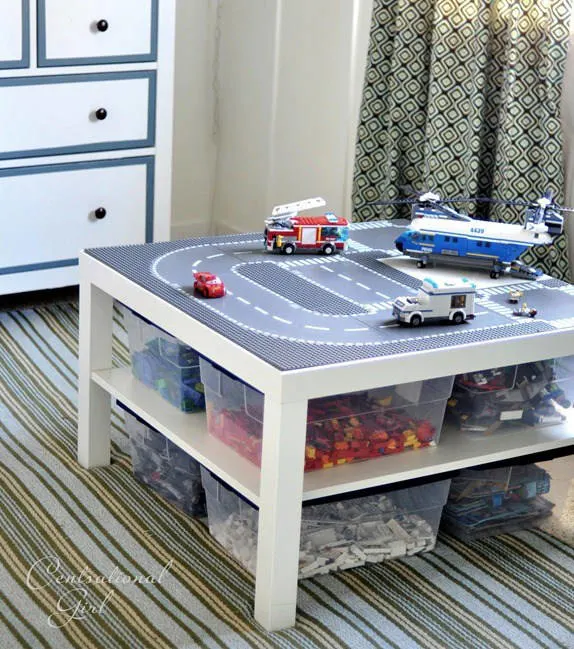 This table features LEGO plates with road. I really like these. They are from the LEGO City line and are perfect for those who love vehicles.
They slipped regular plastic bins under the LACK coffee table for an easy storage solution. LEGO LACK Table
Adjustable LEGO Table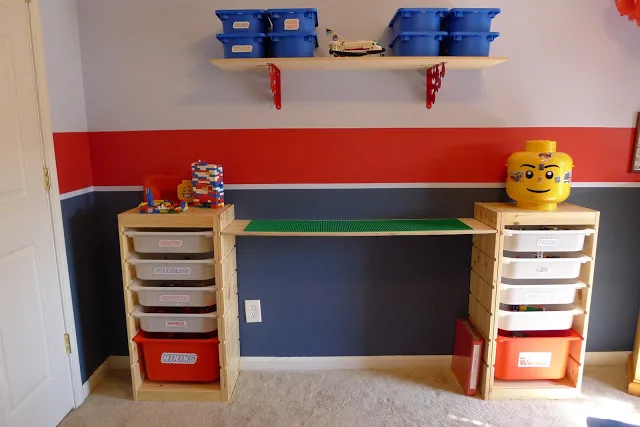 I think this idea is pretty brilliant. They took two IKEA TROFAST storage systems and put a board covered in LEGO plates between them.
Having a sturdy board going across is key. This is a pretty sweet idea because the setup will grow with your builder. Adjustable LEGO Table
Small LEGO Table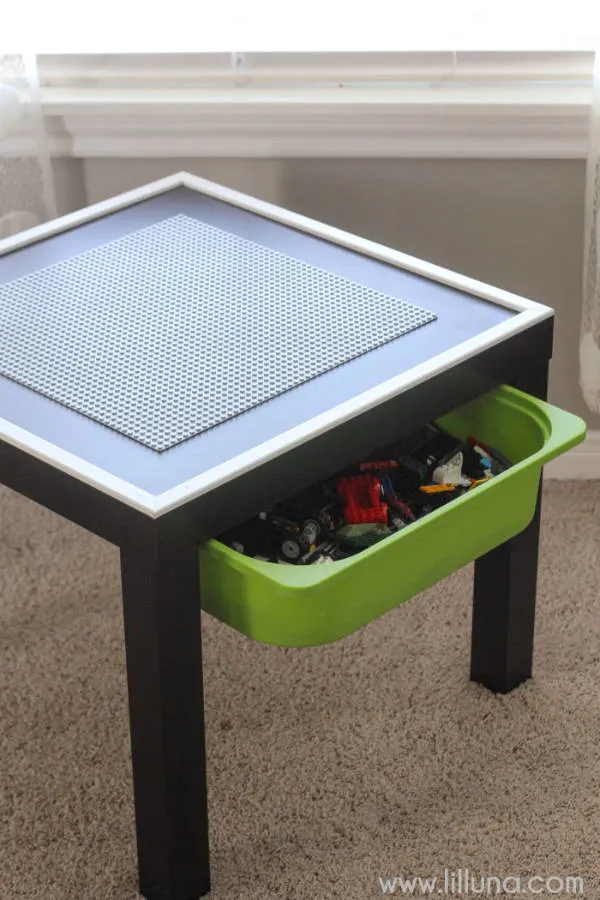 This is a LACK side table hacked to good use as a LEGO table.
They made one for each child, which is a great idea.
This is super nice for those who do not have a lot of room for a big table. Kids can sit on the floor or pull it up next to the couch to build. Small LEGO IKEA Table
Rolling LEGO Cart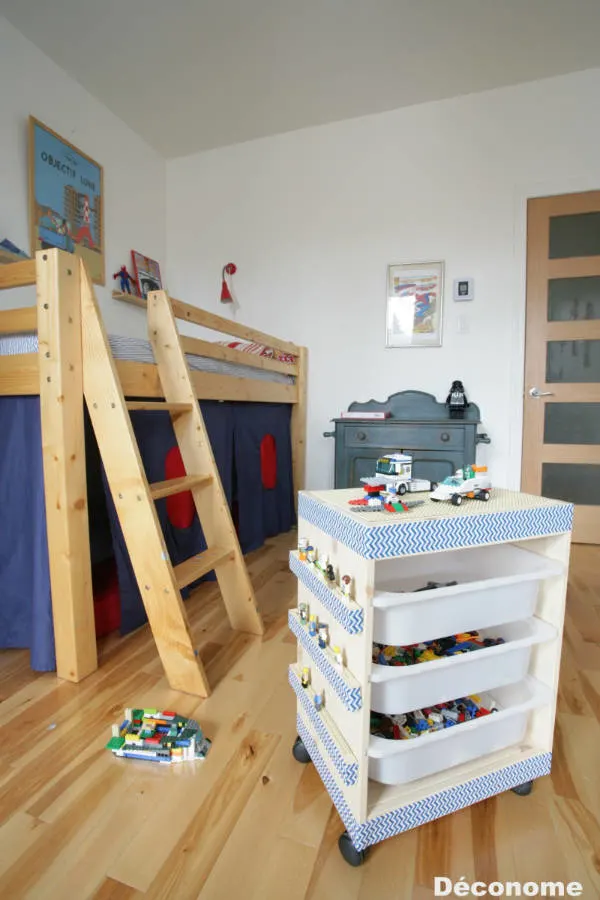 Honestly, I wouldn't have thought of this one.
They used the IKEA TROFAST storage unit to make a rolling cart that can be wheeled wherever your child wishes to build.
I like the feature they added on the side where she put some LEGO tape so her boy could store his minifigs out in the open. Rolling IKEA LEGO Cart
Storage Galore LEGO Table Unit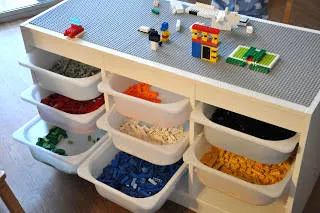 Another version of a table with the TROFAST storage unit.
In this case they have 9 bins underneath.That should hold a lot of bricks! TROFAST LEGO Table
Double Wide TROFAST LEGO Table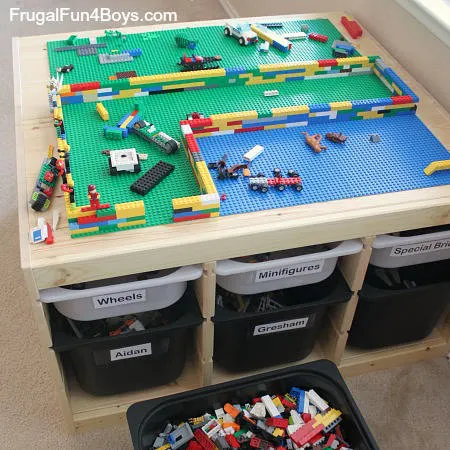 Frugal Fun for Boys used two units and fit them together for this table. I especially like that she included some blue plates (for water,) as well as the green for added play value.
Double Wide Table
High LEGO Table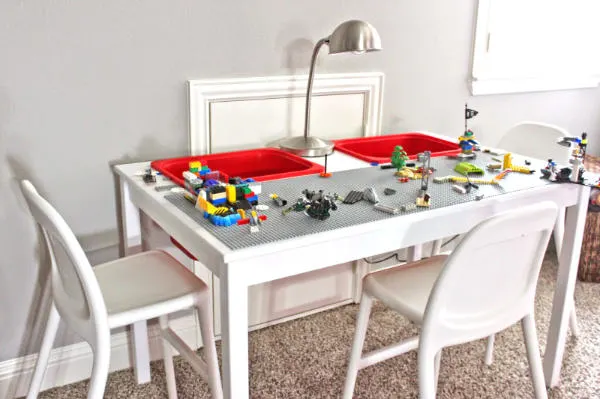 Most of the tables we have seen so far are low to the ground and the kids have to sit on the floor.This one features the IKEA INGO dining room table. It actually isn't all that expensive for a real table!They cut holes in the top to fit the red TROFAST bins in and added grey LEGO plates to the top.
I like it as several kids can sit around it and it is extra nice for older kids who don't always want to be on the floor. High LEGO Table
LEGO City LACK Coffee Table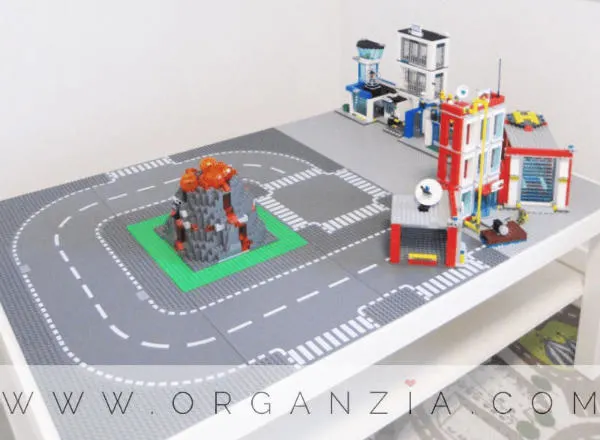 Here is another option for using the LEGO City plates.This is the LACK coffee table so it is a bit bigger than the one we saw earlier.
They left one side of the table open for display or free building. I think that is a great idea because he won't want to attach everything he builds to plates. LEGO City IKEA Table
DIY LEGO Table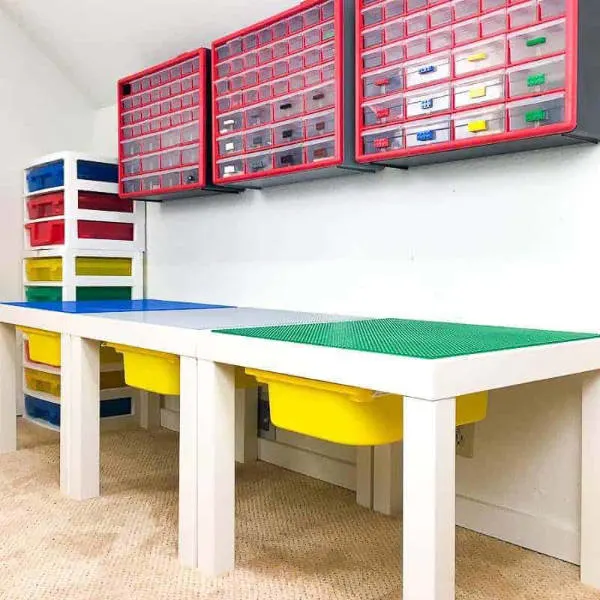 Um, WOW! This is pretty impressive, isn't it?
They combined LACK tables with TROFAST bins for a nice look.
The plastic storage on the side will really come in handy and the small parts cabinets overhead are a nice touch as well. Love the LEGO brick handles!! Cool LEGO Table Hack
LEGO Table for Two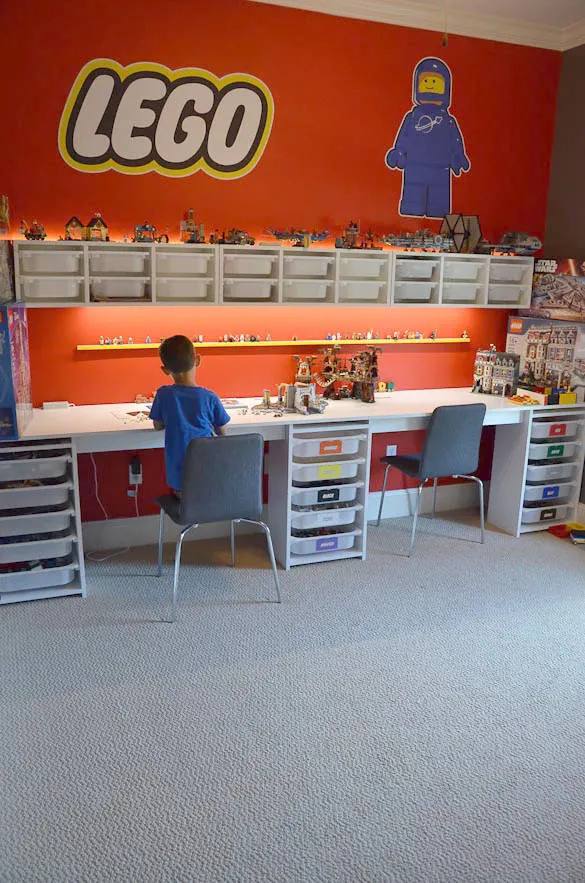 I know so many boys who would go absolutely crazy for this setup.
Not only do they have seating for two kids to be able to build at the same time, they also have a boatload of storage.
They put their two boys into one room and made the other bedroom into a LEGO room. Smart!
The TROFAST system is used in multiple places in order to get this type of setup.See the yellow strip under the upper cabinet? LEGO minifig storage and display! And the top of the bins is a display area for finished builds.
They do not have LEGO plates attached to the table, but you could do that if you wanted to do so. LEGO Table for Two