Looking for the perfect IKEA KURA hack for your boy's room? I think you will find exactly what you need right here.
IKEA is an experience, that is for sure. They have so much to look at! One thing that everyone seems to agree upon is that if you like a simple, minimalist look, you can't beat IKEA.
Their furniture is simple. And it is inexpensive for what you get. One thing that I love is that people take those simple furniture designs and hack them to make them pretty darn awesome
That is exactly what happened with the KURA bed. There are hacks galore. However, finding hacks that fit into a boys room took some doing, let me tell ya.
I had to search for a long time until I found this nice selection of KURA Bed Hacks for Boy.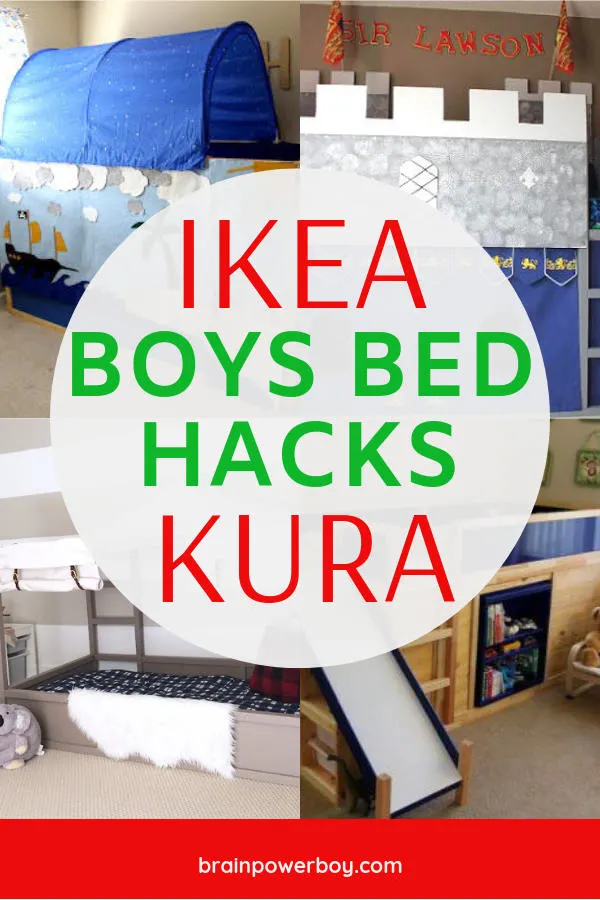 This post may contain affiliate links which means I may receive a small amount, at no cost to you, if you make a purchase through a link. All opinions are my own and I share things I think would be of interest to boys.
Let's learn a little bit about the KURA bed and then I will share all the cool hacks.
IKEA KURA Bed
The KURA is a low bed that can also be turned upside down to be made into a bunk bed or a loft. That makes it super versatile and able to grow with your child.
KURA is a twin bed with a real wood frame made out of pine.
According to IKEA these are product dimensions and specs:
It is 78 3/8″ long, 41 3/8″ wide, and 45 5/8″ high.
Height under loft bed is 32 5/8″.
Max. load or weight limit is 220 lb.
The mattress length is 74 3/8″ and the width is 38″.
The thickness of the mattress is 5 1/8″ thick.
I included this so you would be able to measure your room to see if this bed is a good fit for your boy's room.
Keep in mind that the dimensions above do not include the hacks that you will find below. You will have to account for those as well, especially if you are adding a tent or stairs, but this gives you good baseline measurements to start with.
KURA Bed IKEA Hacks for Boys Rooms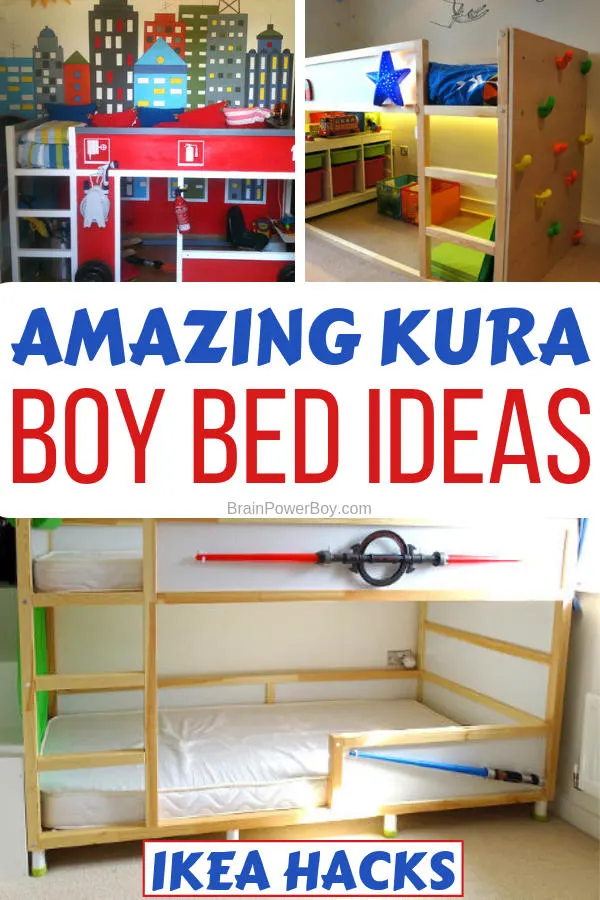 Star Wars Kura Bed Hack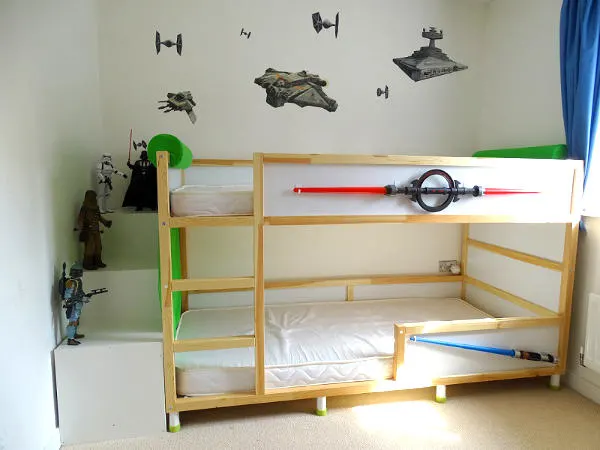 This Star Wars KURA hack is very cool and super easy to do.
I like that they simply attached some light sabers to the sides. I also noticed that they used a pool noodle to slip over the sides where there might be head bumps.
The SW decals on the wall add a nice touch.
The steps on the side are actually a TROFAST storage unit. This is a great hack that will stay relevant for a long time as your boy grows. Star Wars Bed
Pirate Fort KURA Bed Hack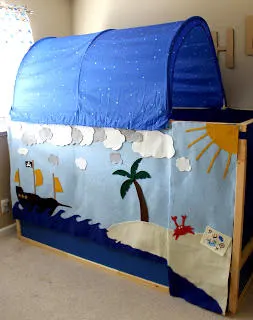 This bed features both a bed tent and a felt pirate border to enclose a fort below. Double goodness.
There are a lot of details here including a detachable pirate treasure map and glow in the dark stars inside the tent. Love it! Pirate Bed
Kura Fire Truck Bed Hack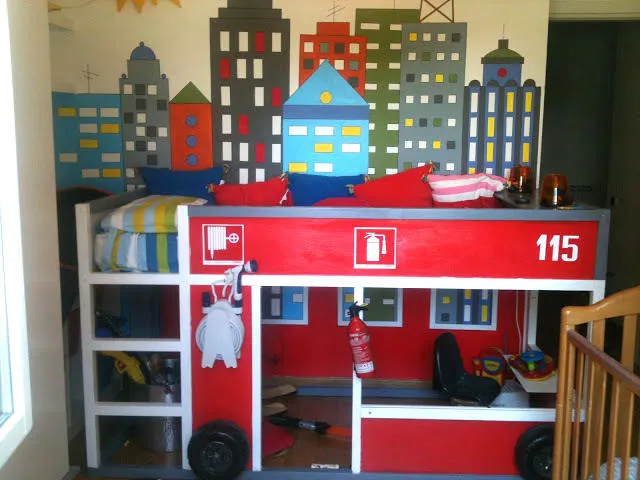 Well, I knew someone was likely to have made a fire truck and I was right. Plus, they used a ladder to get up into the bed which is just perfect.
This one is awesome and I love that they also decorated the wall behind it as that gives the whole boys room a more finished feel.
Did you notice that underneath the bed there is a drivers seat with a driving toy? Clever, right?
They did a wonderful job on this and I am sure any boy who loves fire trucks and firemen would love to have this in their room. Fire Truck Bed
Canopy Bed with Safari Feel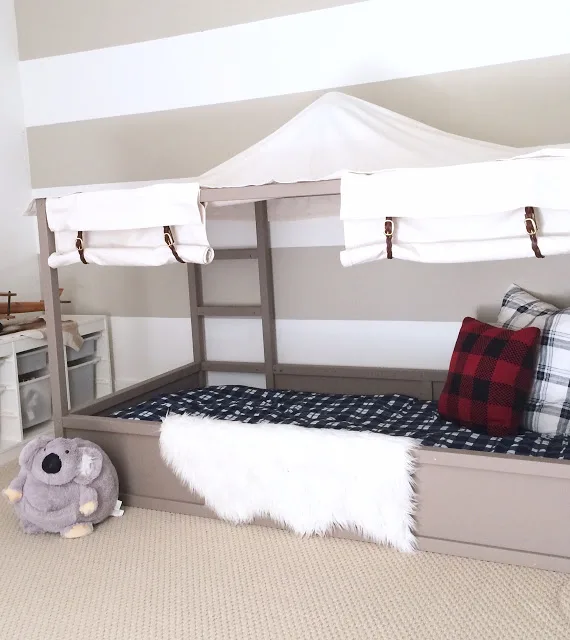 I wasn't really sure what to call this bed but I like it a lot.
I think it has a bit of a safari feel to it that you could enhance with the right bedding and perhaps a rug like this.
This bed has a canopy and drop down curtains. There are a lot of ways to personalize this idea. Grey Bed with Canopy
KURA Red Bed Tent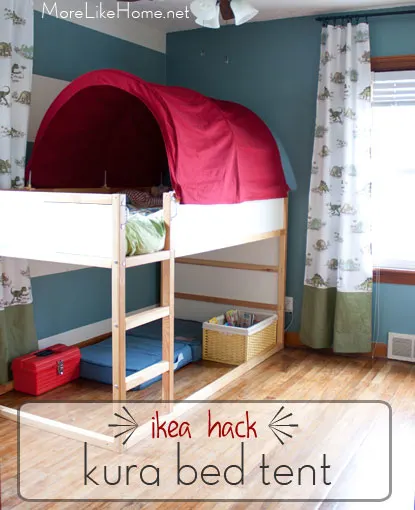 A lot of boys love play houses and tents so I found a neat bed that has one over the top of the bunk bed.
With the tent on the top you have a lot of options for what to do with the bottom part. You can even have a younger boy sleep on the bottom and use the upper part as a play fort until he is old enough to sleep up there. KURA Tent Bed
Kura Bed with Slide and Storage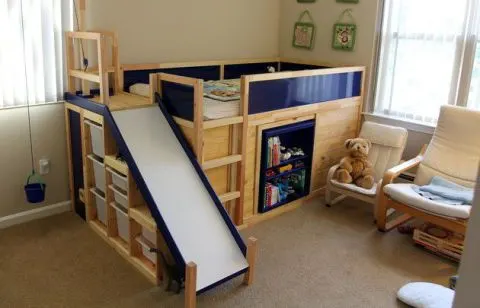 Look at this one! There is a slide. How fun is that?
Do you see the bucket hanging on the left? That is attached to a pulley and crane mechanism so you can pull it up and down! And . . . it has a ball run so the balls will go into the bucket.
My favorite part of all is the secret door! Every boy I know would think that is the best thing ever. Watch the video to see all the brilliant features.
He built a lot of storage in underneath the bed. It is very impressive. KURA Bed with Slide
Here is the video that shows some of the detail of how he built it. Enjoy!
KURA Castle Bed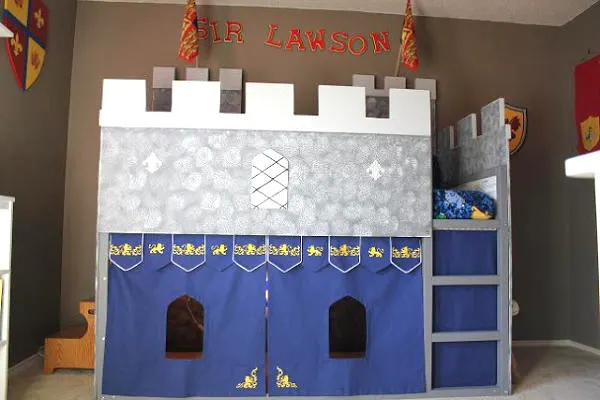 Calling all knight fans! They will have so much fun with this castle bed.
He used extra boards to make the battlements and even added a window on the side. Overall, it is a great look with a nice play area below.
Putting "Sir" and your boys name either on the bed or above it like they did is a nice touch. Castle Bed
KURA Climbing Wall Bed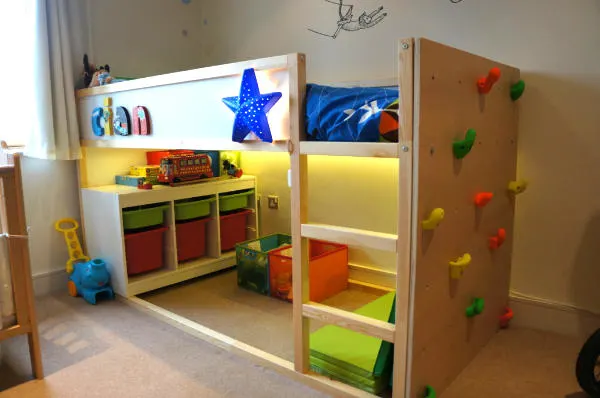 If you have an active boy on your hands, then this is certainly one to consider.
They can climb up and over and pop right into the soft bed.
Personally, I may put a thick foam mat or another mattress at the bottom under the climbing wall part for young ones in case they fall, but that is me being cautious.
The play area underneath with storage is nice as well. This would do well in a smaller room. Climbing Wall Bed