Need some easy Star Wars Cupcakes for that special birthday party or just want to make some for fun? Well, you will find the best ones here.
We are thrilled with the great selection that we found and hope you are too!
Star Wars birthday parties are always popular and I'm sure one of these would make a great dessert for your party, but cupcakes are also just a lot of fun to a make for any day at all (including Star Wars Day which is May the 4th!) So get out those cupcake tins because you are going to enjoy making these.
When we next watch the movies I plan to make a little something extra as a surprise. Now to decide which Star Wars cupcake to make! I just love fun food!
Let's go ahead and take a look at the cupcakes. May the baking (and decorating!) force with with you.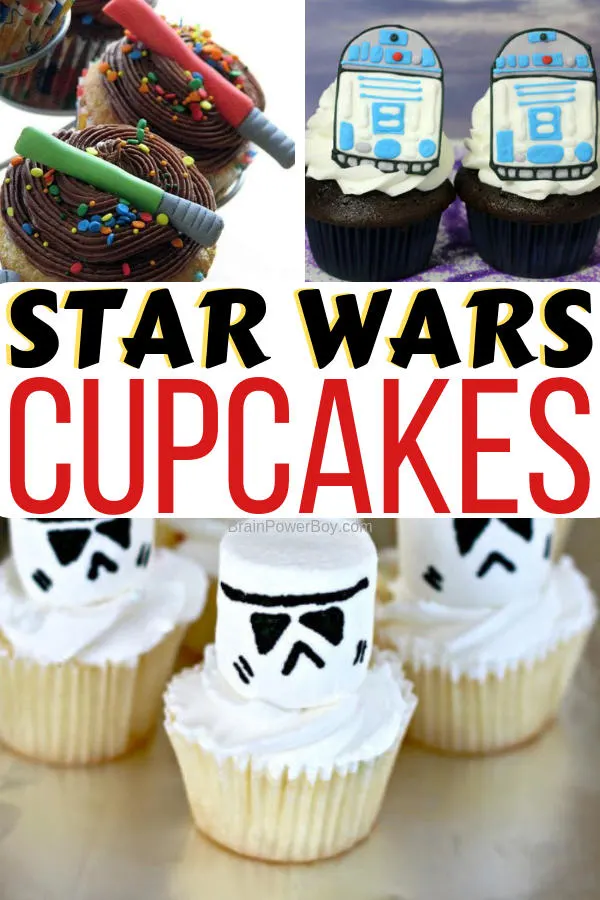 This post may contain affiliate links which means I may receive a small amount, at no cost to you, if you make a purchase through a link. All opinions are my own and I share things I think would be of interest to boys.
Star Wars Cupcakes
These are the best cupcakes in the galaxy right now 😉
Ya know, I am so excited about this post because we are big SW fans around here and I think these are pretty darn cool.
Plus, what I love the most is that they are not super hard to make. Sometimes, I just want to make something fun and cute without a whole lot of work. That is what I was going for in this post.
I hope you enjoy them! Scroll down to see them all!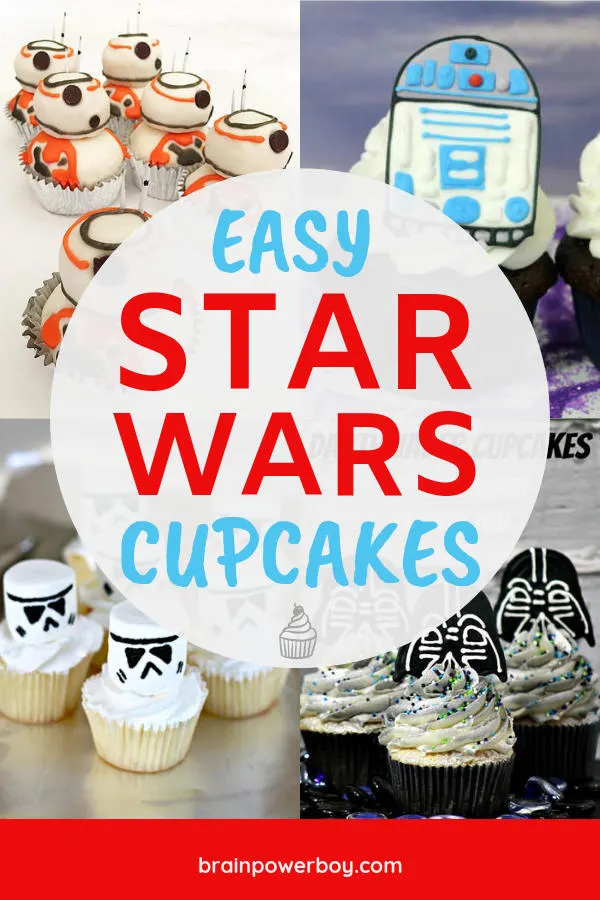 Storm Trooper Cupcakes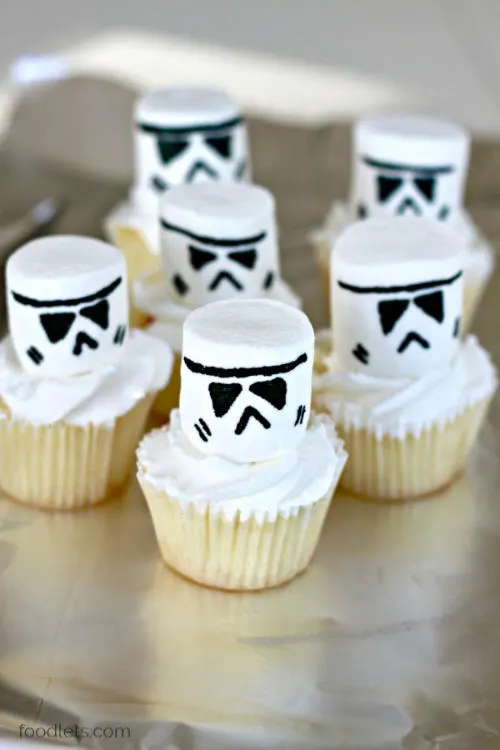 Let's start of with something super easy to make. These storm trooper cupcakes couldn't be more simple.
Grab a marshmallow and a black food safe marker (see my favorite brand at the bottom of this post) and draw on the face. Super fast to pull together. Storm Trooper Cupcakes
Light Saber Cupcakes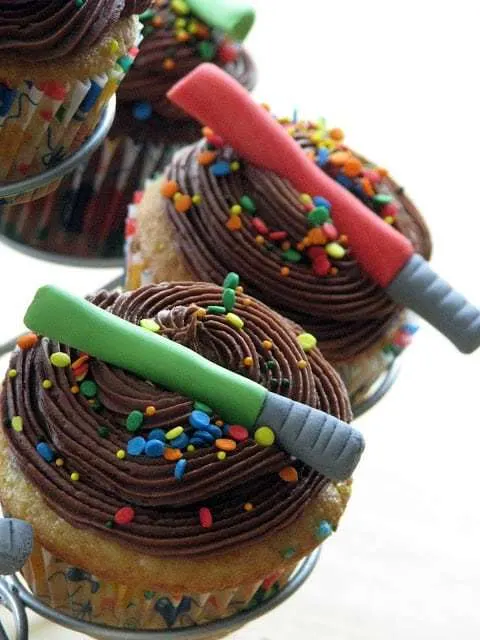 Another very easy to make Star Wars cupcake is this light saber one.
The light sabers are made from fondant. She has details on her site. Basically, if you can roll a snake (like you did when you were a kid with play dough) then you can make these!
You could also crisscross two light sabers for a light saber duel look. Light Saber Cupcakes
Princess Leia Cupcakes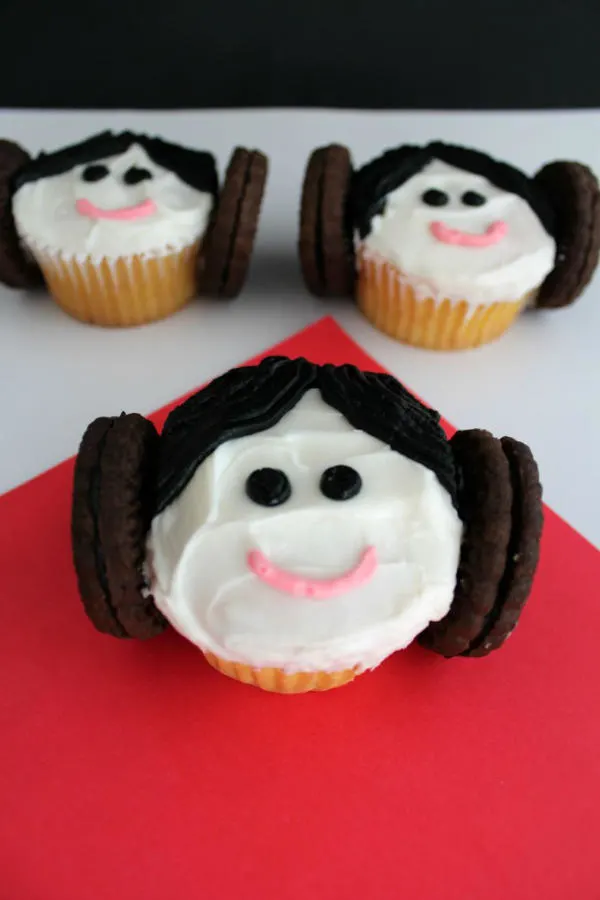 Cute, right?! The Princess Leia cupcake is great to add to the mix. Simply decorated, you really can easily make these.
The cookies for her hair are a fun, and yummy, bonus! Princess Leia Cupcake
Chewbacca Cupcakes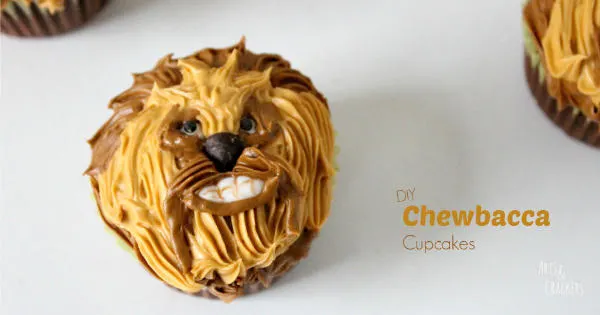 I think Chewbacca may well be one of the most popular Star Wars characters. Who doesn't love the big and furry guy? He is awesome.
Arts and Crackers has detailed directions on her site to show you exactly how these are made. Not hard!
Now you can make some Chewie cupcakes to celebrate your love of all things Wookiee. Chewbacca Cupcakes
Yoda Cupcakes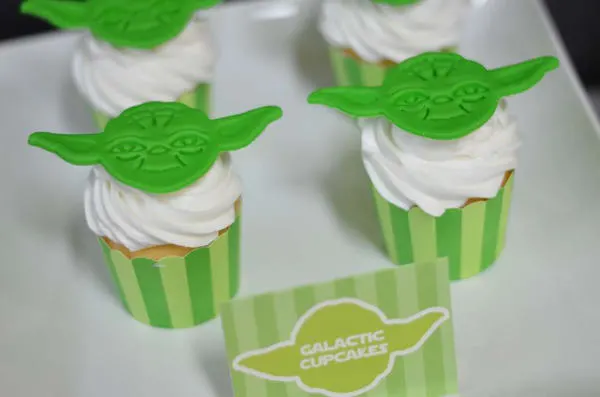 Well, you can't have a Star Wars cupcakes post without including Yoda. That just wouldn't be right!
They do not give details as to how these are made, so I will take a shot at what I think they did. I believe they used cookie cutters (maybe like the ones I found below?) to make green Yoda cookies and then laid them over the top of cupcakes.
The green cupcake papers make these even neater, don't they? Yoda Cupcakes
Rebel Alliance Cupcakes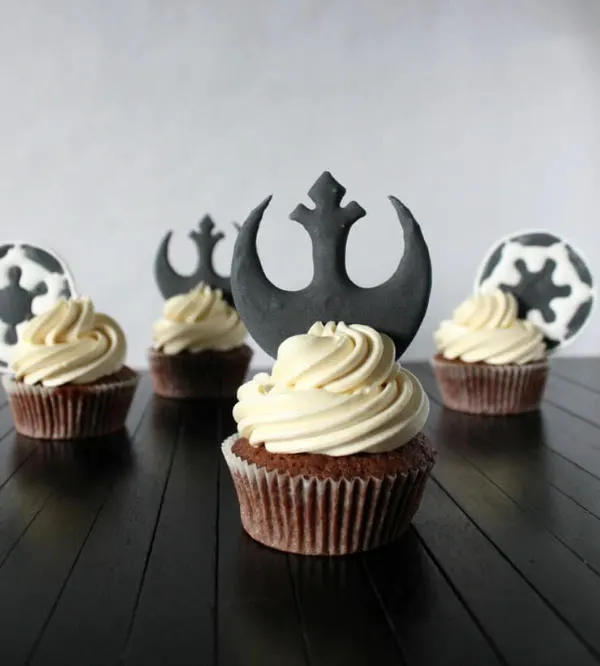 If you have an older Star Wars fan who may enjoy a bit of the dark side, they will love these Rebel Alliance and Galactic Forces cupcakes.
The emblems are made of royal icing. She goes into detail as to how to do this and it is sort of like painting with frosting. I did not think it looked hard to do, though likely it would take a bit of practice. I'm keen to try it myself. Rebel Alliance Cupcakes
Darth Vader Cupcakes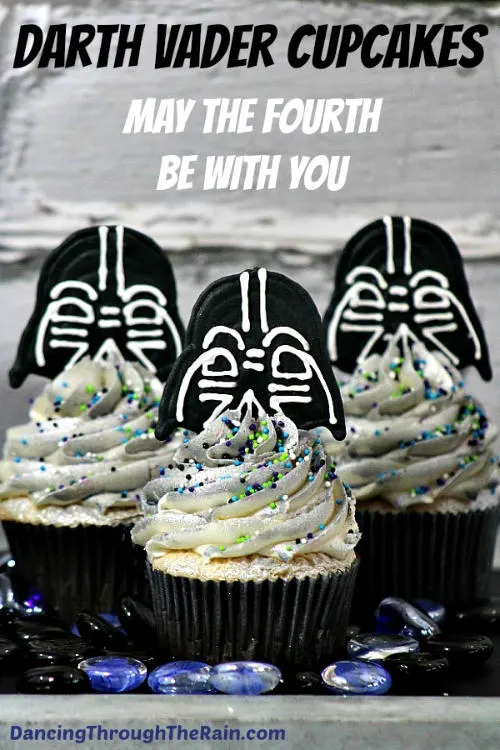 I mentioned the dark side above and we continue here with Darth Vader cupcakes.
I, personally, would have made dark chocolate cupcakes for the base of these but you can do whatever you like.
These also use royal icing and the same type of technique I mentioned above in the Rebel cupcakes. Darth Vader Cupcakes
R2-D2 Cupcakes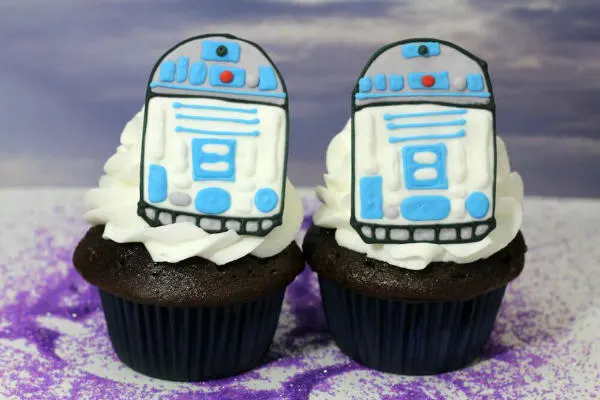 I really wanted to find a cute R2-D2 cupcake but had some trouble. They were either super complicated and way too much work or they were sort of meh, not so great.
I kept hunting and compromised on this one. They are made with DIY decorated R2-D2 cookies and it was the easiest and nicest looking cupcake I could find.
If you do not have a fine enough piping tip, remember you can snip the end of a plastic baggie and just use that instead – works great! R2-D2 Cupcake
BB-8 Cupcakes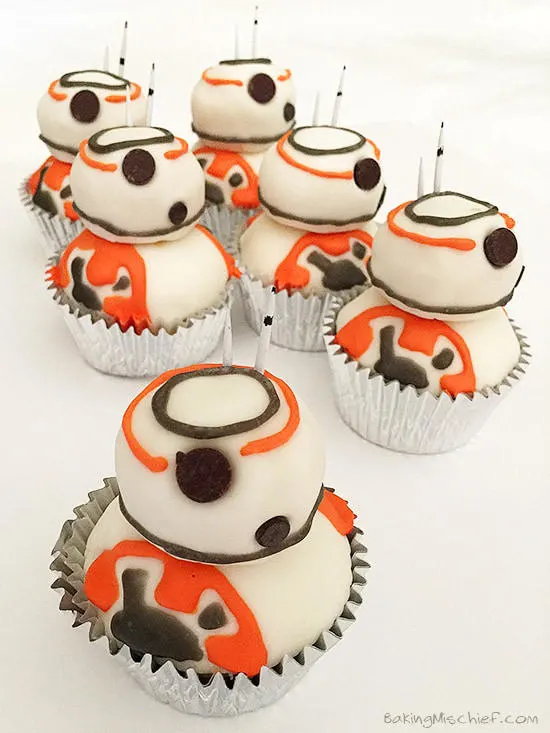 These are probably the hardest of all of the cupcakes I have featured today, and yet, they are still totally doable.
I tend to think of working with fondant, the same as I do working with any type of clay.
I used to use polymer clay a lot for crafting so if you have ever done any of that, or even played with play dough, just keep in mind that it is essentially the same type of thing.
Give it a try. It honestly is easy once you get the hang of it and this BB-8 cupcake doesn't have a whole lot of detail so it won't take too, too long to make either. BB-8 Cupcakes
That is it. I certainly hope you can find the perfect Star Wars Cupcakes among the wonderful choices presented here. Which one is your favorite?