In this article you will find the very best geek cookbooks. You are not going to believe how wonderful and creative these are!
I love cooking with my son and we have interesting and long conversations while we are both relaxed and focused on making something to eat.
Sometimes we talk about cooking and baking, and sometimes we talk about his favorite game at the moment or a book we are reading, or have a more in-depth meaningful conversation about life.
Being in the kitchen with him is a time I treasure.
While I didn't intend to turn our first best books for boys cookbooks post into a series, it just happened that way.
As I was searching I found a bunch of neat cookbooks for boys, then I found a few fun food cookbooks and a geek cookbook or two popped up as well.
There were so many good ones that I had to share them all!
I hope you and your boys will like this batch 🙂 of Geek Cookbooks.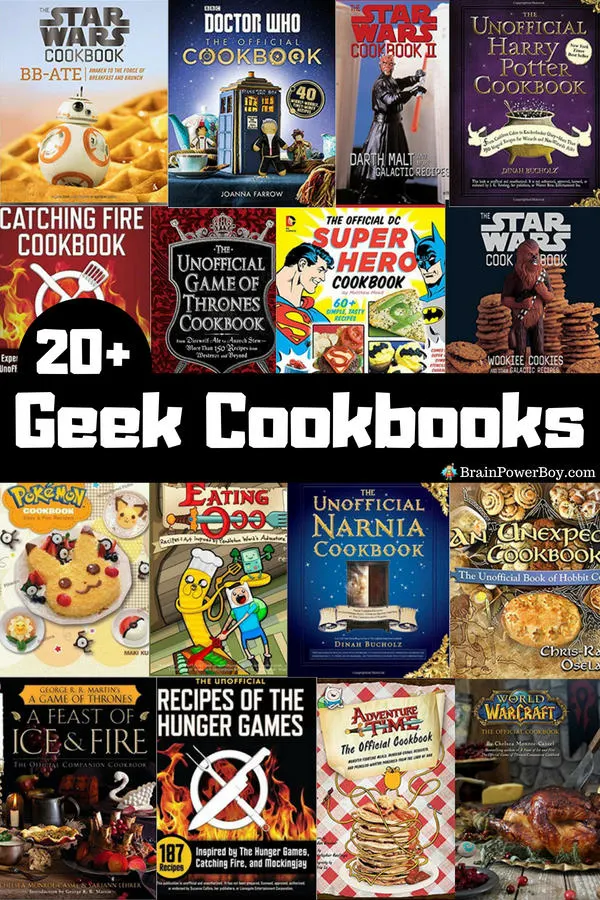 This post may contain affiliate links which means we may receive a small commission, at no cost to you, if you make a purchase through a link. All opinions are our own and we share things we think would be of interest to boys.
Geek Cookbooks
Get your geek on and get cooking with these cool geeky cookbooks that you are going to enjoy more than any other cookbooks you have.
Harry Potter and Narnia Cookbooks
The Unofficial Harry Potter Cookbook has super recipes but no pictures. While I still think it is a fun book whether or not it is good for your boy really depends on him. Some of the recipes are super easy and some are very complex. You could try this Kindle 10 Summertime Treats
teaser for the cookbook which is often free.
Brought to you by the same author as The Unofficial Harry Potter Cookbook is The Unofficial Narnia Cookbook: From Turkish Delight to Gooseberry Fool
. This book has over 150 recipes based on the book. Try dinner with the Beavers or breakfast with Trumpkin the Dwarf for a bit of fun. There is everything in here from eel and calf's tongue to fruit dishes, jellies and of course Turkish Delight. Note: the book does have alcohol in at least a couple of recipes for mulled wine and eggnog.
Here is the official version: The Official Narnia Cookbook: Food from The Chronicles of Narnia by C. S. Lewis
. 128 pages in the Kindle (which is what the link is for.) This book is currently only available used for a crazy price right now or on Kindle. Stewed figs, meat pasty, scotch eggs, brown bread, poached salmon, roast pheasant, and other foods preferred by the characters in Narnia and their author, C.S. Lewis.
Cool Extras:
Star Wars Cookbooks
We can't forget Star Wars when we are talking geek cookbooks!
I know many, many boys who are Star Wars fans and I even know some Star Wars fanatics.
There is a very nice selection of Star Wars cookbooks to get everyone excited about cooking. These books are out of this world!
The Star Wars Cook Book: Wookiee Cookies and Other Galactic Recipes
Beverages include Hoth Chocolate, Skywalker Smoothies and Yoda Soda LOL Move on to Han-burgers and you have gotta love the Wookie Cookies! Fun stuff.
The Star Wars Cookbook II -Darth Malt and More Galactic Recipes
have a full selection of recipes from breakfast to dessert. Start with Booma Breakfast Tarts in the morning, Tongue-numbing Nachos for lunch, Opee Sea Crunch for dinner and Hideous Sidious Sorbet for dessert.
BB-Ate (funny, right?!) Well, the official title is The Star Wars Cookbook: BB-Ate: Awaken to the Force of Breakfast and Brunch. I had to add that in so you knew it was an a.m. cookbook. Includes characters and scenes from both The Force Awakens and The Last Jedi. Features snacks, cereals, eggs, waffles, pancakes, french toast, baked goods, and even drinks. Yummy fun!
There is another cookbook called Wookiee Pies, Clone Scones, and Other Galactic Goodies: The Star Wars Cookbook
which has a lot of repeats from the two Star Wars Cookbooks I mentioned above. You don't need to get them all. This one has breakfast, beverages and the treats plus bonus Darth Vader, Yoda and R2-D2 cookie cutters which are a nice touch.
Cool Extras:
Star Trek
Featuring Neelix, The Star Trek Cookbook is perfect for trekkies. They will totally enjoy the favorite foods that the characters of both the television series and the movies enjoyed. Just because Neelix is on the cover doesn't mean it is only for Voyager fans. All the shows are featured. (Note it does include alcohol.)
Cool Extras:
Hunger Games Cookbooks
The Hunger Games Trilogy is still pretty popular and there are three geek cookbooks to choose from.
The Unofficial Hunger Games Cookbook
has over 150 recipes including breakfasts, breads, stews, soups, salads, main dishes and wild game. It also has neat things to try such as Pine Needle Tea, roastedchestnuts, corn pudding, and suckling pig surprise.
The The Unofficial Recipes of The Hunger Games
has 187 recipes and is broken down by book (The Hunger Games, Catching Fire and Mockingjay) and then by scenes within the book. For example The Hunger Games has The Woods and the Hearth, The Seam and The District, The Train and so on. Big selection of recipes here.
Catching Fire Cookbook: Experience the Hunger Games Trilogy with Unofficial Recipes Inspired by Catching Fire
is much shorter than the two listed above and has recipes inspired by Catching Fire. It is 76 pages long. The recipes are different than those in the other books but they are also similar.
I would likely pick one of these books and call it good. Getting all three would be overkill for most families–unless of course you are all humongous fan of The Hunger Games.
For fun boy topics sent right to your inbox sign up for our newsletter today.
World of Warcraft
I only just found out about this cookbook and it is perfect for WOW fans. Whether you lean druid or orc you will find something tantalizing here. This is the official World of Warcraft Cookbook and it is great!
Cool Extras:
Dr Who
Dr. Who fan? Don't miss this Wibbly-Wobbly Timey-Wimey Recipe book. This is the official cookbook and it is illustrated with stills from the shows. Who wouldn't love to make a Weeping Angel Food Cake?!
Cool Extras:
Superhero Cookbook
I so wanted to offer you a selection of superhero cookbooks to choose from but most are out of print and selling at a crazy price.
So . . . we get this one. Thankfully it is really good and I think boys will enjoy making things from it.
I love The Official DC Super Hero Cookbook
and my son thought it was pretty neat too! Coming in at over 100 pages of superhero goodness this book rocks. It is colorful, and has stencils so you can make "superhero" marks on the food with Batman, Superman, The Flash and Green Lantern. It also has full color characters,and emblems on cardstock that you can punch out and use. The whole book is illustrated with superheroes! Breakfast, lunches, main dishes, sweets and drinks are all covered. This book is a winner. Highly Recommended! (There is also a deluxe edition that comes with cool cookie cutters.)
Cool Extras:
The Game of Thrones
For older kids and adult fans, this is a must have title. The Feast of Fire and Ice takes you through all Seven Kingdoms and beyond. The recipes are varied with some being easy and some for more adventurous eaters. If you don't have dragon eggs on hand, no worries as the suggest substitutes.
Here is another version in The Unofficial Game of Thrones Cookbook. Perfect for those who have already sampled the wonderful book above, and would like another book to add to their shelf.
Pokemon Cookbook
How I missed this when it first came out is beyond me but I did. All is well though because I have included it here so you don't miss it too. I love the cover of this book! The Pokemon Cookbook, Easy and Fun Recipes is just that. The recipes are easy to make and the result if so much fun food goodness.
Cook Extras:
Adventure Time
This beloved cartoon is no more. Boo Hoo! As you re-watch the episode, be sure to snap up these recipe books so you can enjoy it just a little bit more than you already do.
Adventure Time: The Official Cookbook is super cool with a style of illustration that I have always enjoyed. It combines photographs with cartoons. Go read the description on Amazon – it is as fun as the cookbook.
Eating Ooo: Recipes and Art Inspired by Pendleton Ward's Adventure Time is equally fun. Includes recipes for breakfast, lunch and dinner, as well as snacks, appetizers and desserts. Now I am in the mood for Jake's Bacon Pancakes!
Cool Extras:
The Hobbit Cookbooks
An Unexpected Cookbook: The Unofficial Book of Hobbit Cookery
Love the name! If you need to make sure you get in second breakfast and elevenses this is the book for you. From breakfast, to supper and dinner, this cookbook is a Hobbit lover's dream. From braised ox tails, to sweet and savory handpies and on to shire baked scotch eggs there is a wide selection of Hobbit food to choose from. My son and husband are quite into The Hobbit and I think this would make a nice gift (shhh!)
The Shire Cookbook is a charming little recipe book that Hobbit fans are sure to like. It includes 40 recipes in a small form (Hobbit-sized!) book. There are color photographs of some of the recipes. This one was lovingly written by dedicated fan.
If I find more geek cookbooks worthy of this list, I will add them in.
See also:
Best Cookbooks for Boys
Best Fun Food Cookbooks for Boys