Yay, a new round-up of super awesome activities for boys.
Unplugged play. That certainly wasn't a phrase when my brothers and I were growing up!
We were out in the neighborhood, up to who knows what, and having a blast.
We would get called in for lunch and dinner and we basically lived outside.
This isn't the case so much anymore but there are so many wonderful unplugged things for boys to do.
We actually had a hard time choosing from some favorite activities to share.
Activities for Boys: Unplugged Play
Show them a lot of ways to have fun offline and they will be happy to spend more of their free time doing these types of things.
It takes a bit of effort on your part to gather the things together but none of these activities for boys require much prep work.
I like to keep things pretty simple – and, of course, fun!
Shoot Stuff
Ready, Aim, Fire! Play several Balloon Archery Games.
Make a Super Fun Rocket Flyer! Easy to make and a lot of fun to play with. You only need a pen and some paper.
Pop! You will have pom poms and/or marshmallows zipping all over the place with this fun Pom Pom Popper toy.
Make a nifty toy using a pool noodle and a rubberbands. The Pool Noodle Finger Flinger will be a blast to play with!
Get Muddy
If your boys love to play in mud you have to try these. They are both going to be a hit.
Here are a whole bunch of the best muddy activities and art ideas!
Go on, get muddy! Squishy, messy fun. Worm optional 🙂
Try this Muddy Car Wash. They can get clean in the end!
Build with LEGO
We really love LEGO. Try our LEGO page for many awesome ideas.
Make your own LEGO Robots.
Build LEGO Star Wars ships and more!
Build a LEGO Marble Run.
Go on a Scavenger Hunt
Try a couple of scavenger hunts. Here are two we thought boys would enjoy.
Get out and about at night. Try this interesting Nocturnal scavenger hunt.
I love this one! We have it on our list of things to do. A Texture scavenger hunt.
Paint Something
Ok, stick with me now – how about Catapult painting? "Yikes" and "Awesome" are the two words that came to mind when I first saw it. Make their really cool catapult, or try one from the catapult section below, either way flinging paint is an activity the boys are not sure to forget.
If the catapult painting was a bit too much for you, how about squirt gun painting instead? The mess is a bit more contained and I'm certain the boys would love it.
Or be brave and use both ideas!
Play Games
We have a bunch of game posts as I really think games are a great way to learn.
Play a Robot Memory Game. Cute free printable.
If you have an emerging reader he might like this game played with LEGO Minifigs: Printable Sight Word Game.
Or try these free printable games with boy appeal. <<< There are a lot of choices!!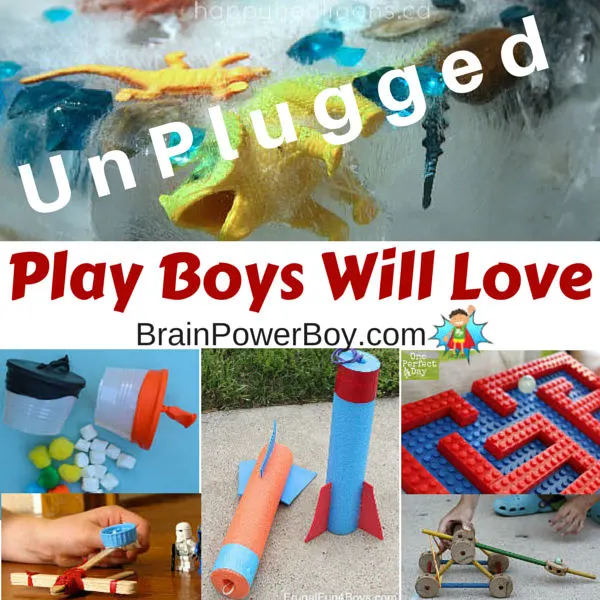 Make a Catapult
One of the ultimate unplugged activities for boys choices is to build a catapult. They learn a ton from putting them together and shooting stuff through the air is always a big hit! Right?!
Choose from 10 Incredible Catapults from the very small to one that can throw a pumpkin!
We made one from Lincoln Logs that was a lot of fun – for instructions follow the link.
Create with Cardboard
Make your own Star Wars AT ST Marionette out of cardboard.
Construct a fold-up cardboard tabletop house. You can make this nifty open-ended play item into whatever they wish. Make a skyscraper and play superheroes, make a barn, a cave, a rocket . . . anything!
I was excited to find this cardboard airport. It is super neat and you could make it over time.
Be Cool with Ice Activities
Be a "cool mom" and make one of these ice excavations. My son has always enjoyed getting things out of ice. I know this is an activity that they will spend some time on.
Ice Science Projects! are a great way to stay cool while learning something new.
LEGO is always a hit and this is a neat twist. Minifigs in Ice: LEGO Science Ice Excavation
Gotta love dinosaur activities! Try a Dino Ice Dig with plastic dinosaurs.
Set up a Sensory Bin
Grab a bin and set up some fun sensory bins for boys. This article has 10 different sensory bins to choose from including 4 that are wonderful for older boys.
Dinosaurs! 9 play ideas for toddlers and their brothers. Great for multi-age families.
Build Something
Make a Rube Goldberg Machine. This will hold their attention for a long, long time!
Grab the blankets and sheets and build a fort! Get the whole family involved to build a really awesome big one.
Build a light saber or some other fun Star Wars things.
Play with Slime
I can't do an unplugged boy's activity list without adding slime! Grab some slime recipes and several LEGO slime options by clicking that link.
Get Wet!
Try some water activities to beat the heat in your own backyard.
Or if you would prefer, here are some amazingly fun water games.
Set Them Free
Plus, and this is important: Don't forget that Exploring Leads to Learning. The article includes ideas for different ages. Make this a priority.
And if all of those activities are not enough to keep your boys having a screen-free blast, try our summer guide for boys which has over 150 more ideas.
I have gathered these unplugged activities for boys together in hopes of inspiring some screen-free time with your boys. I hope you all have fun learning, playing and being together.
Our time with our boys is brief, let's make the most of it.
If you know of a mom, dad, grandparent, homeschooler, or teacher who might enjoy this list of unplugged play for boys ideas, please share it using the sharing buttons below. We would appreciate it!