Play is at the top on my list as a great way for boys (and all kids) to learn. We love to play in many different ways and one thing that we enjoy is taking what we already have in the house and making a new game with it.
I write about activities for boys on a regular basis and love to find things that are fun but also add a bit of learning into the mix. This game fits the bill!
Playing games together as a family makes for great memories. So grab your bows and head outside to try these fun balloon archery games!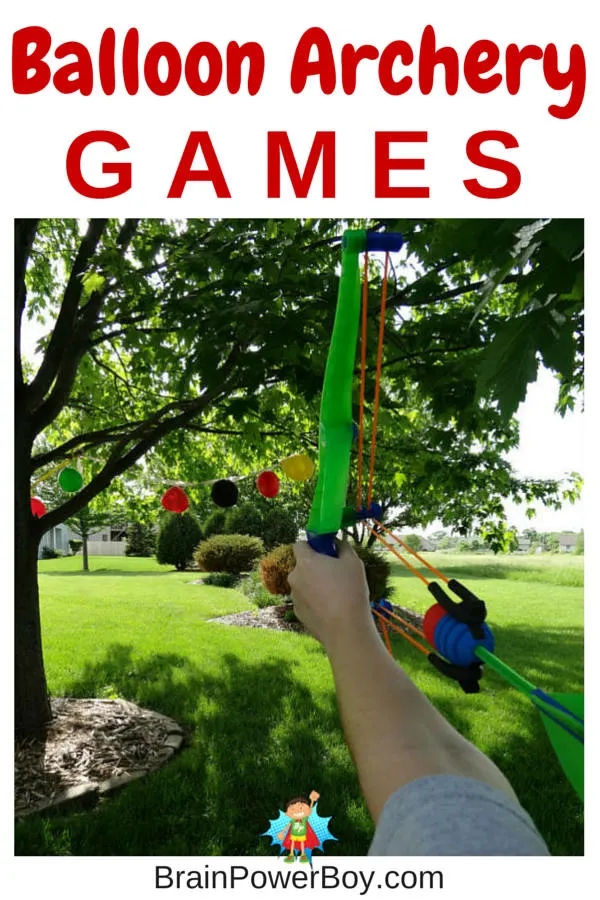 This post may contain affiliate links which means I may receive a small commission, at no cost to you, if you make a purchase through a link. All opinions are my own and I share things I think would be of interest to boys.
Balloon Archery Games
Materials needed:
Balloons (larger ones work best–we get ours at the dollar store)
Balloon pump (optional) I love this balloon pump as it saves me a lot of huffing and puffing and you get bonus rocket balloons!
Tape to attach the balloons to the streamers
Streamers or crepe paper
Kids bow and arrow set (our favorite is the Zing Air Z-Curve Bow)
We had just finished a birthday party at our house and we decided to recycle some party decorations into an enjoyable, and somewhat challenging, game.
We always have streamers and balloons at our birthday celebrations (it's a requirement!) and try to find something fun to do with them when we take down the decorations.
This time we decided to take the fun outdoors.
We grabbed the streamers and headed to the backyard. The tree seemed like a great place to string them up.
If you don't have a tree in your backyard, you could stick a couple of poles in the ground and attach the string to that, or you could also put it between some lawn chairs.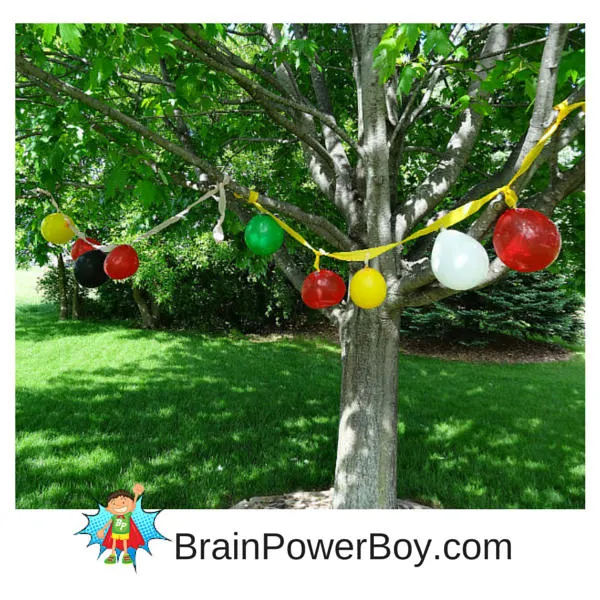 After we had the balloons stung up we were going to toss balls at them but my son had a much better idea. We got out the Zing Air Z-Curve Bow
(see our review by clicking on the link) and got ready to do some archery.
We tried different distances, and talked about what happened if we shot up in a curve, how far we have to pull back, and what the best strategy was for hitting them.
Balloon Archery Game Ideas
Color Game: Attach different colored balloons to a streamer. Each person gets a different color. If you hit your color you get a point, if you hit someone else color, they get the point. Play up to a specific number (say 5 or 10.) Person with the most points wins.
Miss It Game: Try NOT to hit the balloons. While shooting, try to slip your arrows between the balloons. Super challenging.
Common Goal Game: I like cooperative games and we often play them. There are plenty of opportunities for competition in society and our goal is simply to have fun so we play together to achieve a goal. Here are two fun cooperative ideas. Try to hit one of each color balloon or try to get to a certain score as a team.
Free Play Game: Or go totally free-form and just shoot!
We were hoping to pop a few balloons, but even up close we couldn't get them to pop. Bother!
My big tip: if you have young shooters, play on a calm day. It was windy when we played and the gusts of wind it made it very hard to hit the targets!
Such simple games to play but we really had a great time. I hope you will grab a few supplies and play a balloon archery game.
Thanks for stopping by! If you are looking for more activities for boys to do, books for boys, LEGO fun, and other great boy stuff please sign up for our newsletter. We would love to send you ideas for boys, including things I don't share here on the site.