Star Wars Crafts are fun to do any time of the year.
Grab a few ideas for rainy, snowy or sunny days or put together a selection of these craft ideas for May the 4th Be With You Day.
No matter which you choose your kids will really like these!
Scroll down to see the crafts and be sure to stop by our activities for boys page for more Star Wars goodness.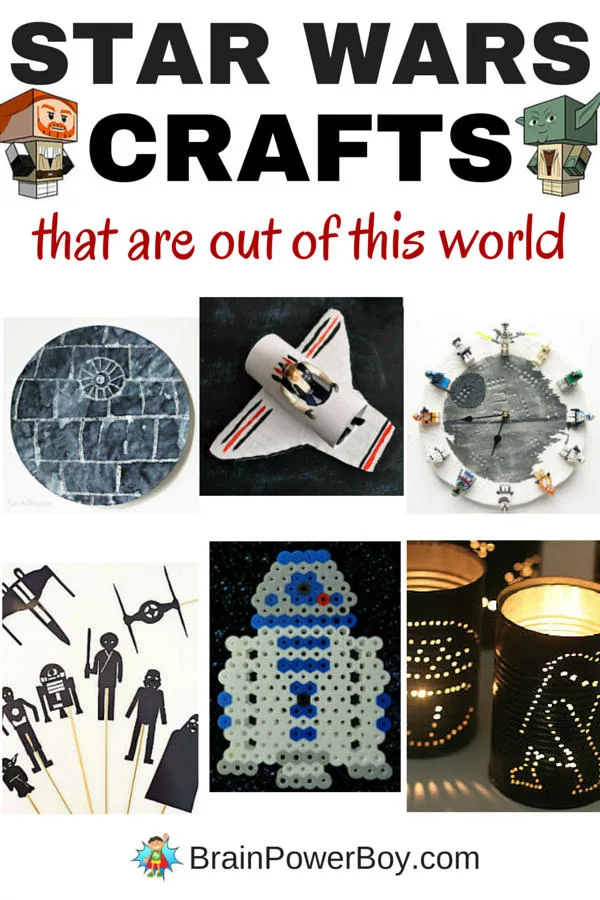 This post may contain affiliate links which means we may receive a small commission, at no cost to you, if you make a purchase through a link. All opinions are our own and we share things we think would be of interest to boys.
Star Wars Crafts
We sorted through a bunch of craft ideas to find the ones we thought would appeal to boys. Yes, of course, anyone can do them but this site is geared toward boys!
I really, really like this Star Wars clock and may end up making one myself. You have to see how easy it is to make this incredible clock (Here is the clock piece you need in case you have trouble finding a good one near you.) Perfection!!
This crayon resist Death Star is very cool indeed. It is not a hard craft and the results are awesome. I love how it turned out.
Make some Star Wars Tin Can Lanterns. A hammer, some nails, paint and a pattern are all you need. Get more details here.
I love shadow puppets. They are just so neat and the play opportunities are wonderful. These shadow puppets are Star Wars style. Your boys will thank you!! You may have to help with some of the more intricate cuts but I think that your boys would enjoy making these.


What fun your kids will have making and playing with this Star Wars craft: space shuttles. You will likely have all the supplies you need on hand (isn't that nice?!) Grab some Star Wars figures and you are all set.
Have you ever wondered how to make paper Star Wars characters? Well, now you can Craft Yoda or Obi-Wan Kenobi out of paper. Download and print these free Cubeecraft (cu-bee-craft) paper projects. I selected ones that were not too hard but they do take a bit of patience to put together as it involves cutting and gluing them together. Note: there are other characters on site.
Don't forget about our Star Wars R2D2 perler bead project. It has been very well received and boys I know have really liked making it which makes me happy.
If you liked these Star Wars crafts and are looking for more Star Wars fun try:
Star Wars Activity and Coloring Books
Star Wars Activities That Rock