We gathered together several really fun Star Wars Activities. Your kids are going to really like these!
They are great for Star Wars Day (May the 4th be with you!) or for any time you want to include a bit of Star Wars fun in their day.
Everything here is easy to pull together and your kids will ask to do them again and again – yes, they are that fun!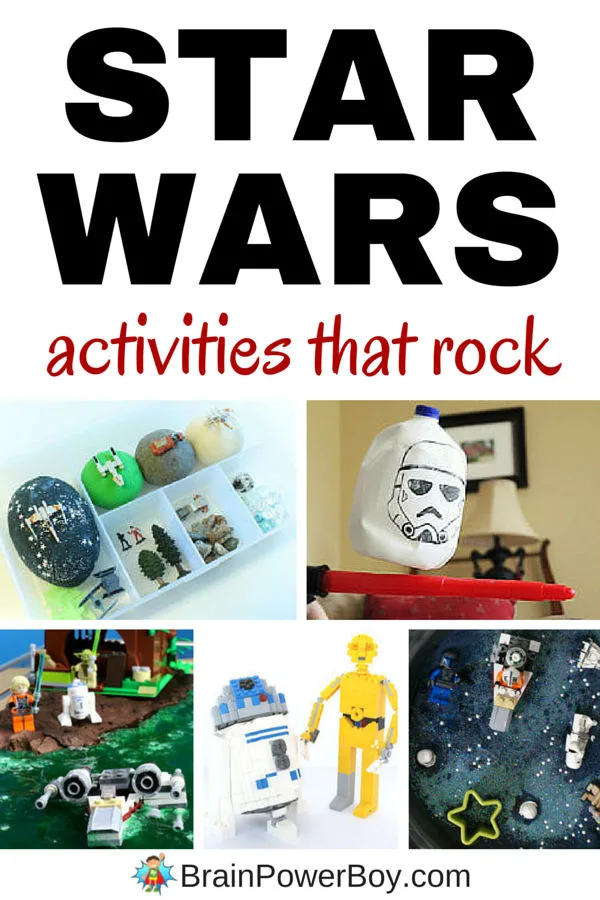 Star Wars Activities
Yoda's Swamp Slime activity actually features bubbling green slime! Woah. What more could you ask for than bubbling slime! I like this activity for so many reasons. One of them is because they include LEGO! We are always up for that.
Make this milk carton Star Wars stormtrooper for your boy. If you need a pattern you could go online and enlarge a stormtrooper clip art to the size of your milk carton and trace around it and/or cut out the details to make a stencil. Don't forget to grab one of these. He will be in seventh heaven and I bet this Star Wars activity keeps him busy for a long, long time.
First mix up some playdough – Star Wars style of course, and then get out a few micro figures. This idea will provide hours of fun.
Make a Star Wars LEGO C3PO and an R2D2! There are directions for building these LEGO creations. They are a bit challenging!
You know how fun oobleck can be, right? Well, try this neat version which is Star Wars Galaxy Oobleck. It has a great look to it. All swirly and space-like. They added LEGO Star Wars minifigs to add to the fun.
This Tatooine Desert sensory bin idea includes a recipe for sand cloud dough. It looks so much like sand! The whole setup is very neat and engaging.


We have a lot more Star Wars ideas on our site – yes, we are fans!
Star Wars Printable Sight Word Games
Star Wars Perler Bead Pattern R2-D2