Crystal, from Crystal and Comp, is visiting today to bring us a wonderful game she made to help her boys learn their sight words.
Sight words are words that frequently turn up while reading. They are not able to be easily sounded out, but need to be learned by sight instead.
Playing a sight word game will help your child learn their Dolch sight words while having fun which means they are much more likely to remember them! ~Sheila
We have been homeschooling for three years. Our twins were in Kindergarten when we started.
I have taught them how to read- what a huge undertaking, but something I am so proud of.
Learning sight words has been a part of our process. I created this free printable sight word game to make it hands-on and fun.
Be sure to check out our other sight word games as well!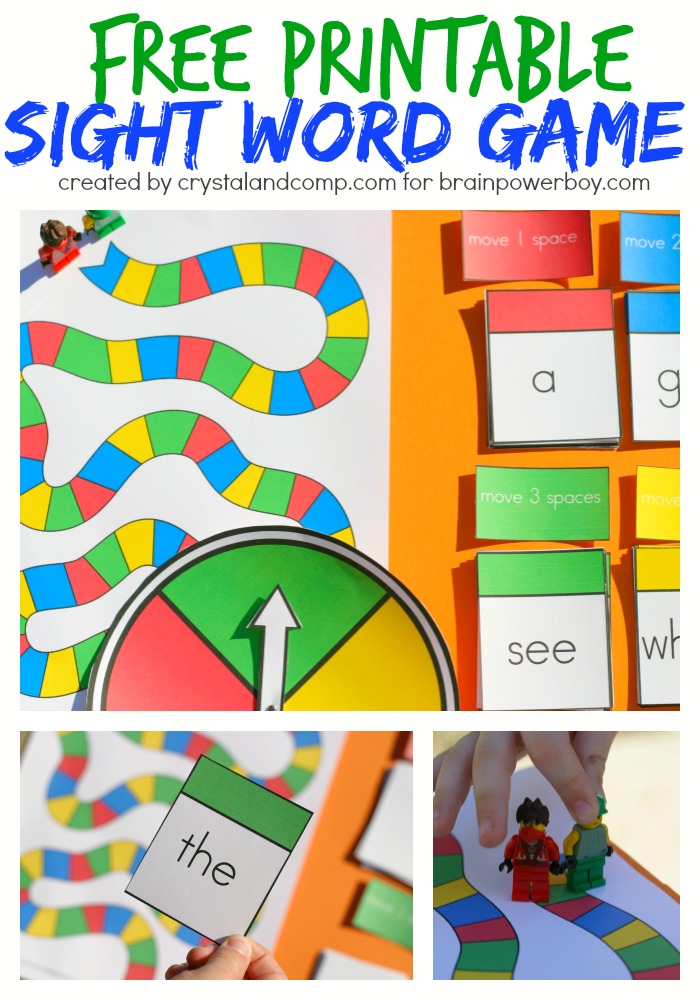 This post may contain affiliate links which means we may receive a small commission, at no cost to you, if you make a purchase through a link. All opinions are our own and we share things we think would be of interest to boys.
Let me just say, I do NOT push my boys to read super fast. I do NOT mandate that they know a certain number of words before a specific time period.
I am relaxed about how they learn and I want learning to be fun and not something they dread. Especially when it comes to reading. I have found, especially with our older boys who are now teens, that boys find a love for reading on their own timetable. We cannot push it unnaturally.
Recently one of my 8-year-old twins was struggling with one of his early reader chapter books and I knew it was time to revisit sight words. Why not make it a game?
Let me show you how we use it!
Supplies:
Brad Setter and Piercing Tool
Mini Brad 100-Pack, Bright
&
Print out the game packet by clicking the link toward the bottom of this post. I highly suggest you print this on cardstock.
This packet is 10 pages total and it includes the board, the cards, the spinner and optional small game piece circles for each player.
If these are too small, just use LEGO minifigs as your game pieces. Boys love this anyway!
Here is how you assemble.
Work for the grownup:
Use a paper cutter or scissors and cut out the sight word cards.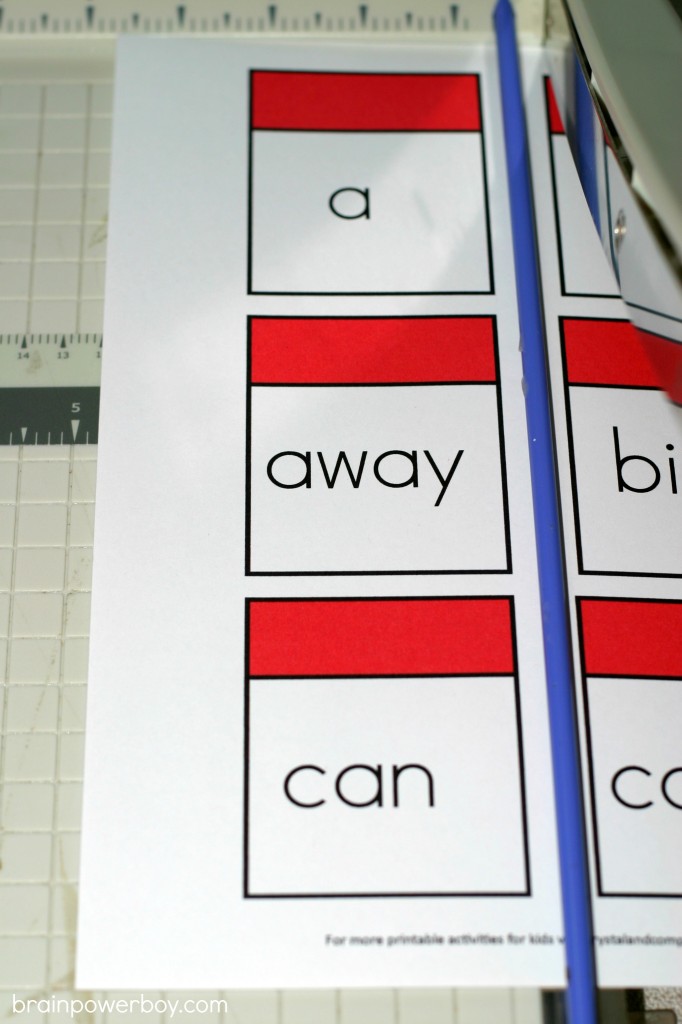 Cut out the spinner and arrow.
Use a mini brad and piecing tool to attach the arrow to the spinner. Or, you could use a needle to poke the hole. (Remember, this is all part of the grown-ups assembly.)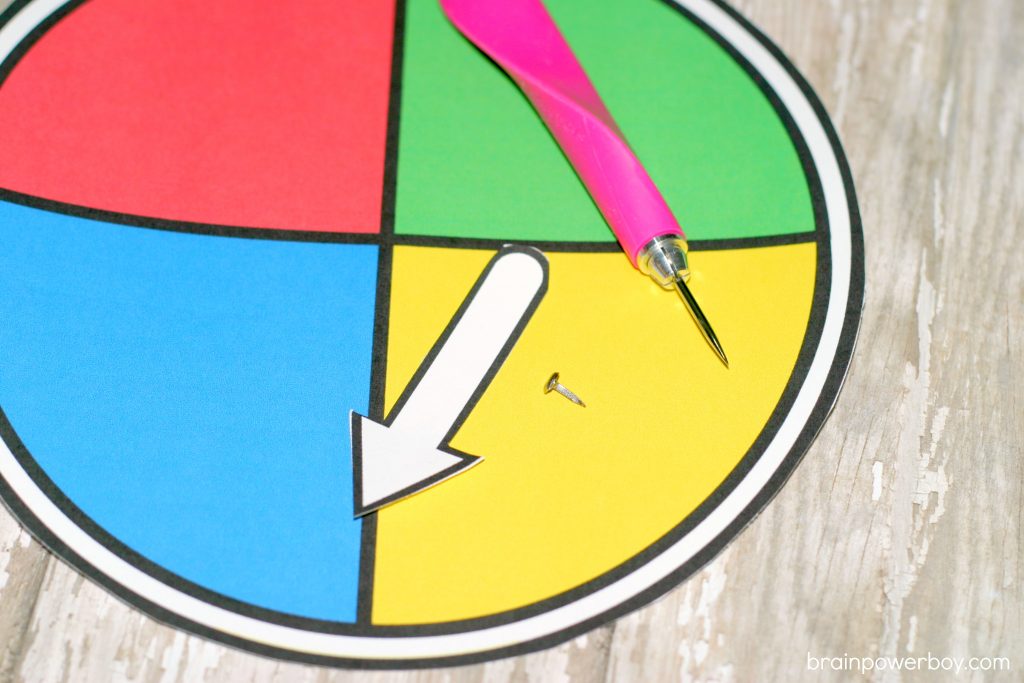 Now the arrow will spin when flicked by the kids.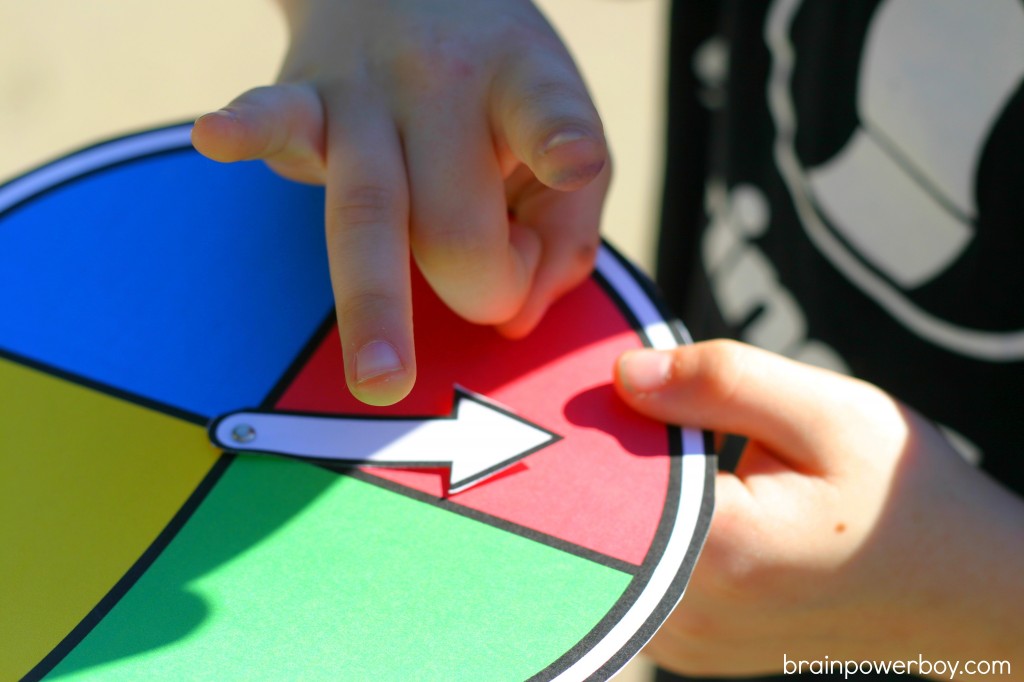 Now, it is time for the kids to help.
Have them lay out the board game and pieces.
You will notice that each group of sight words are color coded. There is also a matching colored rectangle that goes with each set of words. This tells the kids the value of each word.
In the picture below I showed you the words in each color group face up, before you start the game flip the stacks over so that the words are face down.
Have them place their game circles or LEGO minifigs at the start area.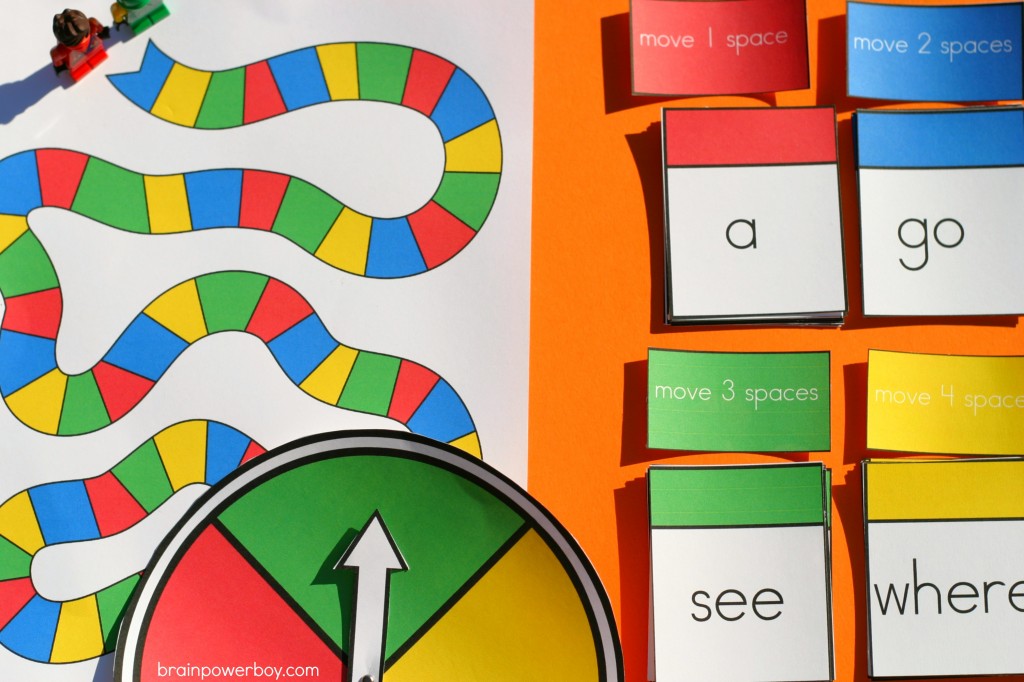 Decide the order the kids will go in.
We agreed that the oldest twin go first the first time we played.
We then agreed that the youngest twin would go first the second time we played the game.
Have the first player flick the spinner.
The color that it lands on is the pile they will draw a sight word from. In this case it is the color blue.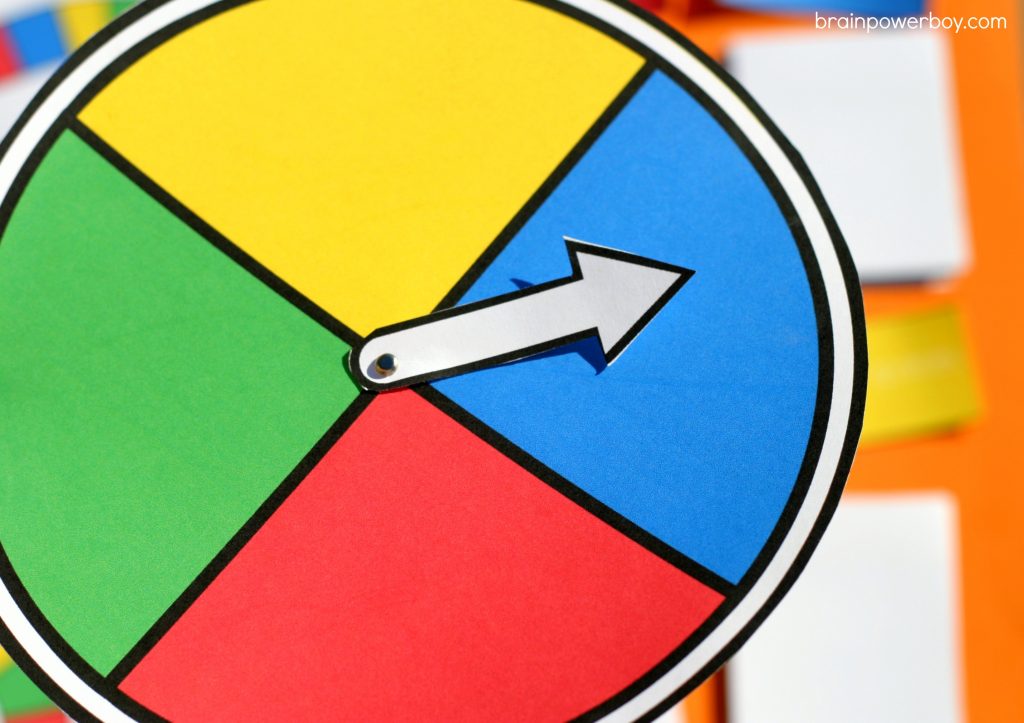 The player draws the top blue card and turns it over.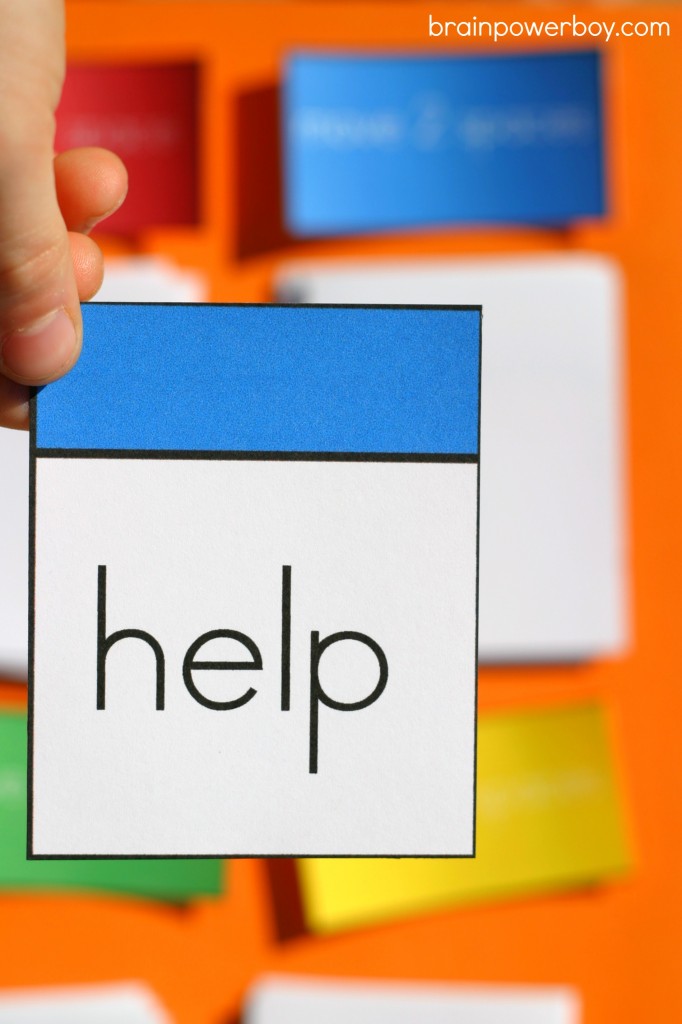 If they can say the word they can move the total number of spaced dedicated to that color.
In this case, the player can move two spaces.
If the player gets the word right, they can hold on to the card.
If they miss the word, the card goes back onto the bottom of the deck.
If the player misses the word he does not move his LEGO figure or player circle at all.
Now it is the next players turn.
Continue this routine until someone lands at the end of the board game and is the WINNER!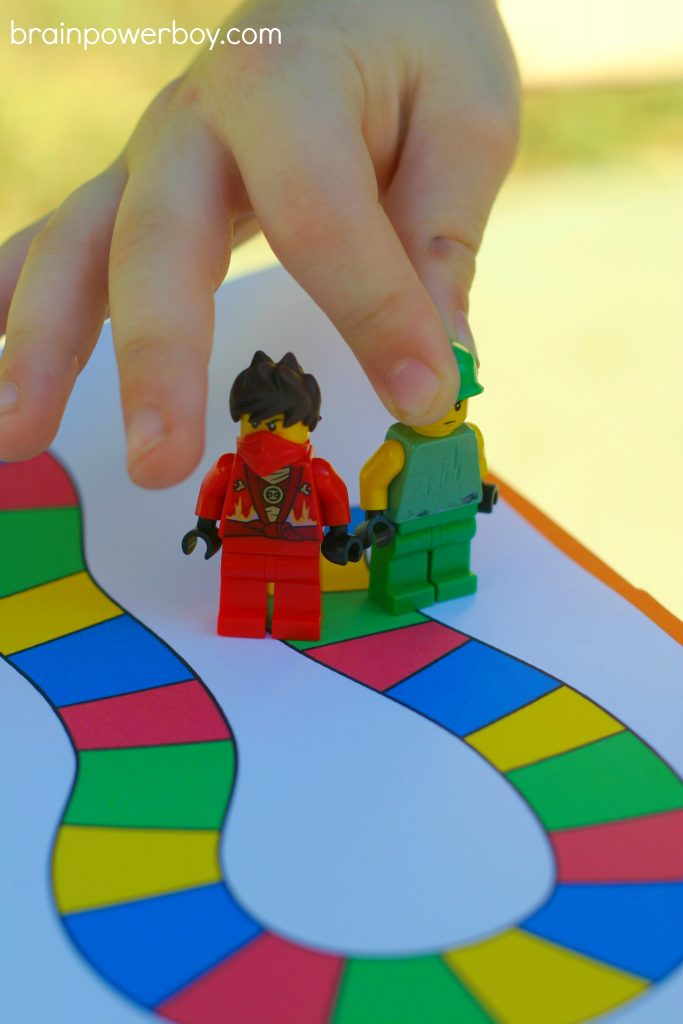 To store the free printable sight word game, place all pieces in a large gallon ziplock bag.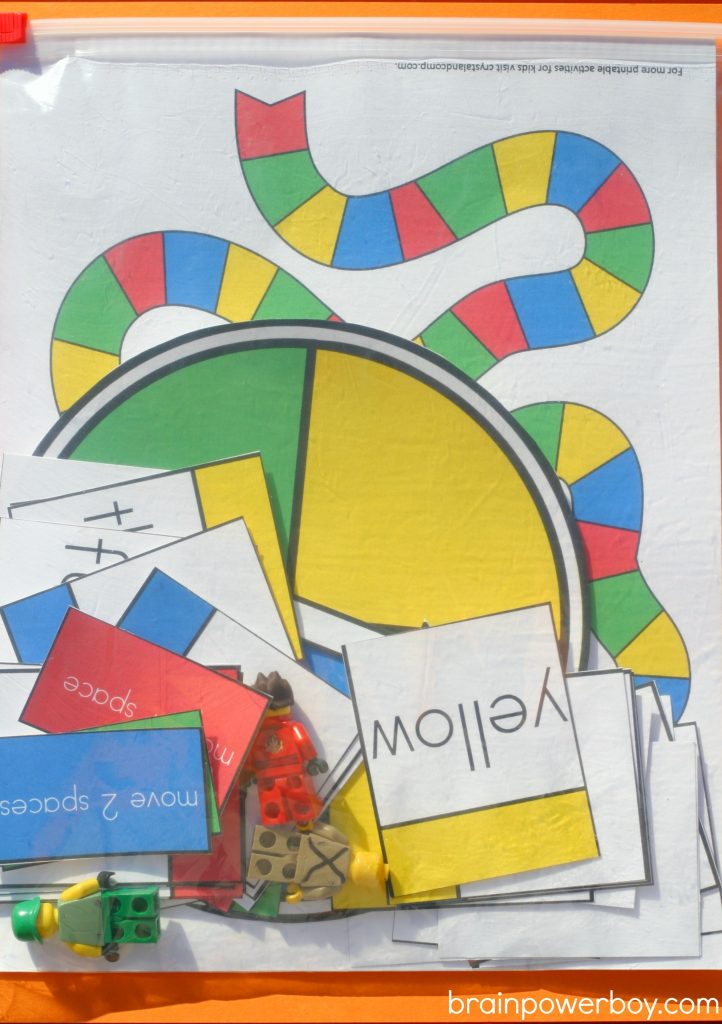 Free Printable Sight Word Game ——->>> click to print the game
How fun is this? Would your boys love to play?
We love making learning fun!
More Learning Activities:
Care for another sight word game idea? Try this one!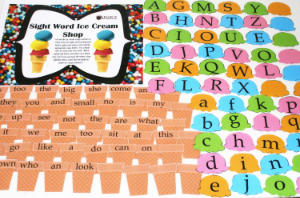 This sight word ice cream shop has a lot of possibilities.
Grab it here.
Want more fun boys' learning resources sent to your inbox? Sign up today!