Time to play some free printable games for boys. We picked out some neat printable games for kids and they all have boy appeal.
What I really enjoy about playing games together is the time we get to spend relaxing and enjoying each other's company.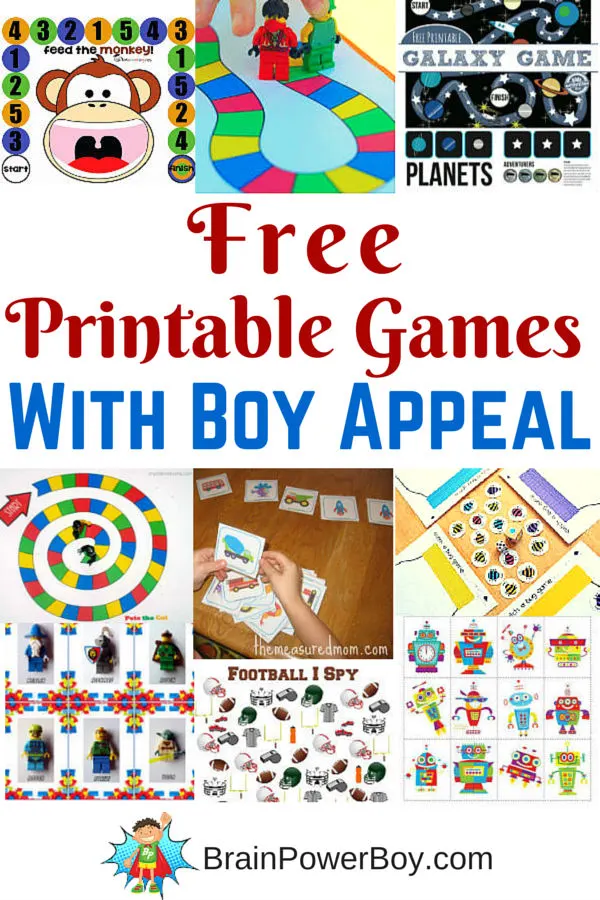 This post may contain affiliate links which means I may receive a small commission, at no cost to you, if you make a purchase through a link. All opinions are my own and I share things I think would be of interest to boys.
Printable Games for Boys
Finding fun activities that boys will enjoy with a learning twist are what we strive to provide. You know things with bugs, LEGO, robots, vehicles, football and more.
We like free (and fun!) learning materials. All of these wonderful games are completely free. Yay!
Robots? You bet! Try this Robot Memory Game. Fun, bright and colorful robots for you to print out and match up.
Super cute bug game for younger players. You can play two ways, either color sorting, or counting bugs.
If you have a boy who is all about space you have got to see this game. The Stars and Planets Galaxy Game is really awesome.
Put bananas in the monkey's mouth in this feed the monkey color and counting game Feed the Monkey.
If your boy likes vehicles, this cars and trucks bingo game is sure to be a hit.
Or try out this vehicle memory game! It has vehicles galore including cars, trucks, planes, buses, helicopters and more.
We have always had fun playing I Spy (we like these.) I found a sports football version for you to try as well.
This free printable game for kids is all about Pete the Cat and His Groovy Buttons. So many boys are Pete the Cat fans that I just had to include this one. It is a fun math game and you use LEGO minifigs for markers.
If your boy has a Naturalistic Learning Style he will really go for this animal and plant Food Chain Game. You start with a plant card and make a chain from there. It is really fun.
Here is a fun twist on Guess Who. LEGO Guess Who will keep their attention. It is a bit harder than the regular game because you have so many characteristics to narrow down, but what fun! I am going to play around with the cards before printing to make sure they fit. She mentioned that she has an old game so they may need to be resized a bit.
We have a free printable sight word game on our site that uses LEGO Minifigs as the markers. I have been told that a lot of boys really enjoy playing this game.
I hope you and your boys have fun with these printable games for boys. We sure had fun finding them and playing a few ourselves.
Which one do you think your boy will like best?
If you enjoyed these printable games for kids go here for more fun activities for boys.