Those with a naturalistic learning style learn best by being surrounded by the natural world. As you an imagine, there are sometimes issues with this when a child has to be in a school building all day. I am sharing things you can do to help a naturalistic learner in the best way possible.
This article is part of a big series on learning styles that I wrote when I first started the website. I decided it was time to revisit these articles, update them and add in more information to make them even more helpful for you.
I'm sure you know boys who lean toward the naturalistic style. They are constantly wanting to be outside and likely have many pieces of nature and little creatures that they bring with them when they come inside. They are really happy to live and learn surrounded by nature.
For more information on all of the learning styles you can see our Boys' Learning Styles Overview. Getting an idea of the types of learning styles there are, and which ones your boy has, can really help you to help them learn. It also allows them to learn in a way that works best for them which is much more enjoyable and enriching.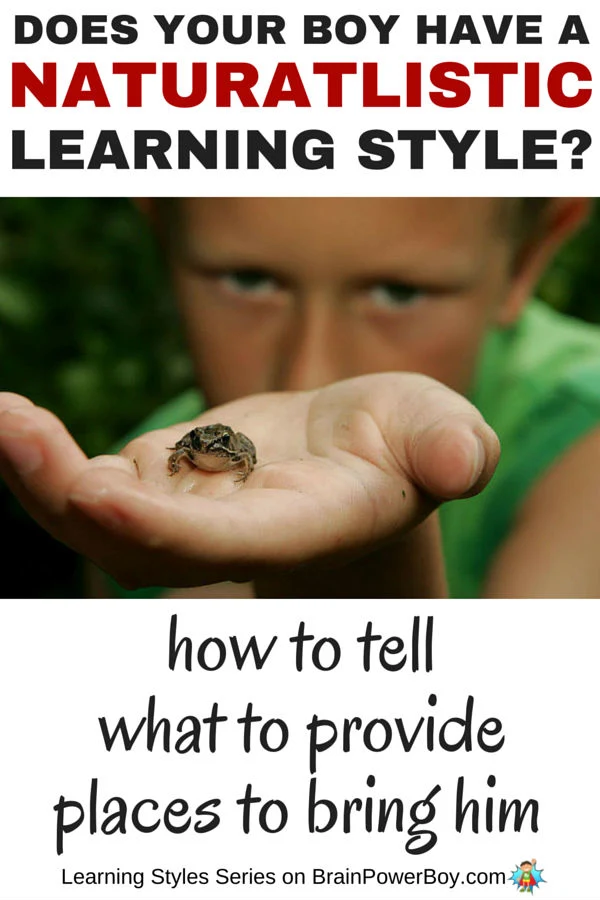 This post may contain affiliate links which means we may receive a small commission, at no cost to you, if you make a purchase through a link. All opinions are our own and we share things we think would be of interest to boys.
Today we are providing a starting point for learning more about the naturalistic learning style. We will be writing more in-depth articles on how you can help your boy learn while using this information as we more forward.
Keep in mind that we all tend to have two to three learning styles that we lean more strongly toward but we can, and often do, learn in all of the styles.
How You Can Tell if Your Boy Has a Naturalistic Learning Style
When boys are naturalistic learners they learn from the natural world. They love to be outside taking in all that nature has to offer. They need a lot of time to explore and work on their projects. Fresh air and sunshine help these boys be at their best.
Here are some characteristics that he may have. Not all of them need to be present for him to lean toward this style.
Is out the door first thing in the morning
Likes to care for animals and/or plants
Enjoys nature, gardening, hiking or other outdoor activities
Sees how everyday actions have long-term consequences
Is drawn to non-fiction books on nature, animals, and natural wonders
Is sensitive to the natural world
Notices things that others miss—pays attention to small details
Likely has a pet, or more likely, various pets
Cares deeply for animals, plants and the natural world
Likes classifying artifacts, animals etc.
Enjoys recording changes on graphs/charts
May sketch out his observations
Makes models and dioramas
What You Can Provide if He Has a Naturalistic Learning Style
Access to the outdoors!
Magnifying glasses (get a variety,) binoculars, telescope, and microscope (very good first scope)
Bug jar, aquarium, and terrarium
Maps, and a globe
Great websites or CDs for research of their preferred topic
Good camera
Pets
Garden spot of their own
Support of his collections
Journal/scrapbook materials
Art supplies to capture his observations
Here are a few more items a naturalistic learner may enjoy. Click each image to learn more.

Places You Can Take a Boy to Honor His Naturalistic Learning Style
Ponds, streams, lakes, oceans, beaches, wetlands, forests, deserts
Natural history museums, nature centers
State and national parks
Bird watching
Canoeing, rafting, hiking, rock climbing, skiing, camping, scuba diving . . .
Zoo, farm, wildlife parks, aquariums
Pet stores
It is not hard to help your boy if he has a naturalistic learning style. You can help him find the best way for him to learn and that is the key – finding the way that he feels most comfortable learning.
For additional information on learning styles see our Boys Learning Styles Overview and check out the other things we have to offer by using the navigation bar at the top of the site.