Tina from Kidz Activities is joining us today with a free printable game for you.  It is really cute and I hope you enjoy it.
Do you remember playing Bingo? Maybe you played this as a kid or at charity events. It's such a popular game and it can be quite fun and exciting. So we thought of creating a simpler version of the original Bingo game for preschoolers. Here's one that's perfect for kids between the ages 3-5: a Free Printable Cars and Trucks Bingo Game created by Kidz Activities!  This is a fun play based learning game.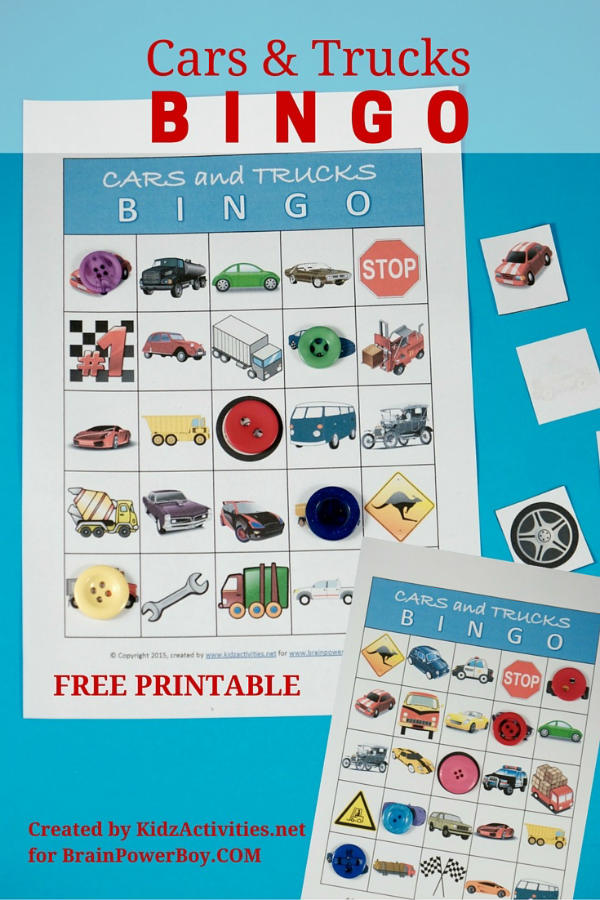 This post may contain affiliate links which means we may receive a small commission, at no cost to you, if you make a purchase through a link. All opinions are our own and we share things we think would be of interest to boys.
Free Printable Cars and Trucks Bingo Game
Materials Needed:
Free Printable Cars and Trucks Bingo Game <<<<<

click link to download your free printable game

.

Pages 1-4 are the Bingo cards, given to each player.
Pages 5-6 are the Bingo calling cards. Cut along the lines (then laminate – optional.)

Markers (which could be anything you have at home – buttons, toy coins or even a pack of M&Ms!)
How to Play:
This Cars and Trucks Bingo Game can be played by 2-4 players.
Give out one Bingo card to each player.
Turn the Bingo calling cards upside down and mix them up.
The youngest player picks a Bingo calling card. All players then check to see if the chosen calling card exactly matches an object on their own Bingo card. Those with a match put a marker on the matching object. The game continues on with the 2nd youngest player, and so on.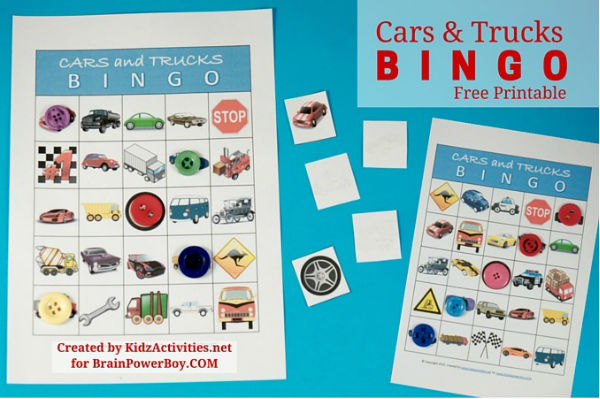 Winning Combinations:
The first player to form a line (vertical, horizontal or diagonal) wins. With older kids, you can also continue on for a blackout Bingo, which means that the first person to get all the objects in their Bingo card wins!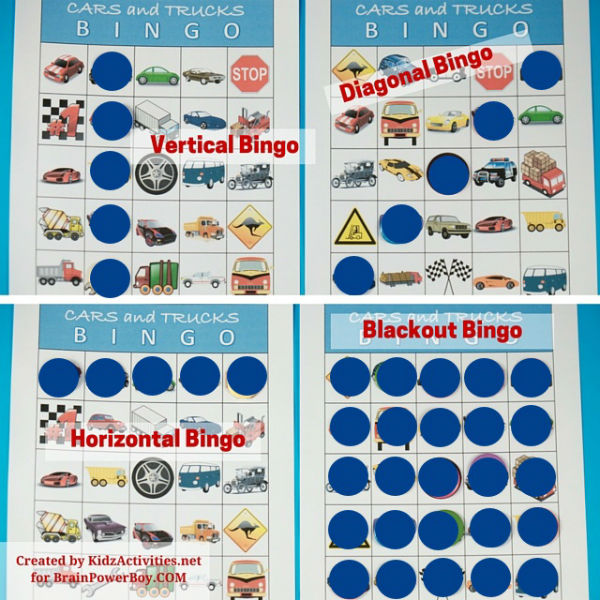 This is the perfect game for preschoolers to play at home or in preschool. It could be a great activity for a Cars birthday party too! Kids have fun and learn at the same time.
What do kids learn?
Kids learn to match objects. Perceiving the similarities and differences of an object helps preschoolers categorize things according to their color, shape, size or function.
Matching is a mind exercise. It helps a child use logic, which helps with academic learning.
It encourages verbal communication.
Kids learn to take turns and interact with their peers in a fun way.
It helps kids to focus and lengthens their attention span as they are encouraged to finish the game.
For more ideas like this Cars and Trucks Bingo Game see also:
Play this Fun Robot Memory Game
Pirate Treasure Math Printables
Over 100 Fun Games for Boys!
Kidz Activities is a site filled with kids crafts, art activities, play based learning ideas, kid friendly recipes, birthday party ideas and parenting tips. Through Kidz Activities, Tina shares ideas that can help parents enjoy their kids through fun, simple, inexpensive yet creative activities. Follow Kidz Activities on Facebook, Instagram, Pinterest, and Twitter!