Learn how to make shaped bubbles!
This is an amazing STEM project. We have played with all sorts of bubbles over the years and I like to try new things so we decided to see if we could find a way to make bubbles take on different shapes.
Wow! The results were beautiful. Honestly, they are so art-like that I almost think these are not simply a STEM project, but a STEAM project!
I'll give you some tips below for creating your own shaped bubbles and ideas for working with them. But, you can also challenge your kids to see if they can come up with a way to do so on their own.
We made this as an activity for the boys and anyone else who enjoys bubbles.
This post may contain affiliate links which means we may receive a small commission, at no cost to you, if you make a purchase through a link. All opinions are our own and we share things we think would be of interest to boys.
Shaped Bubble STEAM Challenge
Materials needed
You only need a few simple items to do this bubble activity.
bubble solution (see below)
colored wire – I used 15 gauge wire which you can get here. You can also use regular wire if you have some around. I like having the colored wire because it is more fun! I always keeps some in my craft supply bin.
or something else like telephone wire, chenille stems or pipe cleaners.
bubble wands from purchased bubbles
needle nose pliers
I would suggest you put a variety of supplies on a table and let them pick which they would like to try.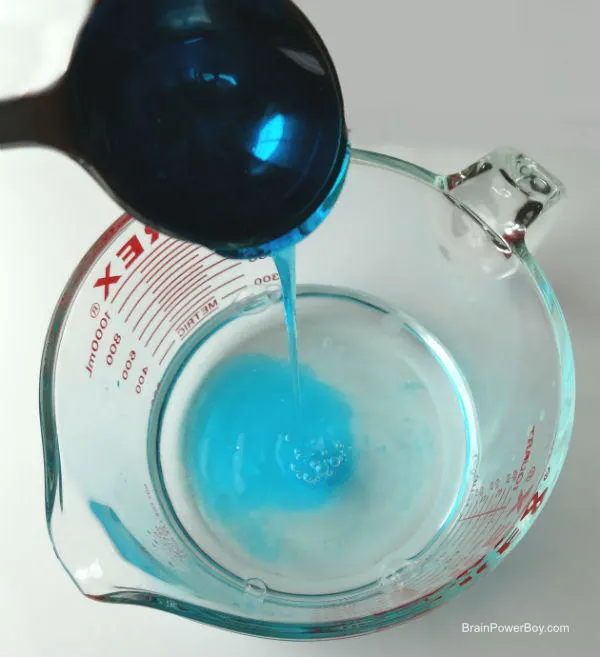 Bubble Solution Recipe
1 cup warm water
2 T Dawn brand dishwashing liquid (get this Dawn, not the Platinum)
1 T Glycerin
1 t sugar
You can play around with the recipe a bit to see if you find different measurements of ingredients make better bubbles. (Another fun activity to do alongside this one.)I find the glycerin to be a nice addition to the solution. You can skip it, but I think the bubbles last longer and allow you to view them for a longer time if you do use it.
Bubble Shape Ideas
Ask a lot of questions!
What shape are bubbles?
Why do you think they are that shape?
What types of shapes can we try to make?
How can we get the bubbles into a different shape?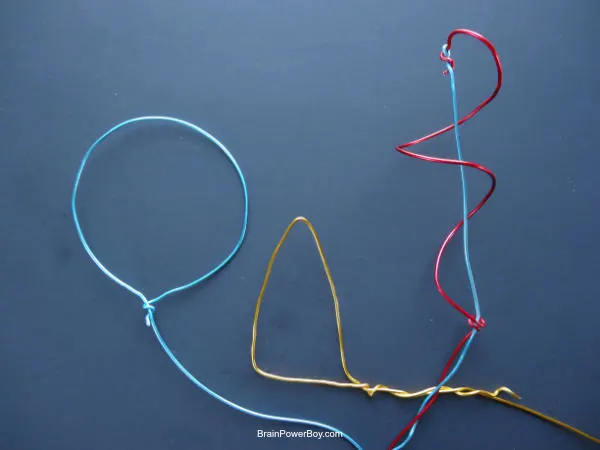 Make the Bubble Wands
We twisted wire into different styles of bubble wands. Have your kids decide how they thing they should do it!
We had round, which is like a bubble wand but we made ours bigger.
We had a swirl, that one was very cool!
We also had triangular and square shapes.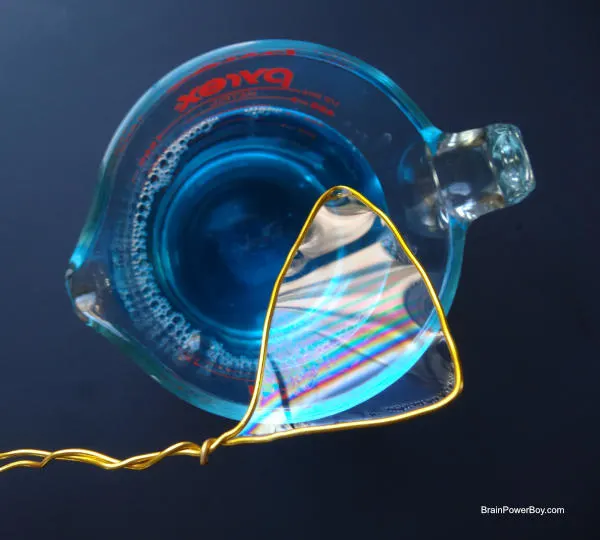 Twist the wire around itself to secure it so the shape will not come apart. You may need to use a needle nose pliers to twist it tight.
If you are working with younger kids, you can take a little strip of duct tape or washi tape and wrap it around the spot where you twisted to wire so there are no sharp pieces sticking up.
We did the shapes free-hand. The wire is very flexible and easy to work with.
For the spiral, you will want to swirl the spiral shape around the straight wire. Take a look at the photo to see what I mean.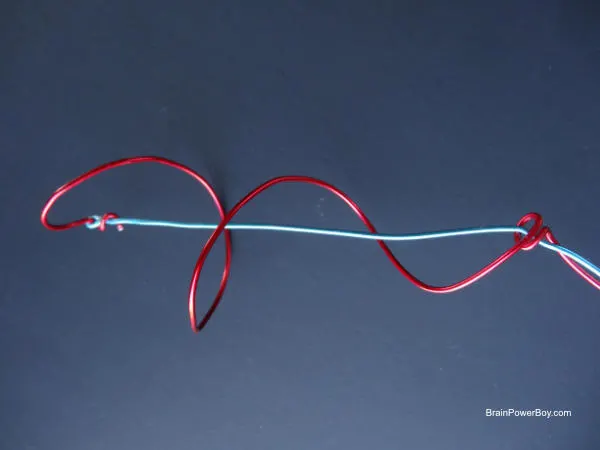 Additional Bubble Activity Ideas
Here are a few things that we did with our bubbles.
1 We held them up to the sun to see the rainbow colors.
2 We blew very gently on the bubble solution when it was in the frame. This is a very cool thing to try.
When we did it the colors swirled around!
You have to be careful and blow gently. We found that blowing from the top worked the best. Your kids will LOVE doing this!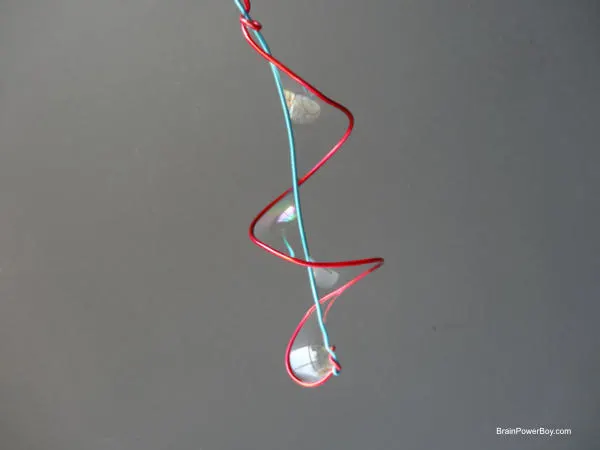 3
We experimented to see if the shapes of the bubble frame would affect the shape of the bubble.What happens when you blow the bubble out of the frame? Does it hold its shape? If not, what shape does it become?
4 We wondered why the bubbles in certain frames formed a line of colors instead of the colors all being mixed up.
Let kids ask their own questions. Let them wonder about things and take their time playing with the bubbles. If they are very interested and want to look up answers to their questions, great. If not, let them play. They are always learning.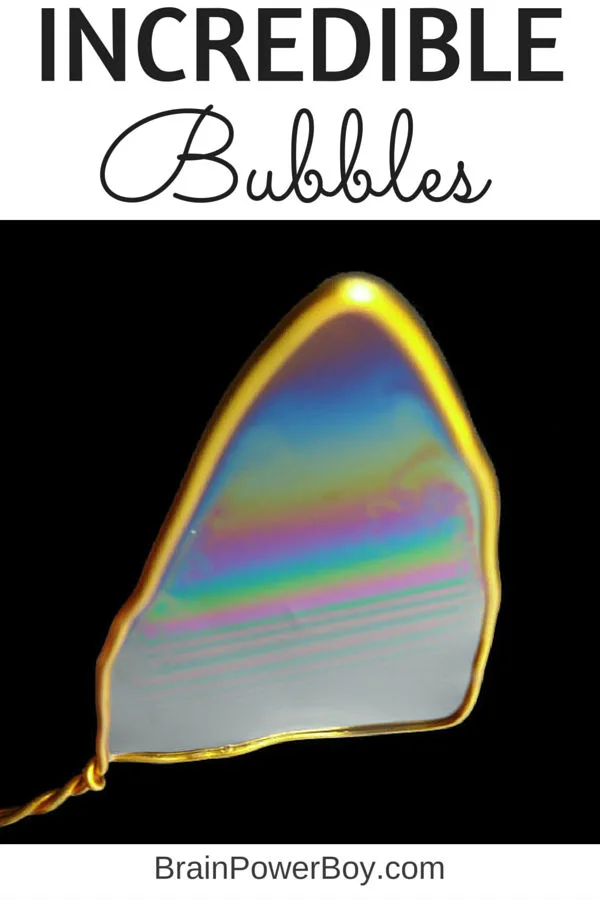 Here are a couple of quick things I did want to answer for you . . .
Why are soap bubbles colored?
Light shines on a bubble and it looks like it is changing colors as you move it.
I looked it up and according to WikiPedia, "the colors seen in a soap bubble arise from interference of light reflecting off the front and back surfaces of the thin soap film."
Which is different than a rainbow's colors, which are actually a refraction, reflection and dispersion of light.
Why are bubbles round?
Bubbles are round (a sphere) because of surface tension. It pulls the water droplets (molecules of water) all together into a ball so to speak, or you could say it pulls them into a group. When you have a grouping all packed together, they form a round shape.
There is also pressure all around the bubble from the air and that helps it to keep its shape.
Can You Make a Square Bubble?
Actually you can! And you can also make a pyramid or triangular bubble as well!
All in all it was a fun, entertaining and educational STEM activity.We will certainly be trying many more bubble wand frame shapes! I hope you will as well.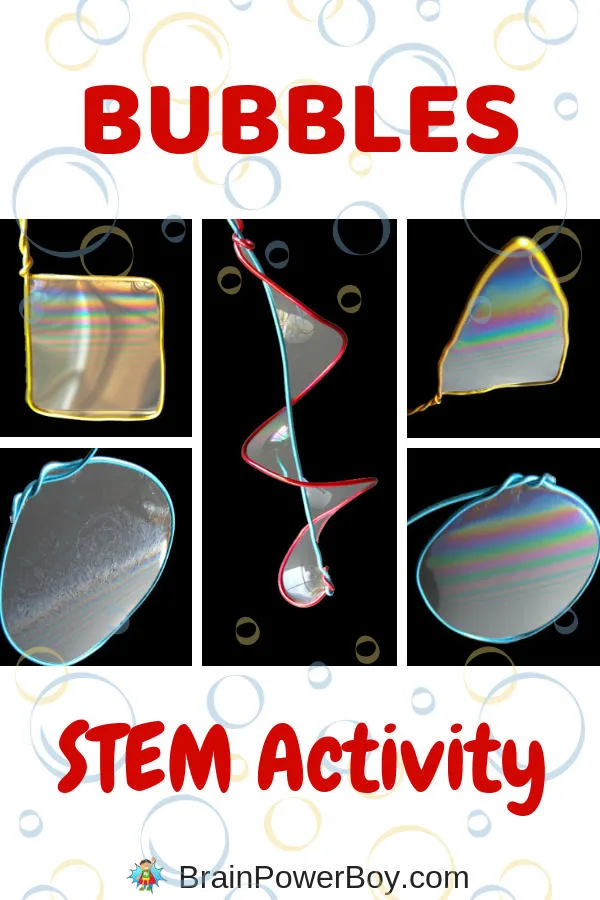 Want more bubble resources? Try a few of these:
Find the Letter B is for Bubbles from 3 Boys and a Dog
Science Fair Project: Which Bubble Solution Works Best? from Planet Smarty Pants
Easy DIY Homemade Bubbles and Refill Station from Crafty Mama in ME
Where to Find Bubbles in Nature from FrogMom
POP! Bubble Wrap Number Formation from Kara Carrero
Blowing Bubbles with Household Objects from Playground Parkbench
Bubble Science Experiment from Pre-K Pages
Bubble Wrap Gross Motor Play from Schooling a Monkey
Bubble Paintings from Play & Learn Every Day
Circle Time Bubble Songs from Parenting Chaos
Learning about Bubbles from Our Daily Craft
Bubbles & Letters Sensory Play from Books and Giggles
Super Fun Bubble Toys to get your kids moving! from Gym Craft Laundry
Bubble Sunflower Art Activity from Preschool Powol Packets
DIY Bubble Wands from CraftCreateCalm
Bubble Counting Play Dough Mats from Simple Fun for Kids