Bubble frames are an amazing project.  We have played with all sorts of bubbles over the years and I like to try new things so we made some different frames to dip into the bubble solution.
Wow! The results were beautiful. I'll give you some tips below for creating your own bubble frame and ideas for working with them.
This is a great activity for boys and anyone else who enjoys bubbles. This article is part of a free unit study put together by a wonderful group of bloggers.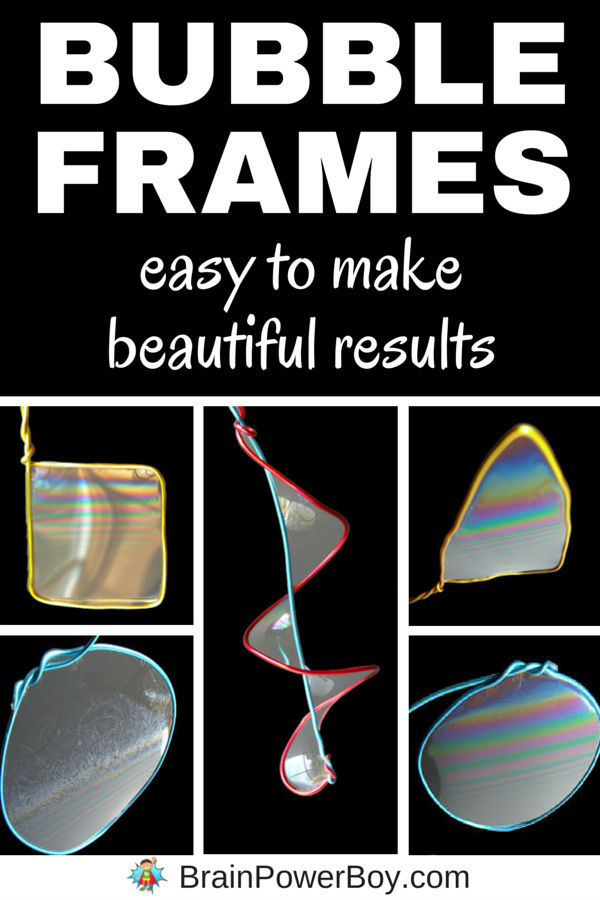 This post may contain affiliate links which means we may receive a small commission, at no cost to you, if you make a purchase through a link. All opinions are our own and we share things we think would be of interest to boys.
Make Bubble Frames
Materials needed
You only need two simple items to do this bubble activity.
Bubble solution (see below)
Colored wire – I used 16 guage
Bubble Solution Recipe
1 cup warm water
2 T Dawn brand dishwashing liquid
1 T Glycerin
1 t sugar
You can play around with the recipe a bit. I find the glycerin to be a nice addition to the solution but you can skip it.  I think the bubbles stay in the frames and allow you to view them for a longer time if you do use it.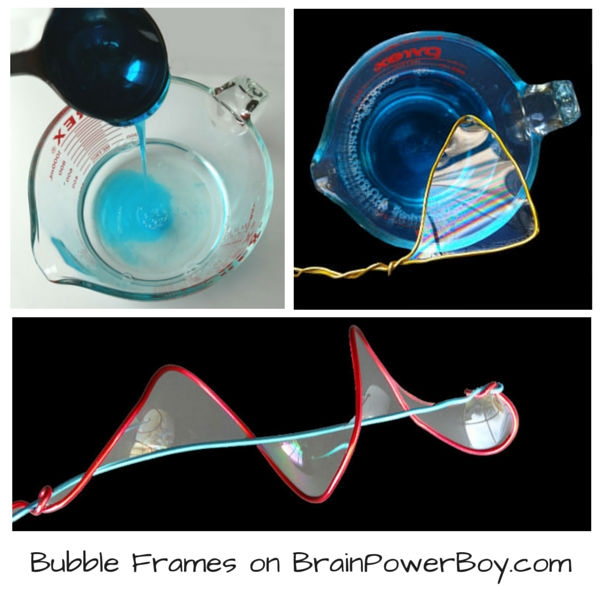 Make the Frames
Super simple.  Just form the wire into different shapes.  Twist the wire around to secure it so the shape will not come apart.
For the spiral, you will want to swirl the spiral shape around the straight wire. Take a look at the photo to see what I mean.
Bubble Frame Ideas
Here are a few things that we did to see how our bubble frames worked.
We held them up to the sun to see the rainbow colors.
We experimented to see if the shapes of the bubble frame would affect the shape of the bubble.
We blew very gently on the bubble solution when it was in the frame.  This is a very cool thing to try!  When we did it the colors swirled around.  You have to be careful and blow gently. We found that blowing from the top worked the best. Your kids will LOVE doing this!
We wondered why the bubbles in certain frames formed a line of colors instead of the colors all being mixed up.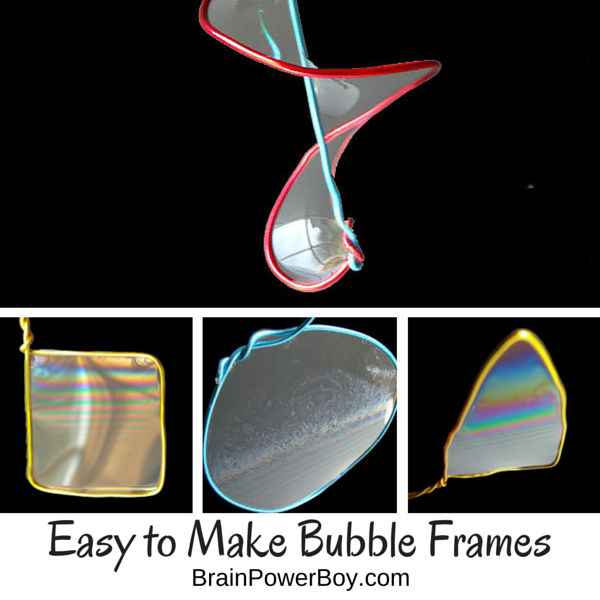 All in all it was a fun and entertaining activity. We will certainly be doing it again with even more frame shapes and a new idea to try with bubbles (coming soon!)
Want more bubble resources?  Try a few of these:
Find the Letter B is for Bubbles from 3 Boys and a Dog
Science Fair Project: Which Bubble Solution Works Best? from Planet Smarty Pants
Easy DIY Homemade Bubbles and Refill Station from Crafty Mama in ME
Where to Find Bubbles in Nature from FrogMom
POP! Bubble Wrap Number Formation from Kara Carrero
Blowing Bubbles with Household Objects from Playground Parkbench
Bubble Science Experiment from Pre-K Pages
Bubble Wrap Gross Motor Play from Schooling a Monkey
Bubble Paintings from Play & Learn Every Day
Circle Time Bubble Songs from Parenting Chaos
Learning about Bubbles from Our Daily Craft
Bubbles & Letters Sensory Play from Books and Giggles
Super Fun Bubble Toys to get your kids moving!  from Gym Craft Laundry
Bubble Sunflower Art Activity from Preschool Powol Packets
DIY Bubble Wands from CraftCreateCalm
Bubble Counting Play Dough Mats from Simple Fun for Kids