Are you ever stuck for game ideas? I know we get tired of playing the same thing over and over again. But that isn't a problem any more!
We have over 100 games for you to play – that ought to keep you and your boys busy! These are so much fun and you can learn so much through playing them. We go through spurts of game playing and I always love it when I look back and see how much was learned.
I had no idea we had gathered together so many games for boys. I knew we had a lot but I had no idea we had over 100! All of these games were chosen with boys in mind. They were picked because of the topic, the appeal, or the hands-on aspect of play. Some of them are more for fun and many are specifically geared toward learning.
I think games are a great activity for boys and having fun, learning and making memories all at the same time is fantastic.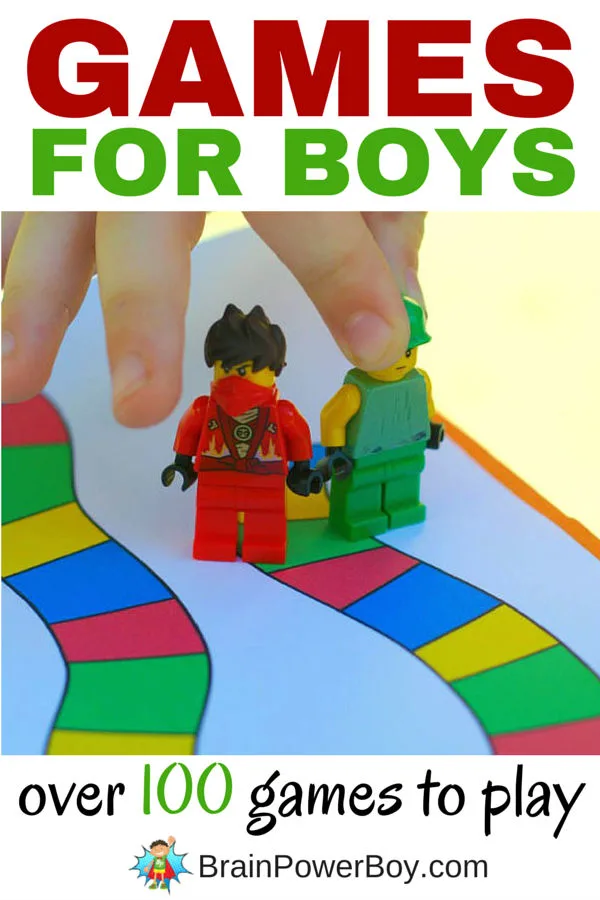 Games for Boys
LEGO Learning: Math Games and LEGO Learning: Math Games Part 2 offer many different ways to incorporate LEGO play into learning math. These are super popular!
Learn sight words in a fun and very hands-on way with these Sight Word Games Boys Will Go For. From aliens to drag races, to smashing cups these are games boys will want to play again and again.
Finding online math games that would appeal to boys and that they would actually want to play was not an easy task but we did it and all you have to do is look over the list and let your boy pick a couple to play. Fun Math Video Games and Apps for Older Boys
Cute Forest Animal Memory Game Aw, I still love this memory game. It is for the younger boys, or those who can't resist cute forest animals.
Bugs, planets, monkeys, transportation, sports, LEGO and more! See Free Printable Games with Boy Appeal and print these free games to keep for an indoors sort of day. You know, when it is too hot, too cold or too rainy to go out and play. They are great!
Do you have a boy who loves robots? Play this Fun Robot Memory Game. Quirky robots are the star of this easy to play game.
If you have an animal lover in your household be sure to print out this free Forest Food Chain Game and give it a try. The animal images are wonderful and it is a very simple game to play. Bonus: Learn about the food chain while playing.
Are there days you would just like to unplug and have some offline fun? Here is an idea. Try coding offline. 14 different games that teach the principles of coding with Homeschool Unit Study: Coding Unplugged. We love the ones where you have to write a program and have someone else follow the "code." It is usually very funny and really goes to show that each line of code counts.
In addition to coding unplugged above, try some of these Homeschool Unit Study: Coding Games to Play. I am a fan of Lighbot and there is a very cool LEGO game as well as many others.
Blow up some balloons and head outside for Ready, Aim, Fire! Balloon Archery Games. I'll let you go take a peak but I will say that these are really, really fun.
Oh boy. I totally forgot about this gem. The LEGO Movie Games has 8 different LEGO games to play for free online. Be sure check out the first link in that article as you can create your own minifig to use in the games – neat! I just updated this for you 🙂
I have a pirate fan in my house – do you? If so, try some of these great pirate games. We have used this reference page a lot: Arrr, It Be Pirate Games! You can also check out our Homeschool Unit Study Pirates for a lot of other pirate-y things to do.
Pop over to Really Fun Math Games page and check out Warning! You Might Learn Some Math and Play Cards, and Learn Math, Have Fun. Both of these articles are packed with math information and games to play to learn math in a more natural way.
This Free Printable Sight Word Game is so popular! People print it out often (free printable!) and teachers even play it in schools. Grab LEGO minifigs as markers and you have a winner on your hands.
Whew, well there you have it. A whole bunch of wonderful games for boys. It is nice to have them all in one spot, don't you think? This is a great selection and I wouldn't want you to miss any of them. Take a look and see which games your boys would enjoy. Then gather your materials and play, or plan a family game night and get everyone to join in.
Do be sure to stop back often as we are constantly adding new things to the site. I'll let you in on a secret, we have more games coming up soon.
To make sure you don't miss any of what we share sign up for our newsletter now.