Pirates are fascinating and boys really love them. We went through a long pirate phase that resurfaces every once and a while. My son really loved pirates and it was hard to find enough materials to satisfy him. He wanted to know Everything!
A good homeschool unit study is great for this very reason. Don't let the word homeschool throw you off if you are not a homeschooler. Unit study resources are for everyone and they are a lot of fun to use.
I enjoy pulling together fun and engaging resources so your boy will have fun while learning. There is a ton of information out there today and it can be overwhelming. I try really hard to find the best of the best and pull it all together so you and your boy can concentrate on having fun while learning.
Here we go with our homeschool unit study on Pirates! Don't be a stranger 🙂 I am going to be adding to this unit study as time goes on and I hope you will stop back for more great pirate resources.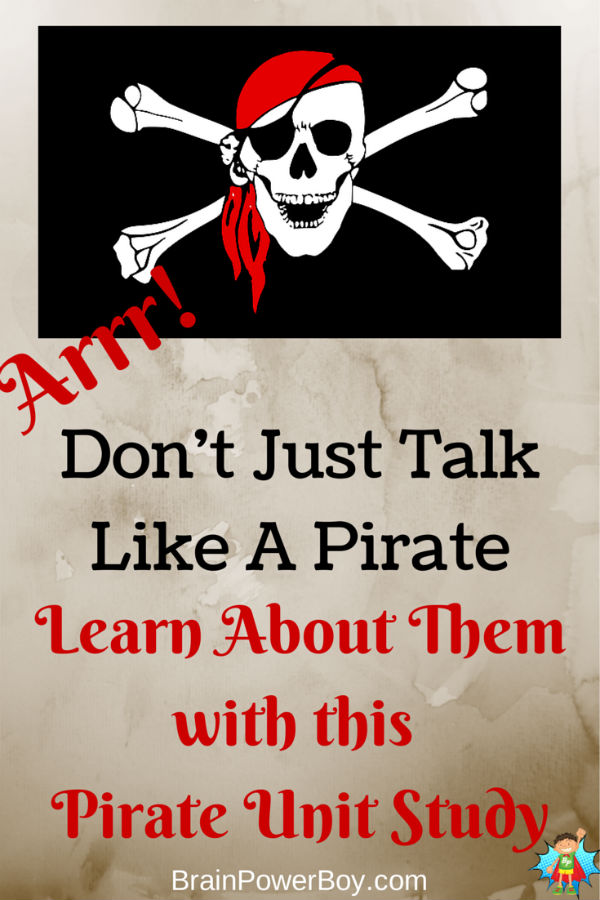 Homeschool Unit Study: Pirates!
I think games are a fun way for boys to learn.  Try Arrr! It Be Pirate Games for a variety of pirate games online and offline. Play games pirates may have played, play pirate-y puzzle and physics games, try a few word searches or crosswords, or play a pirate math game. A lot of fun ideas for your pirate loving boy.
Sail Ho! It's a Pirate Ships Unit Study is all about ships and the pirates who sailed them. Learn about famous pirate ships, watch a documentary, find out about the jobs on board a pirate ship, find out about ship parts and see diagrams. Try the sailing simulator,and a few fun activities as well.
There are a lot of pirate books out there but not all of them are good. Let me tell you we went through a whole big, huge stack to find the very best ones. We ended up with a Treasure Chest of Pirate Books for Boys. Enjoy!
We didn't want to leave out the younger pirate lovers so we put together a annotated list of Pirate Books for Young Buccaneers as well. There are a couple of ABC books and the list includes our very favorite pirate picture book.
Shiver Me Timbers, Pirate Weapons! Great info on pirate weapons including diagrams, videos, games, books, toys and DIY pirate weapons too!
Get your little buccaneers learning while they enjoy some pirate fun. Make a compass, try some fizzing treasure chests, go on a treasure hunt to practice mapping and literacy plus more hands-on activities. See my guest post on 3Boys and a Dog Homeschool Unit Study Pirates! for Preschool Boys.
Ahoy There! Play games, use interactive maps, see pirate navigation instruments, make a pirate map and a telescope +. Homeschool Unit Study: Pirate Maps and Navigation
Learn all about Pirate Flags with this fun unit study which includes information on famous pirate flags, symbolism, links to pictures of flags, the Jolly Roger, as well as pirate flag activities for boys.
Play these fun Pirate Sight Word Games if you have a young buccaneer who is learning to read.
We also have some just for fun Pirate articles for you:
Pirate Facts Lunch Box Notes are great to slip into a lunch box or to set beside a homeschool lunch.
Arrr! Make this Pirate Perler Bead Trio. It is a fun and easy project idea.
A big of pirate humor for you:  Funny Pirate Books to Make Boys Laugh. These books are great!
Many more pirate topics will be added. I have a big list!
Have you subscribed to our newsletter yet? I would love for you to join us.