If you are interested in helping your kids learn about robotics, this fun (and effective!) way is just what you need.
When I was much younger, my dad worked at a mill.
At one point we were invited to go see the new robot they were bringing in. I was super excited because the only places I had ever seen a robot were on television, or as a picture in a book.
No one realized what I thought I would see when we got there.
If they had, they likely would have give me a bit of a warning. More on that later, as I don't want to keep you waiting.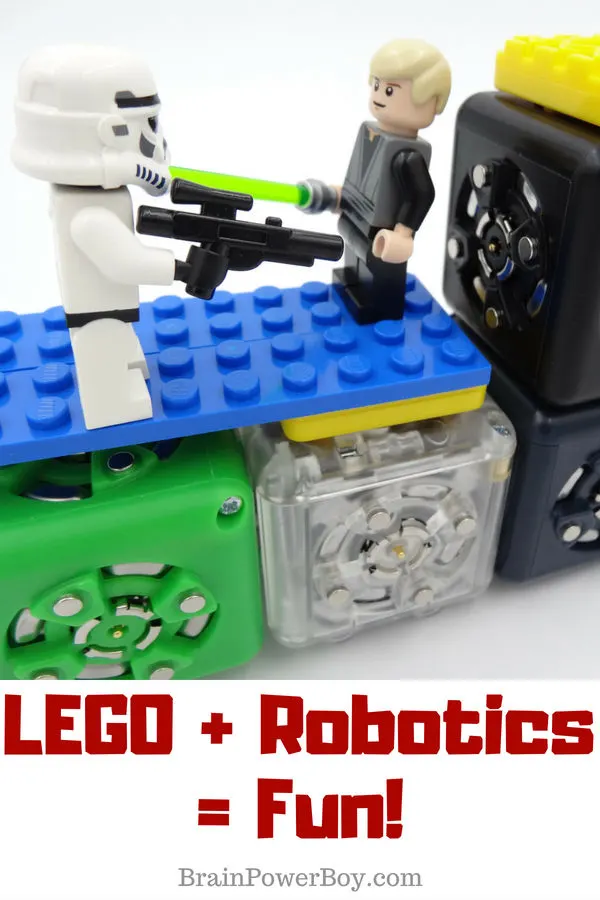 This post may contain affiliate links which means I may receive a small amount, at no cost to you, if you make a purchase through a link. I was compensated for my work on this post. All opinions are my own and I share things I think would be of interest to boys.
They sure have come a long way over the years and companies have released incredible units to get, and keep, kids interested in robotics.
As you may know, here at BrainPowerBoy, we think hands-on learning is key to making learning stick. (If this is your first visit to our site, welcome!)
Keeping that in mind, I set out to find a robotics set that is great for beginners, but also makes kids think. Not all kits do. Some are simply "assemble and look at it" type kits which while ok, didn't meet my criteria.
I finally found what I was looking for over at Home School Science.
If you just want to cut to the chase and get an awesome robotic construction set, do the two quick things in the yellow box.
If you have not seen these yet, you totally need to check them out! They are called Cubelets.
They are blocks, with magnets which sounds super simple, but . . . they are so. much. more.
You know how important it was for your kids to play with blocks? Think of this as several steps up!
They snap together to make a robot! And, not only that but you can combine the blocks in many different ways to make your robot do different things.
Honestly, Cubelets had the whole family interested right from the beginning. Unlike the robot at my dad's work lol.
One quirky and rather wonderful thing is that the box didn't really come with many instructions. There is only one card that tells you how to make two versions of a flashlight. That is it.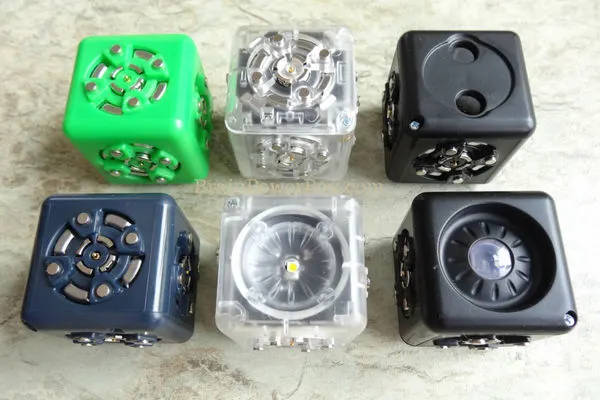 I really love is how easy they are to work with. Snapping them together is as easy as putting two magnets together and then the magic happens! No programming required.
They come in a lot of different types of blocks. The set we got (pictured above) included six cubes, which is plenty to get started with.
We have two sense blocks (brightness and distance,) two think blocks (battery and passive,) and two act blocks (flashlight and drive.)
Sense blocks — these are the inputs
Think blocks — these calculate
Action blocks — these are outputs
The next one I want to get is the Bluetooth Think Cubelet!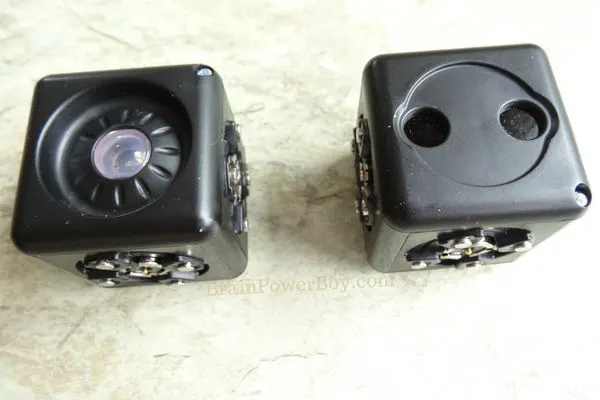 That's it! Super simple concept, but oh, so fascinating to use.
So what does one actually do with these? Experiment and make things happen, of course!
I don't want to spoil the fun, so I am not going to give you a big list of the combinations that you can do to make your robot complete the actions.
But I will give you some challenges and I also shot a video which I will share below so you can see these incredible cubes in action.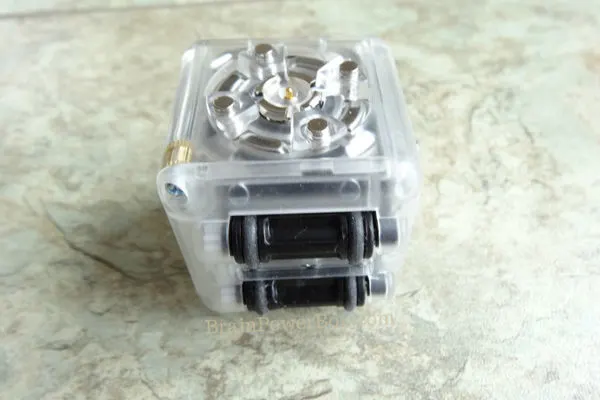 Oh! I can't forgot to mention something really neat, and a top reason that I picked this set.
It comes with LEGO adapter plates! No kidding! How cool is that. We grabbed some minifigs and sent them for a ride.
Cubelets Activity Ideas
Make a robot that goes in circles
Make one that moves toward you when your hand gets close to it.
Make a robot that includes a light that turns on when it gets dark (you can turn off the lights or bring it in a dark room to test.)
Make one that goes slow.
Make a robot that goes really fast. (This one took us a while to figure out!)
A few things to try with the LEGO brick adapter plates.
See if placing a brick plate and a stack of bricks onto the wheeled piece makes it slow down considerably, or not.
See if placing bricks on one side of a three Cubelet row will drop it down and cause drag.
Using a three block row, how can you balance an uneven number of bricks on two Cubelets so that you can still get the wheeled block in the center to run? What happens when you increase the number of bricks?
Can you build a LEGO car around the Cubelets?
Will the sensor pick up LEGO bricks or only a human hand?
The point here is to experiment! Try things. Snap the cubes together and see what happens.
The best and most important things in science are experimentation, problem solving and perseverance. All three are learned naturally when working with robotics.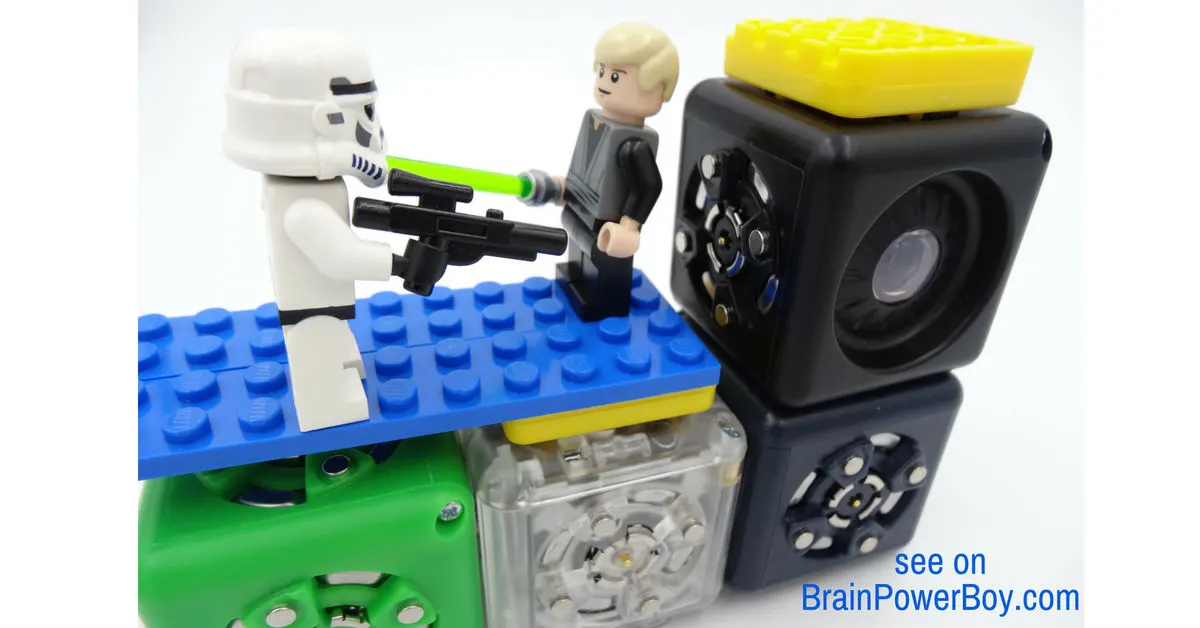 Back to my story about the robot at the place my dad worked.
It was an industrial robot that moved things. That is it.
It didn't even look at all like a robot!
It wasn't even close. It just had a big arm. While I guess, in retrospect, it was a cool bit of technology, it was a big letdown for me.
Be glad that robots have come to a place where we can have a lot of fun while learning about them.
Here is the video I made to help you learn a little bit more about this . . . hmm, I wouldn't call it a toy, but it is certainly as fun as a toy, and it isn't exactly a science kit, though there is STEM learning involved.
They call it a robot construction system and I guess that is a pretty good description, so we'll just go with that.

If your kids love LEGO, love to build, and are keen on learning more about robots, this one is a winner that you don't want to pass up. You can get it, and a whole lot of other cool robotics stuff here.
Need more robotics ideas? Check out our robots unit study!