No doubt about it boys and robots are a great mix. We went searching everywhere to find the best resources for a robot homeschool unit study for you.
We pulled together a list of robot books, activities, LEGO robots, DIY projects, vibrobots and other robots to make. Using a homeschool unit study is a great way to get started because you can simply go down the list and explore.
Scroll down to see our Homeschool Unit Study Robots edition.
This post may contain affiliate links which means I may receive a small commission, at no cost to you, if you make a purchase through a link. All opinions are my own and I share things I think would be of interest to boys.
Robot Homeschool Unit Study
Wouldn't your boy love his own robot? I know I would love to have one myself! It could do the dishes and the floors, and take care of paying bills and all of the other gazillion things I have to do.
Well, I guess I won't be getting a robot anytime soon but you and your boy can have some robot fun (and learning) with this homeschool unit study on robots. Enjoy!
Robot Shadow Puppets:
Robot Shadow Puppets from LaMaisonDeLouLou – includes rocket, moon and planet as well. Printable template included.
Skull, tree and Robot shadow puppets. Printable template included.

---
Paper Robots:
12 Robots to color and add details to. Make them look really crazy cool!
LaMaisonDeLouLou also has a neat set of Robot Cubes to make and includes printable templates to do so.
Paper Bots: PaperMade
OiDroids Series 1 – Pack of 15
Paper Robots: 25 Fantastic Robots
Get Scissors, and glue, fire up the printer and build some Awesome Paper Robots. I mean it—these are really Awesome!
This Paper Climbing Robot from Housing a Forest is DIY with simple supplies: paper, string, tape, a penny, pieces of straw and a couple of beads.
Robot Masks can lead to a lot of imaginative play. These are the neatest masks I could find. You could also use the basic idea and have your boy create his own. (image below–courtesy of Mr. Printables, thanks!)
Build your Own Robot printable from PickleBums. Parts and pieces to put together to make your own robot. Print on paper, or on magnetic paper for some fridge fun.
---
Engineer Your Own Crafty Robots:
We made these cool robots out of re-engineered toys. Simply take old toys that you are not going to use anymore or grab some from a garage sale free bin and take them apart. There are all kinds of neat bits to use to make a robot!
RealPurdy has a group of robots that are easy to make from tin cans. Pretty darn cute. I think you will like it because all the parts are connected with strong magnets making it an open-ended activity that can be used for a long time.
This framed robot felt board is a really cute idea as it can be an ever-changing decoration for a boys room as well as a toy. Build new robots daily. Easy!
Robot Puzzles & Games
Design Your Own Robots Puzzle
(34 Piece)
Learn 'n Play Robot Puzzle
(72 piece)
Tin Robots Large Format
(300-Piece)
Build a Robot Game
Robot & Friends Matching Game
Robot Face Race
NASA has a robot puzzle game to play.
This robot maze looks fun for younger kids.
We made this fun Robot memory game for you. You are going to love the robot graphics!
---
Robot Art and Crafts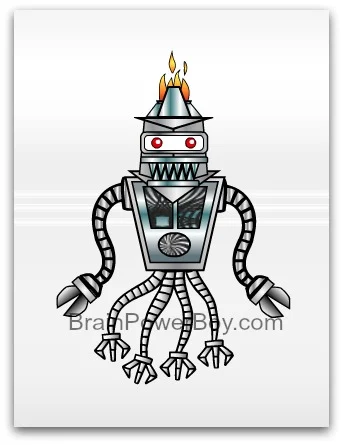 Art Robots for all ages. The instructions are for young children but this looks like a fun project for everyone. Create a robot from a clear CD case for the body which is really clever.
Draw a robot by following the directions in this neat How to Draw a Robot slideshow or create one on your own.
And your boys might enjoy these Robots by artist Mark Rivamonte.
We found an online build-your-own robot creator. The image on the right is of what my son made–pretty neat eh? This would be fun for boys to mess around with for a while. They have a lot of different parts to use.
---
Homeschool Unit Study: Vibrobots
Making your own robot is perfect for a robot homeschool unit study. This is where a lot of learning happens! These vibrobots are quick and easy to make and are a perfect place to start learning about robotics.
Each Cockroach Vibrobot costs about $2.50 each to make. You can buy something similar and we really like ours! They are more expensive though and the learning is in the making.
Here is a vibrobot from Make Magazine made with a candy tin, coat hanger, and a motor plus a couple of wires and a battery.
Kinetic Drawing Bug Robot. Using a small motor and battery holder plus a bit of wiring and plastic tubing your boys can create this cool moving robot. You can hook up a pencil to it to watch it "draw" or make a few and race them instead!
Or try the doodling robot kit at left. Everything is included so it is easy for busy moms!
---
Robot Books:
One of my husband's favorite books when he was a kid was The Runaway Robot and my son thought it was great as well. Prices for this book are reasonable (a few buck) as I write this but please check before buying as they vary – I've seen it for over 165.00!
We have a great non-fiction list of books about Robots! as well as a Robots! Fiction Books for Boys list.
Here are a few fun more robot books for you and your boy to read and enjoy.
The Runaway Robot
Robots, Robots Everywhere!
National Geographic: Robots
DK Eyewitness Books: Robot
The Robot Book!
Making Simple Robots
---
Homeschool Unit Study Robots: LEGO
We made some funny LEGO robots. <<<get the directions! They are super easy to make. Kids will be using their imaginations and having a whole lot of robot fun.
Here is a bit of LEGO Robot inspiration for your and your boys. There are no instructions but they are great for inspiration. Plus, they use some neat pieces in unusual ways.
See the video below for LEGO robot instructions by Sean Kenney. Sean kindly agreed to let me interview him. Find out what he had to say about LEGO and learning. You can also check out reviews of his books, including the Cool LEGO book he uses in the video, right here on this site.
Special thanks goes out to my son for contributing to this post! Here is the "cool robot" he made out of LEGO after watching the video from Sean Kenney.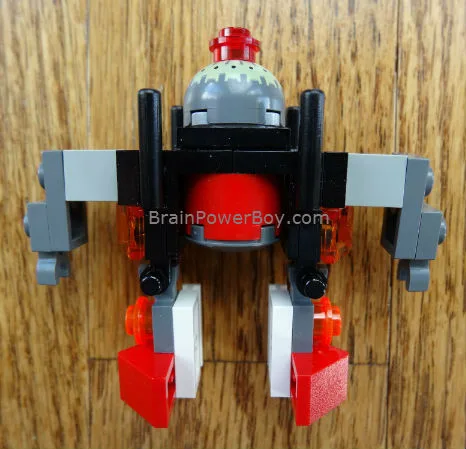 Older boys might enjoy building a omnidirectional holonomic LEGO robot. This takes some specialty pieces and a bit of know-how but there are detailed directions and it looks like a super project.
If your boy learns best through hands-on learning or is a kinestetic learner and you want to go all out you can just get the LEGO Mindstorms EV3 along with this book and be done with it. Hours and hours of fun robot learning will be ahead for both of you. (I'm secretly hoping my son ends up wanting one so I can play with it too 🙂
EV3 Discovery Book
LEGO Mindstorms EV3
EV3 Laboratory Book
We also made these LEGO Robots for you to check out. This was a fun and creative project that my son and I both enjoyed.
---
Make Your Own Robot – Robotics Ideas
We pulled together a great selection of videos on how to make your own robot that you should check out. This includes a lot of different types of robots that your kids can build from scratch.
---
Virtual Robot Simulators
Do not miss Virtual Robot Simulators! Playing with these virtual robots online will lead to a lot of questions and a lot of learning.
---
Robot Snacks and Fun Food:
How about a Wall-E Sandwich for lunch or a snack after some intense robot making!
Then make your own marshmallow robot treats and Rice Krispie treat robots as well–really cute.
---
Oh and one last thing, just for fun: When looking for fun robot stuff I was excited to find these
. Do you remember them? They sure take me back!
Well, that wraps up our Robot Homeschool Unit Study. I hope you and your kids have a lot of fun playing with and creating robots.
Let us know what you build! If you like this post, I would appreciate it if you would share it with others (handy sharing tools below.)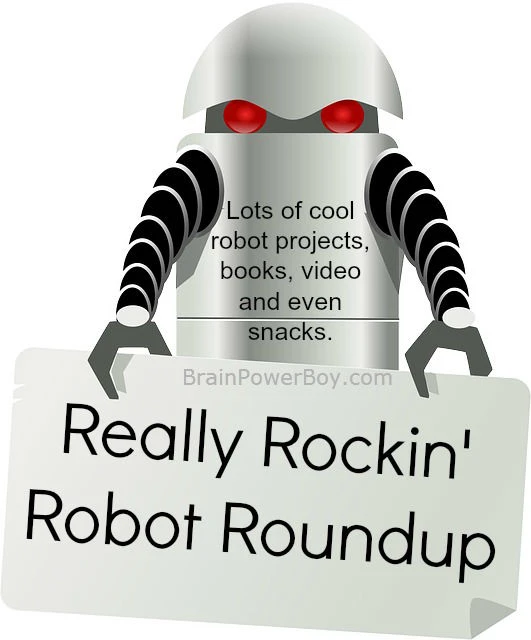 See BrainPowerBoy's other Unit Study topics for more way to raise boys who love to learn.
Play this Fun Robot Memory Game