We made some LEGO robots earlier which you can see on our LEGO Designs page and today we bring you Funny LEGO Robots.
I am very fond of robots and think they are super fun to create. These funny ones came about when we were building our much more serious (lol) robots and we added in color and those amusing eyes.
Dig through your collection of LEGO and see what robot-type pieces you can come up with. In this case, make them colorful as well and you can make your own funny robots.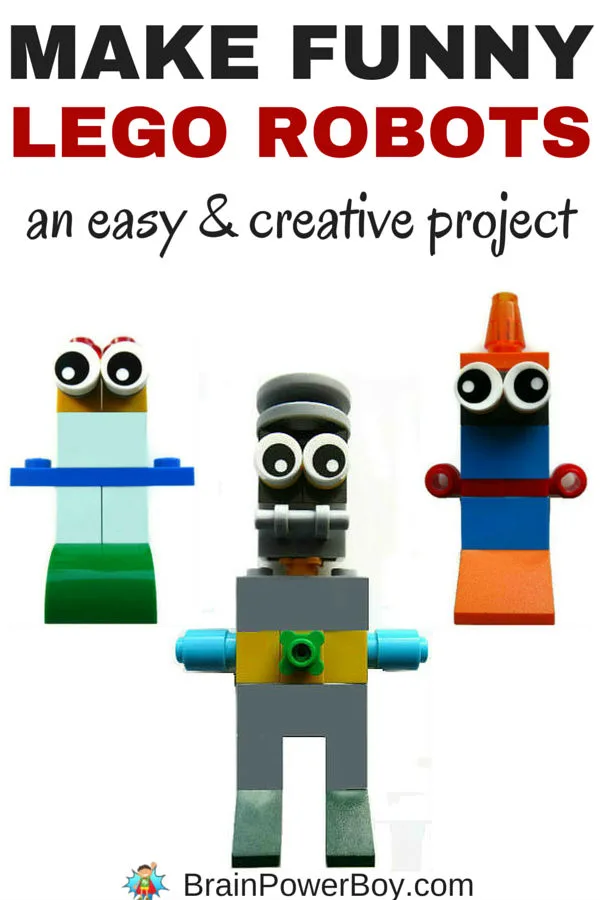 This post may contain affiliate links which means we may receive a small commission, at no cost to you, if you make a purchase through a link. All opinions are our own and we share things we think would be of interest to boys.
LEGO Designs: Funny LEGO Robots
We found making these robots to be filled with creativity. You can make these in so many different ways. Change the colors, change the eyes or the eye direction to give them different expressions, the sky is the limit.
Use our Funny LEGO Robots for inspiration if you like. We made a lot of robots and these were our favs.
The majority of our pieces came from the classic series
but we also used elements that we had on hand.
Here are a few LEGO building hints:
Use plenty of colors. You can combine them with the standard robot grey or go completely colorful.
To make arms you can either use a brick that has a stud on the side like this (element #4558886 – Pick-A-Brick) or you can layer some longer plates into the body.
Roof tiles (element #303921 – Pick-A-Brick) and sloping bricks make great feet.
Put a fun looking piece on his head to make him look a bit more robotic.
The eyes, which really make these guys funny, can be found in this awesome set.
Making your own LEGO Designs such as Funny LEGO Robots is a great learning experience for boys and I hope you will encourage them to try a few different ideas. Just dump out the bins and have some fun together.
UPDATE: We made more traditional LEGO Robot Designs as well.
If you have a robot fan on your hands, try our Homeschool Unit Study Robots and our Robot Memory Game as well.