Are you looking for an enjoyable (and cute) Halloween game to play? Try this free printable sight word game. We had a lot of fun making this for you and hope you and your kids will like playing it.
Sight word games are a wonderful way to play around with words. This Halloween Sight Word Game Printable is perfect for this time of the year, don't you think? Pumpkin boards and cards are included so you only need to grab some markers to play.
This game is free! We love to bring you resources to use and free printables are one of our favorite things to share.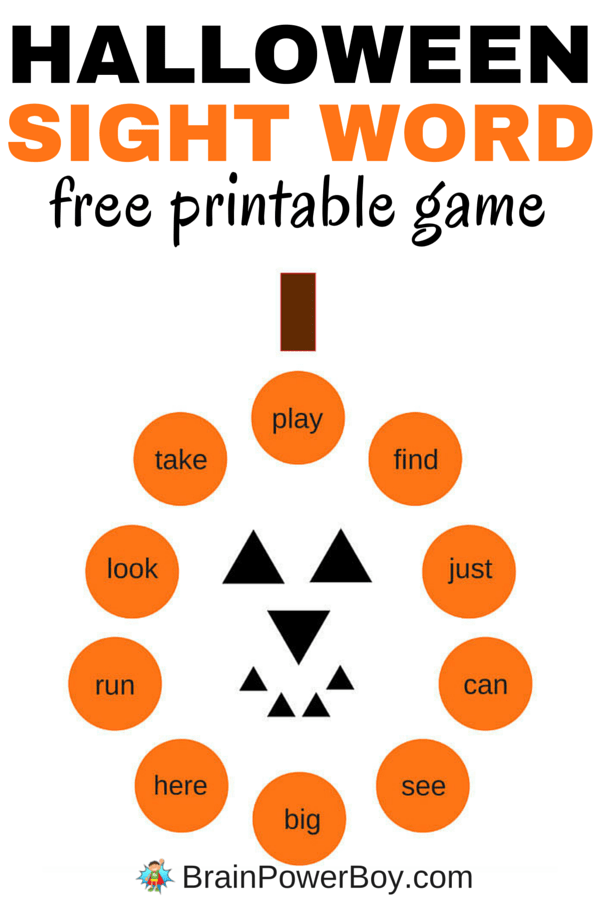 Free Printable Sight Word Games: Halloween
I have included two game boards in the pdf file. One pumpkin board has some preschool dolch sight words and the other one is blank so you can add your own words.
Play Your Halloween Sight Word Game
This game is very easy to play. It is set up as a fun way to play with words so there is no winner.
If you want to play competitively, you can keep track of how many words each person gets right. The winner is the one with the most correct words at the end.
Decide who goes first.
Put your markers on the pumpkin stem. You can use pumpkin seeds or even LEGO minifigs as your markers.
Draw a card and follow the directions.
Go clockwise around the pumpkin board.
Go around however many times you decide on or just go around once depending on the interest of the child.
Enjoy the game!
For more free printable sight word games see also:
7 Sight Word Games to Get Boys On the Road to Reading
Action Sight Word Games for Boys Who Have to Move!
Sight Word Games Boys Will Go For
Arrr! Play These Fun Pirate Sight Word Games! (pirate games)
Free Printable Sight Word Game (our most popular sight word game)