Did you know that there are action sight word games? I found nine really fun ones for you and your boys.
Some boys are big into movement and action; in fact it is hard for them to sit still! They need to move while they are learning and when they do both at the same time the learning sticks.
I hope you like these activities for boys. If your boy is starting to read, or wants to review some words, these games will be great for him.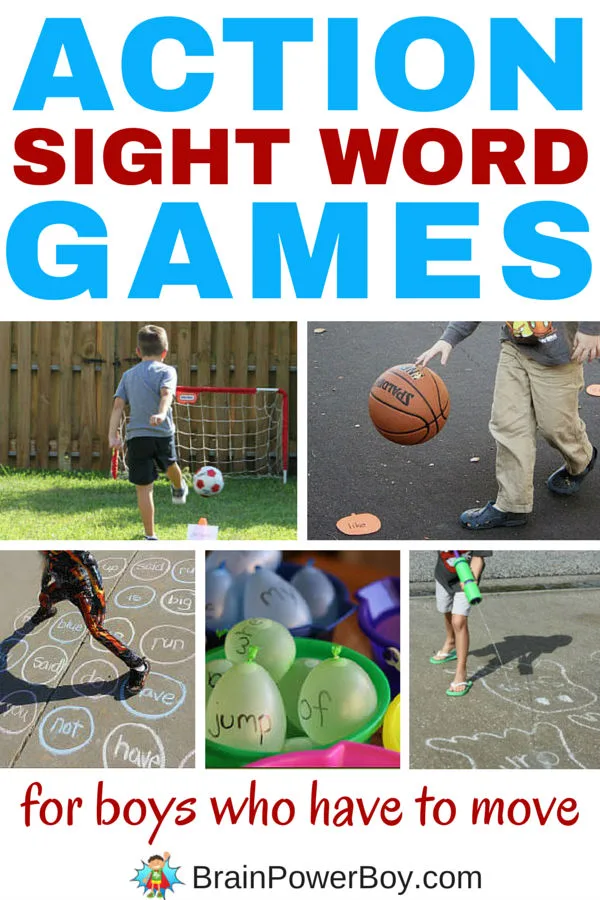 This post may contain affiliate links which means we may receive a small commission, at no cost to you, if you make a purchase through a link. All opinions are our own and we share things we think would be of interest to boys.
Action Sight Word Games
You really are best off honoring their need to be on the move and finding ways help them learn while on the go. (Read more about Bodily-Kinesthetic Learning Style.)
Break out the water balloons! This one is a winner. They played by throwing the balloons with words into hoops but I am thinking that if he gets it right he gets to throw the balloon at mom!
I played on a few soccer teams when I was young (really!) and think it is an awesome game. Try sight word soccer if your son is a fan.
Sight Word Basketball? You bet. Dribble to the words for some hands-on reading fun.
Sight Word Target Practice sounds fun! You could do this one a variety of ways. They use stuffed animals.
Water Balloon Kit 500-Pack
Little Tikes Basketball Set
12 – 7 Inch Orange Plastic Cones
Older boys will want to try this target practice idea instead. Slingshot Sight Word Target Practice is very cool! (This is our favorite slingshot – foam balls are great, let me tell you!)
If you have a boy who likes to stretch and twist about this is perfect for him. The Twister Sight Word Game is just like Twister but with a sight word "twist." (I had to say it – sorry!)
This action sight word game features running, Star Wars, and LEGO too! Do you think your boys will want to play? I love that they had to take a little LEGO break to build a ship for the game 🙂
Get the water guns out for this one and tell your boys to get ready to zap those ghosts! The object of this Ghost Zappers game is to find the ghost with a specific word and zap it with your water gun.
Microburst 2 Blaster
Super Fire Hose with Backpack
Sling Shot with Foam Balls
Interactive sight word games are a great way for active boys to learn and remember their words. Let him pick the ones he would like to try and set it up for him. I'm sure you will all have a ball!
Pop over to this article on Sight Word Games Boys Will Go For to see more ideas including a sight word cup crash game that I know they will like.
If you like action sight word games, be sure to check out the other sight word activities.
Free Printable Sight Word Game (played with LEGO Minifigs!)
Sight Word Games to Help Your Kids Learn from The Super Mommy Club