Looking for Rube Goldberg Machine™ Tasks and Materials Ideas?
This article is written entirely to encourage ingenuity, creativity, critical thinking and problem solving.
The very best way to do all of those things at once is to give your kids some materials and let them create a Rube Goldberg Machine™.
Rube Goldberg: a comically involved, complicated invention, laboriously contrived to perform a simple operation. ~Webster's New World Dictionary
A Rube Goldberg Machine™ is silly, and thoroughly enjoyable, to take a look at.
What I love so much about these machines is that they are all about learning in a non-traditional manner and they are just so much fun!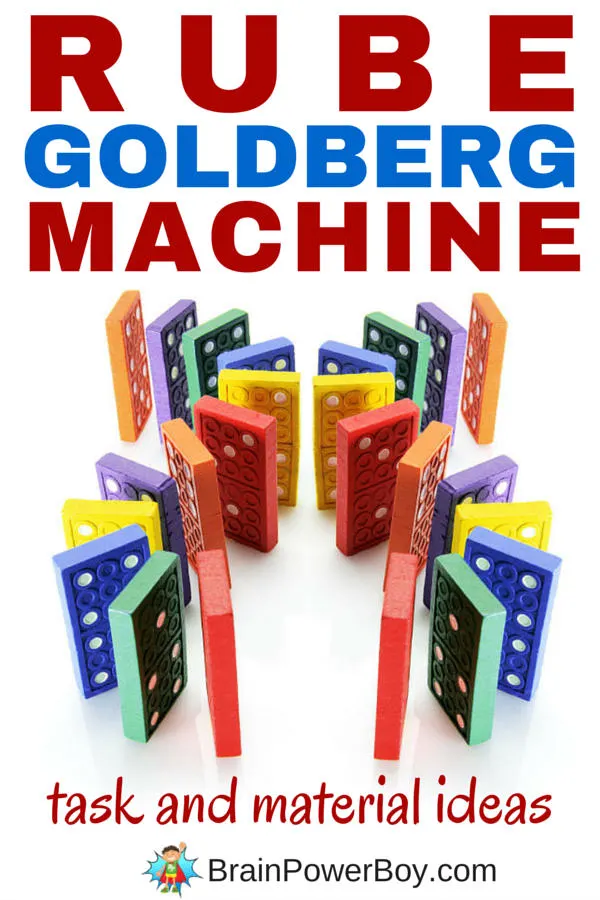 This post may contain affiliate links which means we may receive a small commission, at no cost to you, if you make a purchase through a link. All opinions are our own and we share things we think would be of interest to boys.
Rube Goldberg Ideas
There are Rube Goldberg competitions where the task is pre-chosen. Each team has to perform a very specific task.
It appears the contests are now going commercial. In 2017 the competition task is to apply a Band-aid and in 2018 it is pour a bowl of cereal (Cheerios.)
If you are interested in the official contests go here for more information.
There are a few criteria to keep in mind when creating your machines.
They should be funny.
They should tell a story.
They should use everyday objects and/or recycled objects.
They should be well-constructed.
If you are not familiar with these contraptions be sure to take a look at the resource links below before you get started. They will help you learn more about the process and give you a lot of great ideas.
---
Rube Goldberg Machine™ Tasks
Here are a variety of tasks from Rube Goldberg Machine Contests® in past years. Some of them were really challenging!
Rube Goldberg Activity Idea:
Talk about the different tasks listed below and and ask your kids how they would accomplish them.
Even if you don't want to try to make them, talking how you might go about doing so really gets the wheels turning .
Work together to think of some crazy contraptions that would work.
You can even sketch them out – after all, that is what Rube did. He didn't actually build the creations though, he just drew the comics.
Tasks from Past Rube Goldberg Contests
Apply a Band-Aid®
Open an Umbrella
Erase A Chalkboard
Zip A Zipper
Hammer A Nail
Inflate A Balloon and Pop It!
Assemble a Hamburger
Squeeze the Juice from an Orange
Shred 5 Sheets of Paper
Change Batteries and Turn on a 2-battery Flashlight
Select, Crush and Recycle and Empty Soft Drink Can
Select, Raise and Wave a U.S. Flag
Select, Clean and Peel an Apple
Set a Golf Tee and Tee Up a Golf Ball
Shut Off An Alarm Clock
Insert and Then Play a CD Disc
Put Coins in a Bank
Turn on a Radio
Make Cup of Coffee
Screw a Light Bulb into a Socket
Unlock a Combination Padlock
Toast a Slice of Bread
Put the Lid on a Ball Jar
Put Toothpaste on a Toothbrush
Easy Tasks for You to Try
If you want to try to build a crazy chain reaction yourself the first thing you need to do is choose a task.
We have listed a few easy Rube Goldberg tasks for you but feel free to come up with your own ideas.
Put a bottle in a bin
Water a plant
Shut a door
Turn something on or off (a light, a radio, an alarm)
Ring a bell
Break an egg
Sort coins
Make a ball go into a hole
Pop a balloon
Fire a projectile
---
Rube Goldberg Machine™ Materials
There are so many materials you can use when creating your invention.
Use things you already have around the house to start and add in items as you need them.
Here are our favorites.
Some good material choices are:
LEGO Bricks – you can make things to knock down or build contraptions
paper tubes
funnels – use several for best effect
piping (clear is a great choice so you can see the ball go through!)
pvc elbows – for turns in tubing or to use to catapult a ball out of
tubing – flexible tube is a good idea for having liquid, marbles or other objects go through
Polycarbonate Tubing, 1 7/8
LEGO Pig City Teardown
Nopro Plastic Funnel, Set of 3
&
pulleys – get a few of these and have elements of your machine drop onto other things
dominos – perfect for a long chain. These are used quite often.
butterfly nets – drop things into them and balance them to spin into something
Wooden Domino Sets
Pulley
Set Of 3 Telescopic Butterfly Nets
&
Minions, 10 Yards
Best Deal – 100 Yards
Paint Splatter, 10 Yards
marbles and other small balls are perfect for knocking things over or rolling along a track.
string or twine – for tying things together and for swinging things into something else. I really love this twine by OXO. It comes with a holder and cutter and is a bargain for what you get.
gears! You are more than likely going to want to add some gears to your machine. They are super useful, plus they look cool.
Plastic DIY Gear Kit
Plastic Gear Kits
Gear Set Single Double
cardboard – so many uses! Use if for everything.
paperclips and binder clips – great for holding things together
pipe cleaners or chenille stems << best deal – hold things together, make things out of them or use them to drop onto another item.
bottles – plastic bottles of all sizes for dropping, rolling and even cutting apart
boxes (cereal, other)
cans – good for rolling or attaching a string to and swinging into something else.
Binder Clips
350-Pack Chenille/Tinsel/Bump
Jumbo Color Paper Clips, 100
&
cups – same purposes as cans and also for using liquids or for stacking a high pyramid to knock over (impressive!)
straws and jumbo straws – various uses, these make a colorful addition to your machine.
books – great for stacking either to make a tower to set other things on or domino style for knocking over.
balls (ping pong, tennis, golf, other) – perfect for any type of rolling through tubes, knocking things over or bouncing onto a target.
shoelaces – for tying things together or swinging things into something else
Jumbo Flex Straws, Assorted, 125
12 Pairs Shoelaces
100 Count Plastic Cups, 5 oz, Clear
&
Hot Wheels or Matchbox cars – for rolling along a track into another object or rolling into another object on a slanted surface.
hot wheel track has many uses.
game pieces (Mousetrap is great for this) – Game pieces are colorful and great for so many things.
rubber bands – for holding tubes together, and you can also set them to shoot into something else.
wooden train track – use the same way as Hot Wheels and Hot Wheels track
wooden trains – you can try a motorized train such as this to run into something
Mouse Trap (Amazon Exclusive)
Asstd Dimensions & Colors 0.5 lbs.
Hot Wheels Track Builder Loop
&
marble run tracks – perfect, just perfect! These wonderful toys can add so much to your machine. They are both colorful and fun to watch. Use to trigger another reaction.
60 Translucent Pieces + 10 Marbles
Deluxe 85 Piece – Plus 50 Marbles
48 Piece Marble Run with 16 marbles
&
craft or "popsicle' sticks – try making a craft stick bomb like this one.
clothespins – great for holding things together. I like the mini clips the best.
thread spools – good for rolling into something or for tying and swinging
aluminum foil – ideal for creating any bits you need really. It can be shaped and wrapped around things to make them work better
wax paper – we have used this to rub against something when we couldn't quite get it together.
Wood Jumbo Craft Sticks 300 ct.
Mini Colored Clothespin, 100
Wood Round Doll Pins 30 ct.
&
wooden blocks – build and topple or hold things up. You can also stack in a pyramid or gradations
Tinkertoys – so many useful pieces!
pull back toys – we like to use these to start off machines.
Slinky! – of course you have to include a slinky in one of your machines! For fun it's a wonderful toy 😉
100 Blocks, 4 Colors and 9 Shapes
12 Pull Back Racer Cars
Original Slinky Brand Slinky
walking wind-up toys – these are another great way to get things started. Try this retro robot or this old-school walker.
woodpecker toy is a classic and is great for getting something going. 1st have something bump into it to get it started, then have it trigger another reaction
motorized toys (think Zuzu Pets) – for starting or ending
Sparklz Wind Up Gear Box
Woodpecker Toy
Wind-Up Flipping Bugs – 6 pieces
Zhu Zhu Pets Hamster Toy Rocky
HEXBUG Nano , Colors May Vary
4 Wind Up Racing Mice
&
Here are a few additional things we use in our Rube Machines. Click pictures to view items.


Making a Rube Goldberg contraption can be as complicated as you wish to make it or it can be delightfully simple. Kids of any age can participate in building one.
These are just some ideas for you – the sky is the limit.
Have your kids think up a mundane task and see if they can build a Rube Goldberg Contraption to complete the job.
Give it a try. I guarantee that Rube Goldberg Machines™ will provide an opportunity for fun and learning.
Enjoy!
See more Rube Goldberg Ideas:
6 Rube Goldberg Machine Videos to Inspire You
Rube Goldberg Ideas: Open a Door With a Rube Goldberg Machine
Play and Learn with Rube Goldberg Machines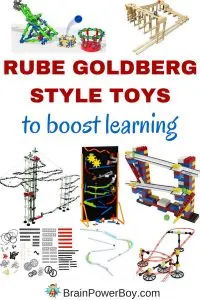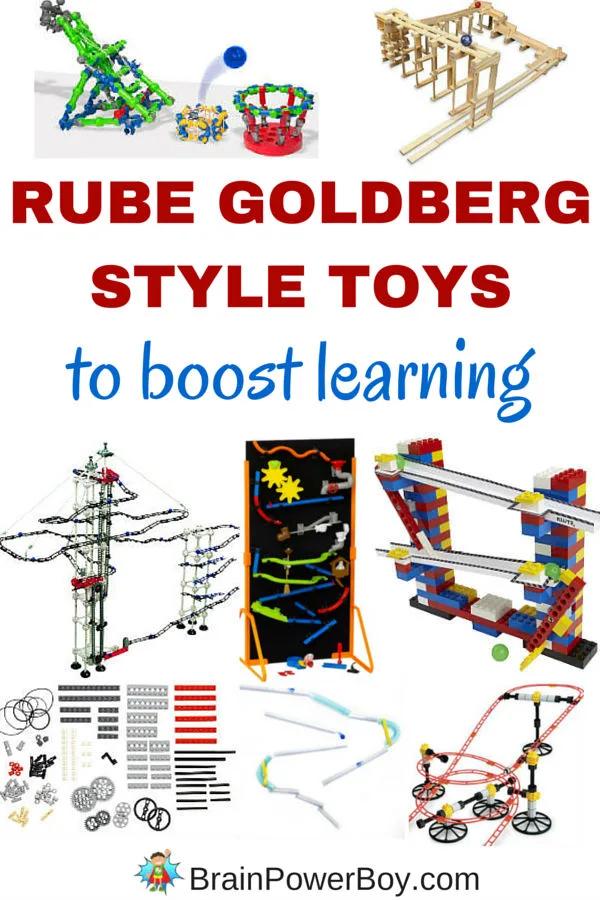 These Rube Goldberg Styles toys will help you create a wonderful RG Machine.
Check out the different track options and be sure you take a look at the Chaos Tower too! Very cool.
Click through the link as it will give you additional ideas for the types of things you can use to make your own machine.
We will be adding more Rube fun to our site so be sure to stop back or subscribe to our newsletter for all the fun things we share.