Boys like to laugh, so I am sure they are going to absolutely go for these funny book series for 9 – 12 year old boys.
These books are great for getting boys laughing AND reading.
Get them hooked on book series and it will keep them reading for a long time to come. We picked out the best funny ones for you to introduce to your boys. Read on for the titles.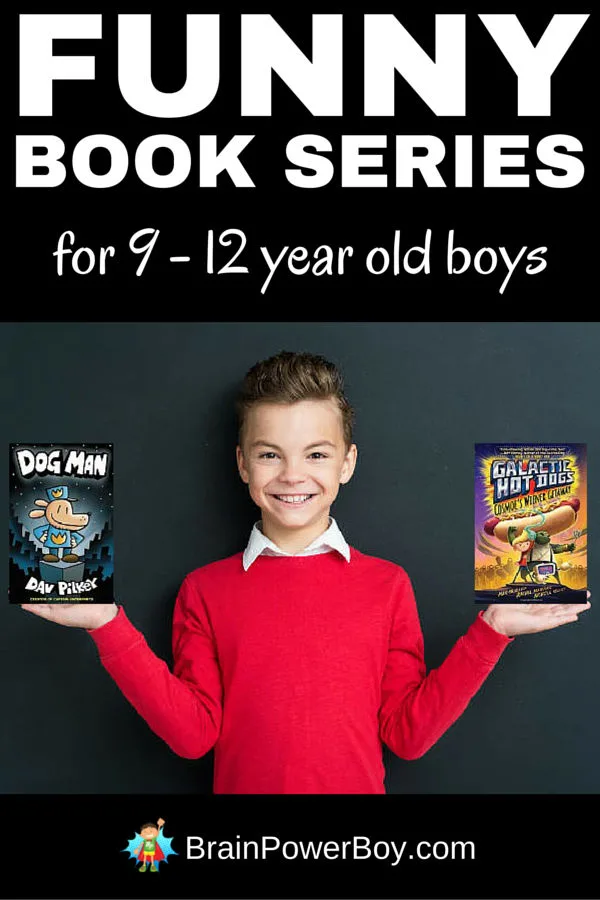 This post may contain affiliate links which means we may receive a small commission, at no cost to you, if you make a purchase through a link. All opinions are our own and we share things we think would be of interest to boys.
Funny Book Series for 9 – 12 Year Old Boys
Grab a few of these great funny book series for 9 – 12 year old boys. He will love them and you will love how much time he spends reading. These books are entertaining and feature amusing text with great cartoon-y/comic book style illustrations. They are a sure bet!
The Timmy Failure series is great for readers who like a bit of detective work or a confident, albeit a bit odd, main character. He tends toward boasting and is a bit of a social misfit. Boys will enjoy the witty and somewhat droll humor, as will adults. Series of 4 books with another on the way in 2016.


An admittedly unusual entry into the funny book series is Lunch Lady. This is no usual lunch lady. She not only hands out hamburgers but also kicks butt on some evil-doers. Um, she also has fish stick nunchucks lol. This book is done in yellow with line drawings and is appealing both visually and because of its "punny" text. This graphic novel series has 10 books in the series.


If your boys like all things zombies try The Last Kids on Earth. Jack is living in his tree house with Oreos for sustenance trying to fend off hordes of zombies (they always come in hordes!) He teams with other kids to survive. Plenty of action to keep this book moving and the crazy ideas they come up with to win are worth checking out. Currently one book with a sequel planned for later this year. Anticipation . . .
How is this for an unusual title? Galactic Hot Dogs. Cosmoe is an earth kid in space with a food truck. Pop over to Amazon through the link to read the funny author/main character interview. That will give you a great idea what this graphic novel series is all about. Two books in the series at this time but I have a feeling there will be more. Boys are totally into this one! Bonus!: Reading guide.


Here is different "Diary of a" series. The Diary of a 6th Grade Ninja has its own following. Perhaps not quite as big as Diary of a Whimpy Kid but, hey, Greg can share the limelight. Skinny Chase Cooper is in a new school where he is recruited by a clan of ninjas, which sort of helps him but sort of puts him in a world of trouble. It can be dangerous being a ninja! Super funny book series that will keep boys reading for a while since there are currently 10 books in the series.


I had to add this forthcoming book series because I can tell it is going to be a hit. By the creators of Captain Underpants comes Dog Man. They have labeled the book as #1 so there is obviously a series planned. Here is a blurb from the book: "When Greg the police dog and his cop companion are injured on the job, a life-saving surgery changes the course of history, and Dog Man is born. With the head of a dog and the body of a human, this heroic hound has a real nose for justice. But can he resist the call of the wild to answer the call of duty?" Pilkey writes funny books with boy appeal. We are looking forward to taking a peak at his new entry.
Super great graphic novel text included with bold, bright images makes this short 2 book series a winner. Hilo crashes to earth and has no idea where he came from or what he is doing there. This is a book about friendship, with saving the earth and a lot of funny bits thrown in for good measure. Enjoyable!


Seriously funny with bright, creative illustrations, Adventure Time is on many boys' list for watching on TV. But grab some of the books and hand them over. They like them! This graphic novel series of books started a years ago but don't let that stop you. Volume 8 was released in 2016 and it looks like the series will continue on. The books are a compilation of a collection of comic books. Finn is the hero and has an adopted brother Jake, who just happens to be a dog with magical powers. They live in the post-apocalyptic world of Ooo. There is a myriad of other characters that add to the adventures and the amusement too!
For more book series for 9 – 12 year old boys be sure to see our A Dozen Spectacular Book Series 9 – 12 Year Old Boys Will Love!
Oh, and see why getting your boys hooked on book series is a great idea here.