This cowboy picture books list is a reader request. I was happy to round up the best rootin' tootin' cowboy books for young buckaroos.
These books are geared toward kids under age five or six. Be sure to check them out and take a look at our best books for boys page for more books boys will enjoy.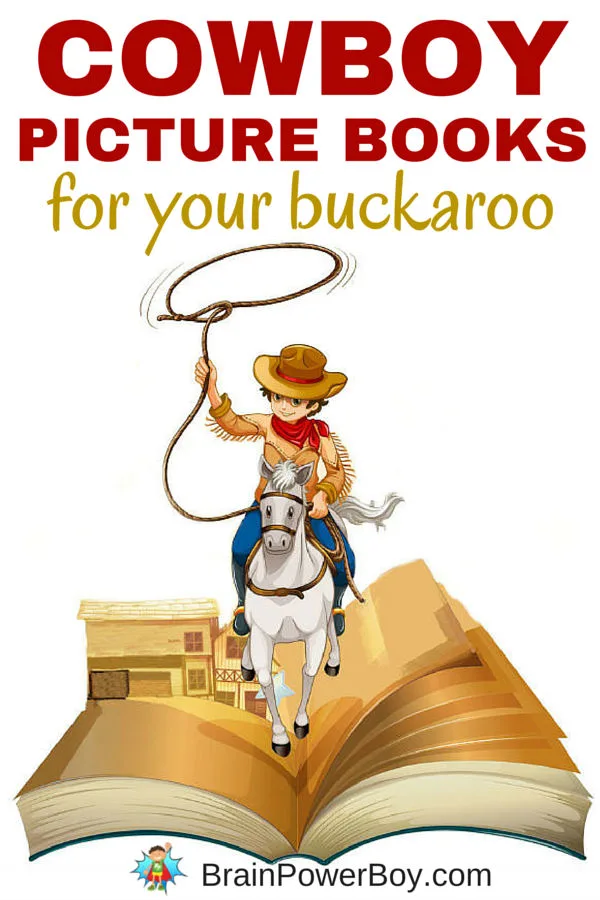 This post may contain affiliate links which means we may receive a small commission, at no cost to you, if you make a purchase through a link. All opinions are our own and we share things we think would be of interest to boys.
Cowboy Picture Books
If your boy has a hankerin' for all things wild, wild west he is going to really like these cowboy picture books.
1. Let's start out with a classic. Cowboy Small by Lois Lenski is a book that young cowpokes just love. It has simple text with nice clear illustrations. Cowboy Small does all the things a cowboy should do including taking good care of his horse.
2. B is for Buckaroo is a cowboy alphabet book with plenty of wonderful painted illustrations. There are a lot of cowboy terms here, some that might be a bit advanced for young cowboy fan but they will certainly learn something and it is a good one to keep for many years to come.
We always enjoy a funny book or two and had to slip the next two into our cowboy picture books list.
3. There Once Was a Cowpoke Who Swallowed an Ant. Ha, how's that for a good title. Based on the famous There Was an Old Woman Who Swallowed a Fly book this one is a hoot. He swallows a spider, a roadrunner, a lizard, an armadillo, a snake, a boar, and more!
4. Let's face it folks, cowboys and pirates don't speak the same language! Here is another funny cowboy book for ya. Pirates vs. Cowboys has the pirates searching for their buried treasure when who should they meet but the cowboys who incidentally don't take kindly to scurvy pirates invading their town.


5. Cowboys and poetry? Yup! Cowboy Slim really, really wants to be a cowboy but oh my he has trouble. His fellow cowboys are constantly getting him out of the fixes he gets himself into so he spends a lot of his time writin' poetry. Let's just say, his talent ends up coming in very handy.
6. And for a sweet little nighttime book to round out this list, Good Night Cowboy is our pick. This is a rhyming book that will love little buckaroos to sleep under the stars 😉


Yahoo!
You might also like:
Map Books for Young Explorers and