I went searching for some Lift-the-Flap Truck Books that I thought your boys would really enjoy.
My son loved lift-the-flap books when he was young. They have that wonderful reveal moment. Even if they know what is under the flap it is still a bit exciting to open it and take a look. These books are also great for a bit of hands-on fun while reading.
This list is part of our growing Best Books for Boys articles. Click the link to see all of the lists – there are a lot!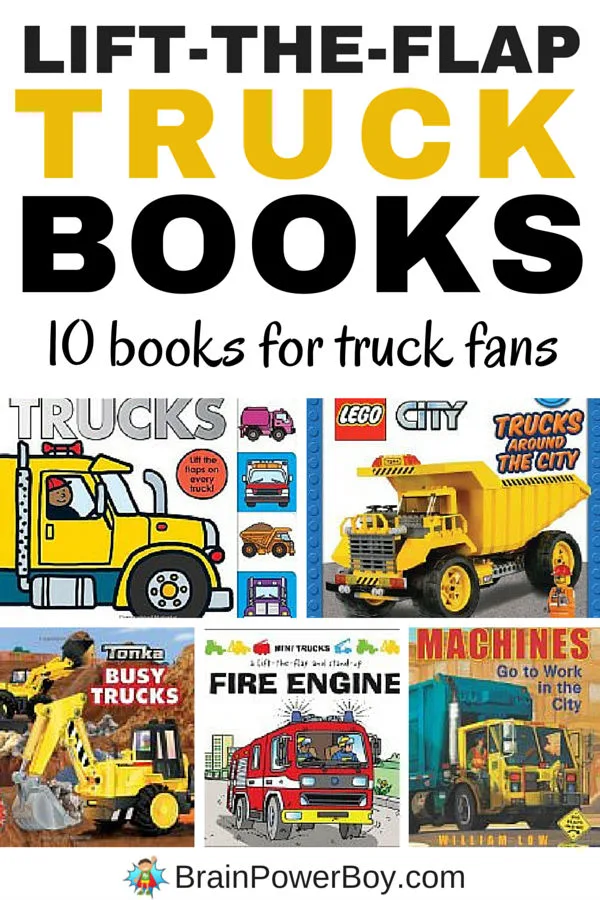 This post may contain affiliate links which means we may receive a small commission, at no cost to you, if you make a purchase through a link. All opinions are our own and we share things we think would be of interest to boys.
Lift-the-Flap Truck Books
I found a LEGO one! Lego City: Trucks Around the City has giant flaps and very cool pictures of LEGO trucks.
Lift-the-Flap Tab: Trucks allows kids to take a peak inside the trucks! They are going to love that. There are images of the trucks with a large flap that lifts and lets you see what is inside a fire truck, mail truck, construction truck and more.
Wonderful photographs and more than 50 flaps to lift make for a great book. See what jobs each vehicle does, where you would find them around town and more. First 100 Trucks and Things That Go Lift-the-Flap
I don't know about you but we love Tonka trucks! If you have a boy with a selection of Tonka trucks this book is a great choice. It features the different trucks and includes flaps for workers etc. Over 40 flaps in all. Yes, it is commercial, but it is well done and Tonka fans will love TONKA Busy Trucks.
This one should probably come with a cuteness alert. Sweet for toddlers and preschoolers Tons of Trucks features adorable animals and their trucks.
Another book that lets us take a peek inside vehicles is Emergency Vehicles which lets the reader open flaps to reveal more about an ambulance, police car, fire engine, rescue helicopter, lifeboat and more.
This is an usual idea! In Mini Trucks: Fire Engine you lift the flaps to reveal the answer to questions. Here is the unusual part – when you get to the end the wheels come out and the book reveals a stand up model of the fire engine featured in the story. Neat!
If you have a boy who loves food and trucks try Food Trucks!: A Lift-the-Flap Meal on Wheels!. Super cute!
and 10. The illustrations of these two books make them stand out. Machines Go To Work and Machines Go to Work in the City have gatefold pages which open on each side of a page to show a three page spread. These detailed books are winners. Recommended.
If you enjoyed Interactive Lift-the-Flap Truck Books be sure to check out these as well:
Free Printable Cars and Trucks Bingo Game
Learning About History: Vehicle Historical Coloring Books
The Science of Car Racing