If you are looking for Rube Goldberg Machine information you are in for a treat. If you have not yet discovered these fascinating machines you are really going to love them.
Either way, we have a great collection of Rube Goldberg machine information including videos, free games, apps, books, toys and information on making your own Rube.
Use these Rube Goldberg Ideas to get you started. I invite you to Play and Learn with Rube Goldberg and his wonderful machines.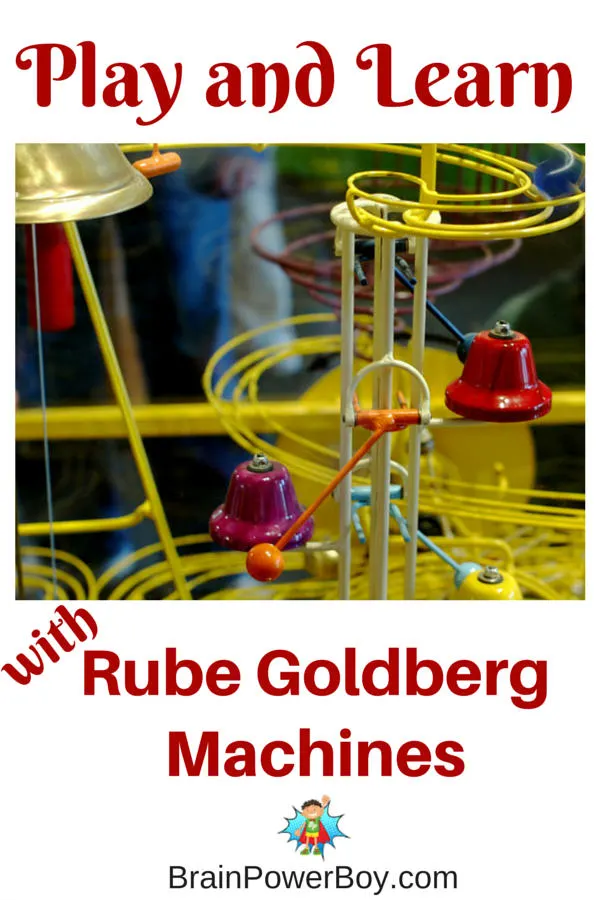 This post may contain affiliate links which means we may receive a small commission, at no cost to you, if you make a purchase through a link. All opinions are our own and we share things we think would be of interest to boys.
image credit copyright Jeff Kubina "Rube Goldberg Machine" altered
Rube Goldberg Ideas
Rube Goldberg is best known for his drawings of complicated machines designed to complete simple tasks. Many know he was a cartoonist but did you know that he was also an inventor and an engineer? He won a Pulitzer Prize for his political cartoons as well.
Rube Goldberg Games
We searched out the very best games and found the ones that were fun to play and free!
Want more games? We have more Rube Goldberg games here.
---
Rube Goldberg Apps
There are several apps that are Rube Goldberg based.
Rube Works: Official Rube Game
Pettson's Inventions
Pettson's Inventions Deluxe
&
---
Rube Goldberg Books
We ended up doing a whole article on the wonderful books that feature information about Rube Goldberg and share his cartoons and information about the wacky machines. Click on this link to take you to the Rube Goldberg Books list.
---
Rube Goldberg Style Toys and Games
Mousetrap is likely the best known Rube Goldberg machine game. We have it, and the pieces are used on their own as often as they are within in the game.
Here are three more choices that you can try:
Keva has a couple of contraptions sets that are very open-ended. Their sets are high quality and made out of wood. KEVA Contraptions 200 piece set and Contraptions 50 Plank Set
I think Weird and Wacky Contraption Lab from SmartLab Toys looks pretty darn neat. Click through on the picture to see the 2 foot board you can build on. We have other SmartLab toys and have been happy with them–this one looks like a lot of fun.
Be sure you don't miss LEGO Chain Reactions. LEGO and Rube Goldberg? What an awesome combination!
Klutz LEGO Chain Reactions Craft Kit
KEVA Contraptions Plank Set
SmartLab Toys Weird & Wacky Contraption Lab
&
Rube Goldberg Videos:
These machines are so much fun and I can tell you from our experience in making our own, they are packed with so much learning opportunities you simply won't believe it. We had a blast!
One of the best ways to really see what a Rube Goldberg Machine™ is all about is to watch a video of one.
This video is full of Rube Goldberg ideas. It is a Christmas machine that uses toys!
Here is a photography Rube Goldberg machine. What a lot to go through to take a photo! Can you imagine how long it took them to set this one up?
Be Amused and Amazed with Rube Goldberg Video is a great collection of videos.
We also gathered together videos on the Rube challenge to Open a Door. Be sure to click through for more video favorites.
---
The Way Things Go [Blu-ray + DVD]
The best video of all is this one called The Way Things Go.
Full of fire, air blasts, objects moving and flinging about. It is truely a 30 min chain reaction extravaganza.
We have watched this many times and it is about impossible to take your eyes off it.
I was super excited to see a new version available with both DVD and Blu-ray!
If you are a fan of awesome contraptions this is a must see.
&
---
Build A Rube Goldberg Machine:
Rube Goldberg machines are fun to build yourself.
If you liked the machines in the videos and games you should totally give it a try.
Using simple household items such as LEGO, dominos, books, marble runs, paper tubes, boxes, sticks and more you can create a machine.
Have fun, experiment, imagine and invent! There is a ton of learning going on when creating one of these awesome chain-reactions.
I hope you will use this Rube Goldberg Machine information guide to make your own Rube Goldberg Machines™!
There is just so much learning wrapped up in one of these interesting little machines and they are simply a ton of fun to mess around with. Plus, you get to discover the joy of doing things the hard way LOL.