We put together a list of Rube Goldberg books. If you want to learn more about Rube and his way of doing things, you need to check these out.
A Rube Goldberg Machine is best described as a machine that does something in a very complex way to complete a very simple task. Now you may be asking yourself, "Why would anyone want to make something so much harder than it has to be?" Well, because it is a ton of fun and very amusing as well.
We love a good Rube Goldberg machine and I wanted to share these books with you. We enjoyed looking at Rube Goldberg's cartoons and sketches, and enjoyed his humorous take on things.
Use these neat books to try building your own Rube Goldberg machines and to learn more about Rube Goldberg.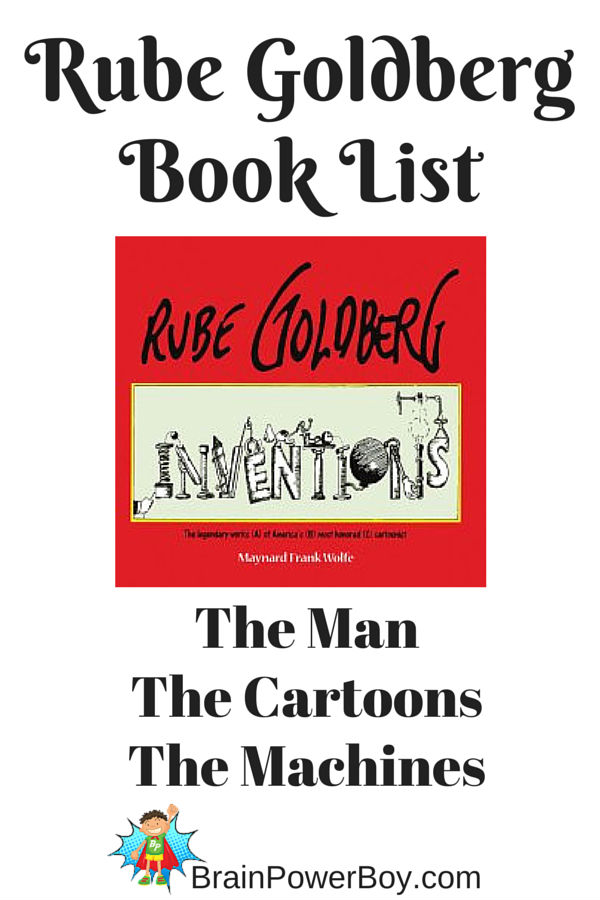 This post may contain affiliate links which means we may receive a small commission, at no cost to you, if you make a purchase through a link. All opinions are our own and we share things we think would be of interest to boys.
Rube Goldberg Books
One great reason to get these books is that as a bonus, your boys are going to learn a ton by messing around with Rube Goldberg machines. If you are not very familiar with Rube Goldberg contraptions, pop over and check out our Rube Goldberg post for more information.


Having drawn nearly 50,000 cartoons in his lifetime we have a lot of Rube Goldberg ideas to choose from in these books!
What I love about these books is that they are a look back in time (you may find a few things that are going to make for good discussions!) and they give a plethora of information about this famous man. They also have a ton of his cartoons in them and they are just so amusing. These books really show boys what a Rube Goldberg machine is all about so they can try to make their own. (upcoming posts will show them how to do it too!)
See: Play and Learn with Rube Goldberg Machines to get your boys started making their own contraptions.
Thanks for stopping by. Do you think you and your boy will try creating a machine?