Are you trying to get your boy to read something other than The Diary of a Whimpy Kid? Does he have to read an award winner for school? Finding award winning books that boys today will actually read can be a bit of a task.
There are a lot of book awards given and to be honest a lot of the books are not super popular with boys. The Caldecott book award is actually our favorite and we have read a lot the winners. With the Newbery Medal Winners it was a different story, so to speak. There are over 90 Newbery Medal books but there are only a handful that we really liked.
Here is our list of the books we think boys will actually read – and enjoy. I hope this helps you out. If you don't need an award winner but are looking for books for your boy try our best books for boys lists. We have quite the collection of book lists for boys!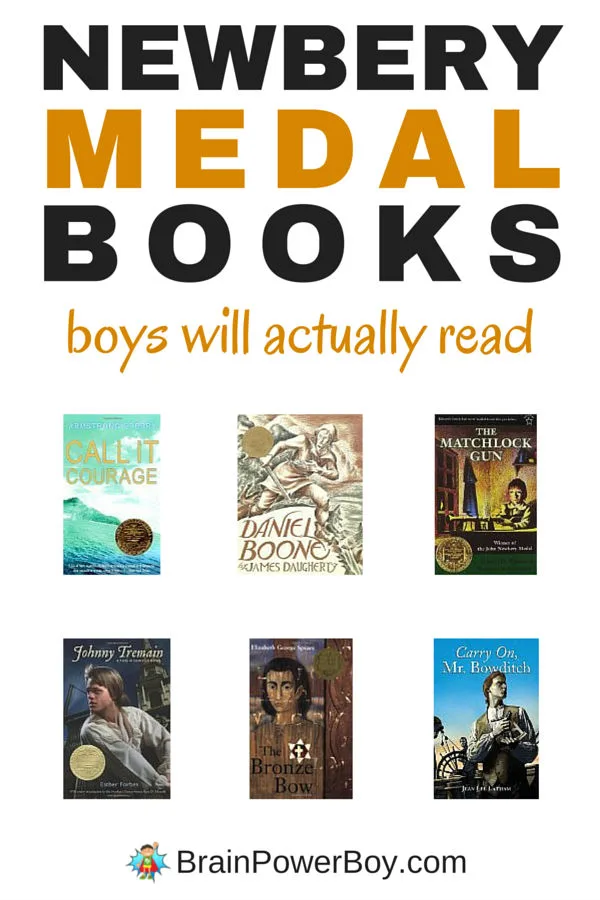 This post may contain affiliate links which means we may receive a small commission, at no cost to you, if you make a purchase through a link. All opinions are our own and we share things we think would be of interest to boys.
Newbery Medal Winners for Boys
Daniel Boone by James Daugherty. Read about Daniel Boone and his adventures in this wonderfully illustrated book. (1940)
Call It Courage
is about a chief's son who is constantly picked on and teased. At age 15 he leaves to make it on his own and learns a lot during his adventure. (1941)
In The Matchlock Gun
, Edward and his family are threatened by the French and the Indians. When his father is called away, Edward needs to protect the family. (1942)
Since my husband has an interest in the Revolutionary War Johnny Tremain
is a winner in our household. Johnny is an apprentice silversmith. When a horrible accident happens his life changes dramatically. Boston, the Tea Party, Sam Adams, and so much more. This is a great book! We love it and enjoy watching the movie as well. (1944)
If your boy loves animals, and especially horses, you can try King of the Wind
. This book does contain cruelty to horses. I mention it for sensitive readers. The book is about the adventure of an incredible horse and a young stable boy. (1949)
Carry On, Mr. Bowditch
is on my list of books to read. Nathaniel Bodwich is a mathematical genius and though he is small in stature he is big of heart and knowledge. The book is based on a true story. (1956)
In The Bronze Bow
, Daniel is a young Jewish boy with a hatred for the Romans that consumes him until he begins to hear the words of Jesus of Nazareth. This is an action packed book with a good message about love and hate. (1962)
The last book in the Chronicles of Prydain won the Newbery Medal. The High King
is a classic good vs. evil fantasy novel with battles and bloodshed. (1969)
Additional choices:
Rifles for Watie
(1958)
The Grey King (The Dark Is Rising Sequence)
(1976)
Joyful Noise: Poems for Two Voices
(Love! this book – great for poetry fans) (1989)
Crispin: The Cross of Lead
(2003)
Those are our picks for Newbery Medal Winners that boys will actually read and enjoy. There are a lot of good books out there and while I don't always agree with the books that win the medals each year, I do think these are good books.
See also: Caldecott Medal Winners with drawing activity.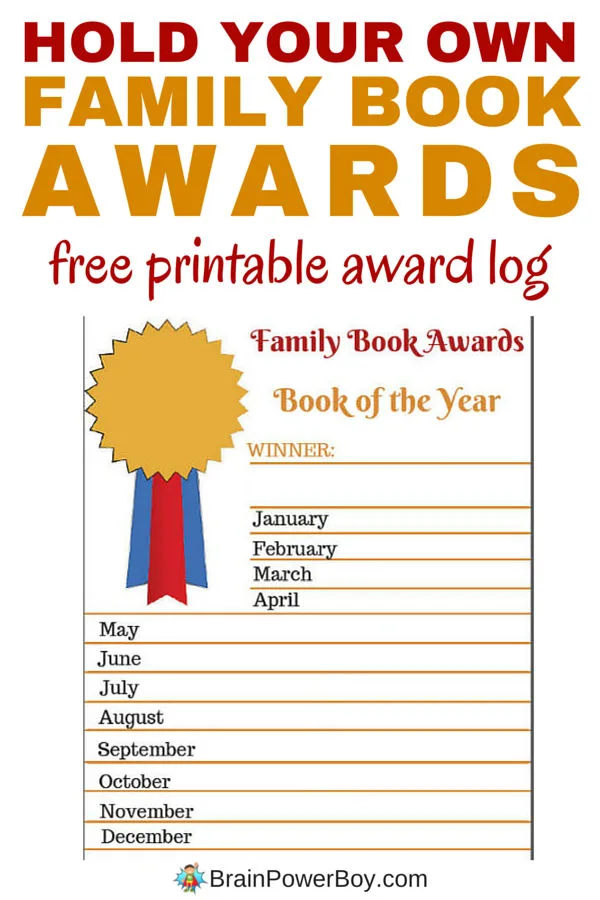 Newbery Medal Activity
Our activity today is a super simple one and likely stems from our feelings that the books chosen to win Caldecott and Newbery Medals are almost never books that we would have selected.
Keep track of the books you read that are really, really good. Books that your whole family just loves. Make a plan to have an award ceremony once a year.
Each month keep track of the books that you really like. Add your favorite title of the month to the book log.
You can do this for picture books, comic books, and/or chapter books or focus on illustrations like the Caldecott does. It is up to you.
At the end of the year, pull out your award log and take a look at which books won for each month.
Discuss why you liked each book.
Hold your own family book award ceremony. Each family member gets to vote from the selections and together you can choose the your family "Book of the Year."
Make it an event! Snacks and treats are encouraged!
Download your Free Printable Family Book Award Log <<<<<< click link to download.
Read Newbery Medal Winners with your boy and be sure to create your own family book awards as well. It is a wonderful way to keep track of the books you have read and that had a lot of meaning for your and your family. Store your book award sheets in a safe place. They would make a lovely gift for your boy when he gets older.
Be sure to check out the other participants in the Poppins Book Nook Virtual Book Club below and visit Poppins Book Nook to get the wonderful book club printables available for you to use with your kids.
Enchanted Homeschooling Mom – 3 Dinosaurs – ABC Creative Learning – As We Walk Along the Road – Brain Power Boy – Chestnut Grove Academy – Embracing Destiny – Every Bed of Roses – Farm Fresh Adventures – Growing in God's Grace – Kathys Cluttered Mind – My Bright Firefly – Peakle Pie – Preschool Powol Packets – Pray Species – SAHM I am – Stir The Wonder – Sunny Day Family – Sweet Silly Sara – Teach Beside Me – To the Moon and Back – Tots and Me – Tree Valley Academy – Witty Hoots