I have found Rube Goldberg Video examples for eight very different and unique machines. You are going to really love these!
In case you are not familiar with them: Rube Goldberg Machines are complex machines that are designed to complete a simple task.
Really a ridiculous idea, isn't it? Create a super complex way to do an exceedingly simple thing. That is where the fun comes in.
Making Rube Goldberg machines involves a plethora of learning and it is super fun! See our page on Rube Goldberg Ideas for more information as well.
You can either watch for enjoyment or to get you started on gathering ideas for making your own machines.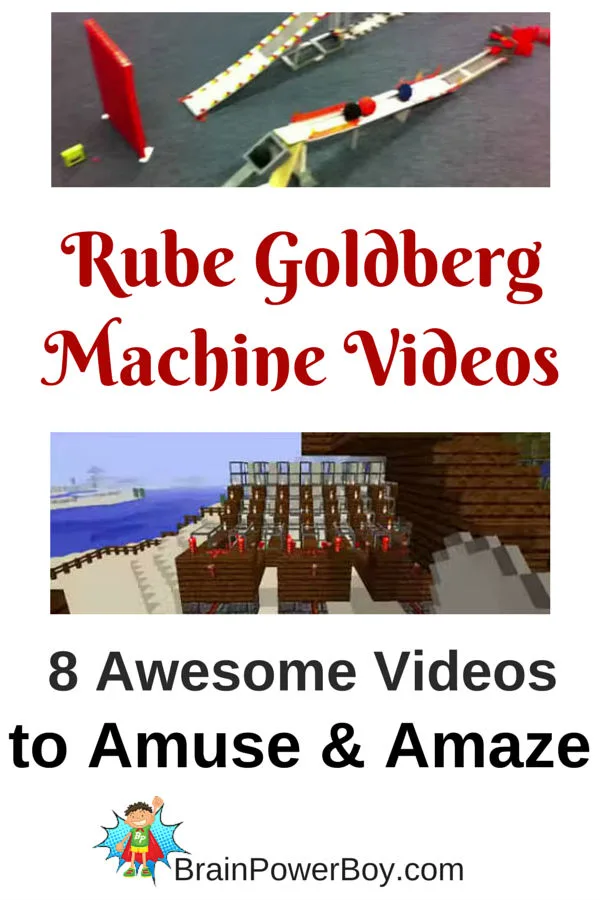 Rube Goldberg Video
So, the whole idea of a machine that does a simple task in a complicated way is unusual, isn't it? Here is an example so you can see what I am talking about. Instead of just putting down some toast for breakfast there would be a very complicated contraption that went through a variety of odd steps to get to the point of putting the bread in the toaster and toasting it.
These Rube Goldberg Videos are certainly fascinating to watch.
We dug through a lot with swearing (really?,) questionable objectives, and many that were not true to the idea of a Goldberg machine.
The videos below all met our criteria. I hope you enjoy them!
Rube Goldberg Photography Video
The first video is an impressive one. Why not start out with one of the best, right? Here is an awesome photography Rube Goldberg machine. This one has a very elaborate setup and I love that it is in the true spirit of a Rube Goldberg Machine in that it goes about a very complex and complicated path all to simply take a photo.
Rube Goldberg Honda Video
Ok, this is a Honda commercial. No, I am not working for Honda–I don't even own a Honda–but this is really great for boys who like cars! It is also really well done. We enjoyed how they have the different car parts as part of the machine—especially the windshield wipers!
Rube Goldberg LEGO Machine Video
I couldn't do this post without finding at least one good LEGO Machine, you know that, don't you? 🙂 The creator calls this one a LEGO Physics machine but since the object is to tip the flag, and that could certainly be done in a simple manner, I do believe it is Rube-inspired. He is actually promoting it through LEGO Ideas and wants to have it made into a real LEGO set.
Minecraft Contraption!
Rube Goldberg and Minecraft! Someone created a neat world with a complex machine that includes water, TNT, and yes, chickens!, to blow up a creeper. Watch a few other machines first if your boy doesn't already know what these machines look like so they can appreciate the Minecraft one.
Be sure to see our Play and Learn with Rube Goldberg Machines article if you are enjoying these videos!
Isaac Newton Rube Goldberg Machine
Rube Goldberg vs. Isaac Newton. Wonderful! This is a really neat one and you just must take 1 minute and 9 seconds out of your life to have a look. It is unique and I love the surprise.
One the Kids Can Make: LEGO Rube Goldberg Machine
Here is a quick one that a group of kids made. I like these short ones because they are totally doable at home.
Children's Toy Machine
Another machine made with children's toys including a bit of train track and trains, marbles and dominos.
Water a Plant Rube Goldberg Task
This one was made with the help of 40 children. It is all on boards and the object is to water a plant. Fun.

I hope you and your kids will enjoy watching these Rube Goldberg Videos. We sure had fun going through and finding good examples.
We are going to be doing a whole series on Rube Goldberg machines because, as I said, there is a lot of fun learning involved!
If you want to make your own machines be sure to check out our Rube Goldberg Machine Tasks and Materials article. It will give you some great ways to get started.
Don't miss a thing–sign up for our newsletter!