Boys need the time and space to explore. They need to get out in the world and climb trees, turn over rocks, and watch the clouds. They need to visit new places and seek out things of interest to them. They need to be trusted to go exploring!
Take them places where they can look around and see new things or have new experiences while involved in things they already like.
Give them time–don't hurry them along, let them take as much time as they need to look and see, to touch and feel, to learn and discover.
It is an easy thing to let children explore the world with our help. It can be a difficult thing to let them explore in the ways that work best for them.
Believe that all of this exploring leads to a huge amount of learning even as they get older. It really does.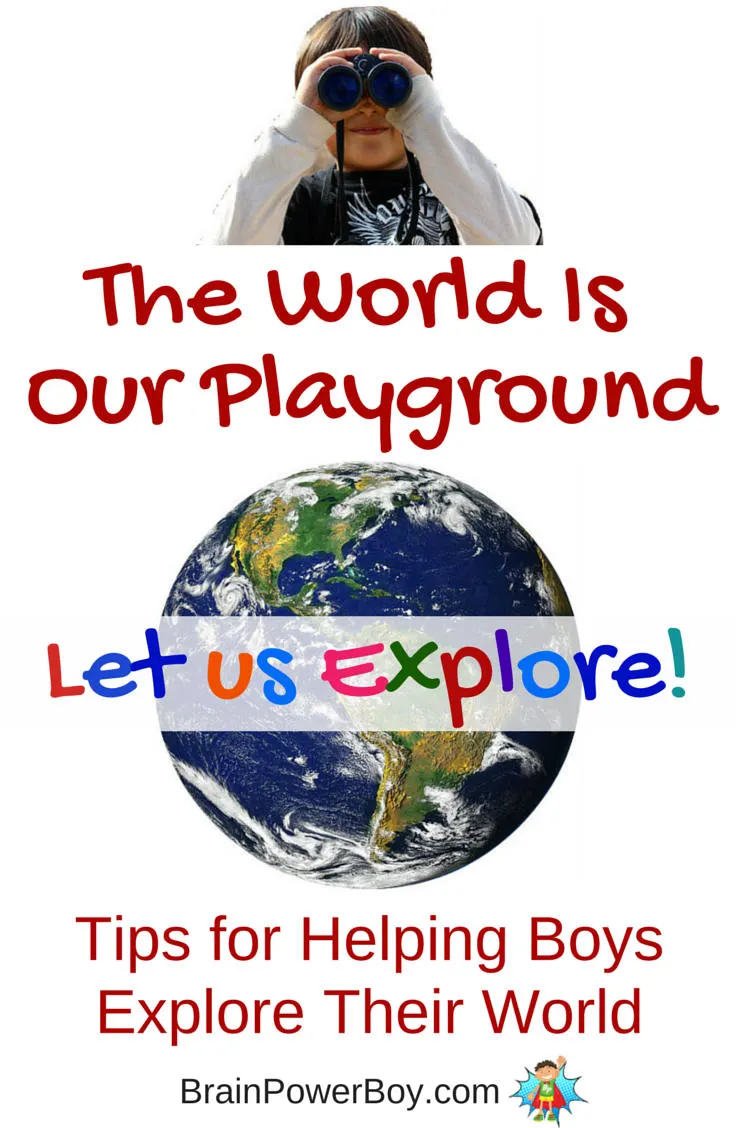 Tips for Helping Boys Explore:
Boys 0 – 3:
Let the child touch and feel things they find interesting.
Instead of "NO!" find a way to say "Yes, you can explore that this way." Look for ways he can experience things in ways that makes sense.
Give him plenty of opportunities to take his time so he can discover new things on his own.
Encourage him by following his lead as he moves through the home or the world.
Boys 3 – 5:
Help if asked; respect the need for the child to do it himself.
Let your boy explore with your help by taking him places he will find interesting and new.
Take time to stop and let him really look at things. Don't be in a rush. Let him observe and listen.
Give him simple things to play with and let him explore and create. Boxes, sticks, cartons, tubes, a flashlight etc.
Boys 5 – 9:
Watch closely to see what he is enjoying at the moment and provide more, similar, materials for him to explore.
Do a treasure hunt, a nature walk, a day-long exploration of an area.
Find time for quiet observation.
Allow the child to use his natural curiosity and see where it takes him. Let him lead.
Boys 10 – 13
Help a tween explore his interests by giving him support when he asks for it and how he would like you to give it.
Look for ways to provide materials he needs for exploring in the way that works best for him. Ask him what he needs.
Expect a boy this age to want to explore on his own or with other kids, as well as with the family, and give him space to do so.
Share related things that he might want to explore. Offer, but don't insist that he try them.
Boys 14+:
Support a teen's need for independence with trust and understanding.
Help him to explore even if his explorations make you uncomfortable (but are still safe.) Agree on guidelines for safety.
Let him know you trust him and know that he is capable.
Help him to develop his interests in a deeper way by connecting him with others who share those interests.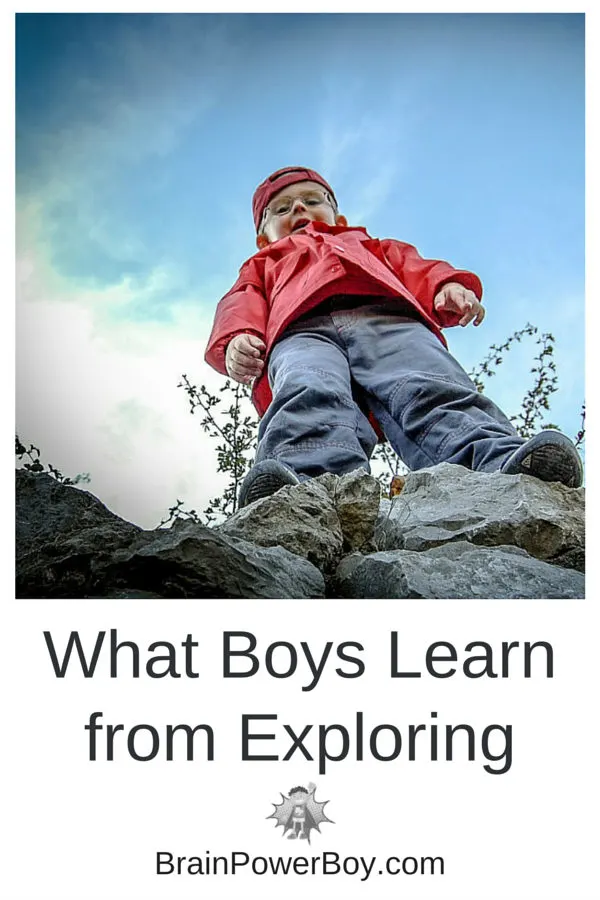 Boys who are allowed to freely explore are learning. They are learning about their world as well as their place in it.
With exploration comes:
observing
touching
feeling
hearing
seeing
imagining
questioning
thinking
understanding
making connections
discovering
building confidence
Exploring leads to learning. Encourage exploration in your boy and he will do the rest.
For information on Boys' Learning Styles and ways to help a boy explore in a way that best fits his learning style see each individual learning style.
You might also like: Boys' Learning, Top 10 Activities for Boys, and Sensory Bins for Boys.
How do you help your boy explore? What benefits do you see to doing so?