Make your own robot! These easy robot projects are just the ticket for getting started making your own robots at home.
Getting kids to make their own robots is not only fun but an awesome educational experience. Use this new Homeschool Unit Study to get started.
We gathered together a selection of the very best make a robot videos from YouTube and put them here for you and your kids.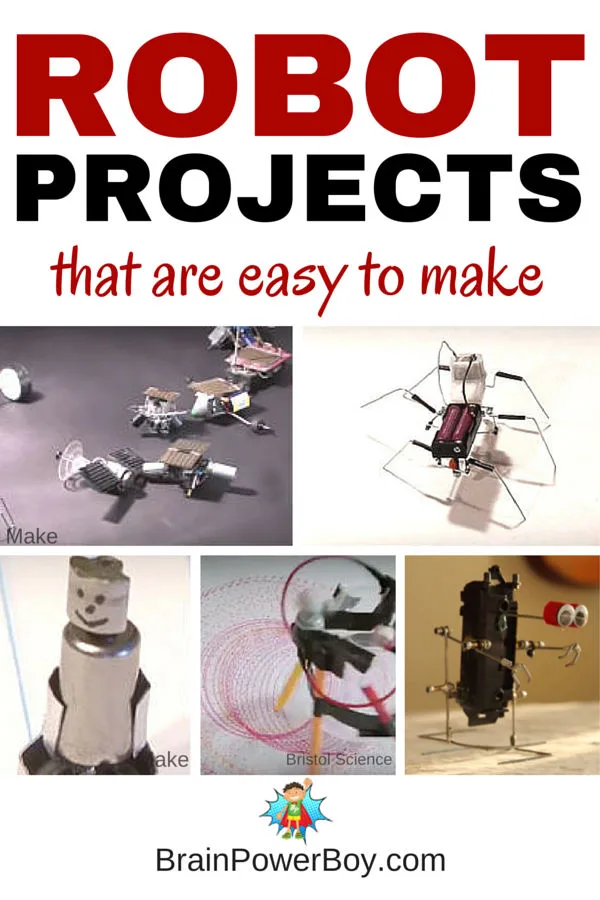 This post may contain affiliate links which means I may receive a small commission, at no cost to you, if you make a purchase through a link. All opinions are my own and I share things I think would be of interest to boys.
Make Your Own Robot!
I know some of you will want to do these projects with your kids but you don't have the supplies on hand and you don't have a lot of time to mess around finding everything you would need.
If that sounds like you, just grab these inexpensive kits to start and see if your kids enjoy doing them. If so, you can always move on to the DIY robot projects below another time.
Tin Can Robot Kit
Doodling Robot Kit
Brush Robot Kit
&
Make Your Own Miniature Robots
Miniature Robots Workshop from Make. This video provides directions to a few different types of robots. He says you can get more information on the website–here is the link as it is kind of hard to find.
Make a Walking Robot
Make your own walking robot video has full instructions. This one is so funny–click to watch him go. It is a bit complicated but it would be great for an older child or you could work on this project together with your kids.
Once you get that one together you can try the robot video below. It uses the walking robot and adds this feature: avoiding obstacles.
Make a Rowing Boat Robot
The next robot in our lineup is something a bit different. A Boat! Yes, you can make a rowing robot that makes a boat go in water. Neat!
Make a Robot That Climbs Rope
I had not thought of a climbing rope robot but what a great idea. It looks like a spider! I am amazed at how it climbs the rope.
Make an Easy Bristlebot Robot
This bristlebot robot really is better than the others I have seen. It runs really smoothly. This is an easy robot project for younger robot fans.
Make a Crazy Dizzy Robot!
How about a dizzy robot? This one is pretty funny and only requires a few parts. Watch the robot video for everything you need to know to make your own.
Make Your Own Scribblebot Robot
Scribblebot! I have seen a few of these drawing robots around but I simply love how they put this one together to make such neat scribbles. Great video instrustuctions that are clear and easy to follow.
Make a Walking Insect Robot
Last, but not least, we have this nifty walking insect robot – it reminds me of a walking stick. Very neat! The robot projects take a bit more work but it is totally worth trying.
These robot making videos are so neat, the projects are easy, and the robots are a blast to put together and play with. I hope you have fun with these different ways to make your own robot.
For more robot ideas see our Homeschool Unit Study Robots article. There are a lot of fun activities there, as well as robot ideas for younger boys.