Sports picture books are a wonderful way to get your sports fans reading.
I was going to do a picture book list for each individual sport but there were simply not enough good books in each category to make that happen. I'm a tad fussy lol
So I went through the major sports and and created this best books for boys sports list instead.
Be sure to see the sports picture books series at the bottom as well because there are some neat books on less common sports such as wresting, golf, and car racing, and extreme sports that I know some boys will really like.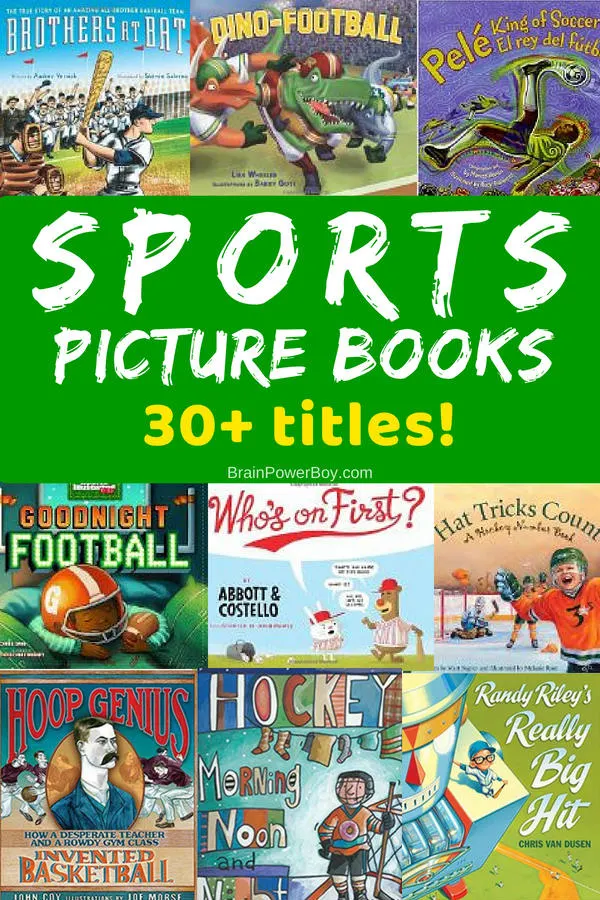 This post may contain affiliate links which means we may receive a small commission, at no cost to you, if you make a purchase through a link. All opinions are our own and we share things we think would be of interest to boys.
Sports Picture Books
Go through the list and find your boy's favorite sport. Then take a look at the titles and description to find the perfect books to read to him.
Football Picture Books
Baseball Books
Basketball Books
Soccer & Hockey Books
If you are going to read about soccer, you might as well start with the all-time star. Pele, King of Soccer/Pele, El rey del futbol Painterly, flowing, swirling pictures illustrate this book that tells the story of a poor boy who goes on to be a soccer star. The book has both English and Spanish text.
For more soccer titles, see the series books listed at the bottom of this post.
Hockey Morning Noon and Night is a sweet look at a young boy's obsession with hockey. He is all about hockey from morning to night.
This is a counting book done Hockey-style. Numbers are everywhere and I like how they take the game of hockey and show this in a neat way. Hat Tricks Count: A Hockey Number Book is likely to get your boys noticing numbers wherever they go.
First Hockey Words has the basic language of hockey. The team comprises of cute animals and words are defined through the pictures. Nicely done.
Sports Picture Book Series
Several of the books listed above for one of the sports are also available as other sports titles.
Whew! That is a lot of sports picture books for you all to take a look at. Hopefully you will find something wonderful to read to/with your boys.
Need even more books? How about non-fiction football books for boys?!