Should your boys still be reading alphabet books as they get older? You bet!
Alphabet books are not just for children who are learning their ABCs. There are some beautifully done alphabet books for older readers.
My son and I just went through a big stack of alphabet books to find the best ones for you.
All of these books are good choices for boys. See our best books for boys list for more ideas.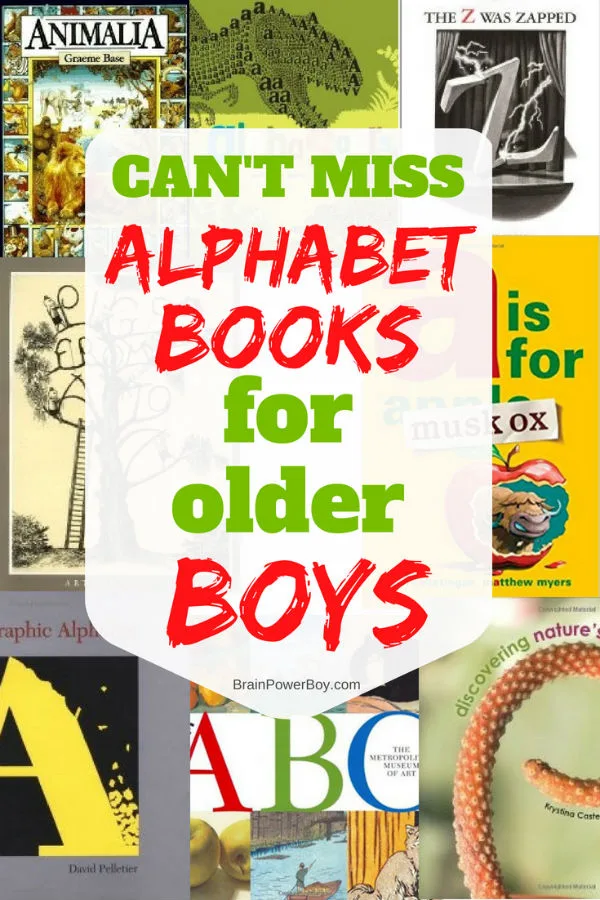 This post may contain affiliate links which means I may receive a small commission, at no cost to you, if you make a purchase through a link. All opinions are my own and I share things I think would be of interest to boys.
Why You Should Use Alphabet Books with Older Readers
Why would you want to use alphabet books with older readers? I'll give you a few reasons.
Wordplay
The main reason is because they are a lot of fun 🙂
You and your boys will likely enjoy the wordplay found in these books. The wordplay in many alphabet books introduces new words or unusual combinations of words.
We laugh (or groan) when reading a well-written phrase.
Vocabulary
Alphabet books for older readers are also great for increasing vocabulary.
Understanding different ways words can be used increases our boys' ability to communicate.
Concepts
Alphabet books are great for cementing concepts or introducing new information.
By this I mean that a child who is interested in history might find a book like the ABC Book of Early Americana to be helpful in learning so much more about the topic. E is for Ear Trumpet, Ell-Rule and Election Torch . . . see what I mean?
Boys can then take what they learned about in an ABC book and expand further on it if it piques their interest.
Encouraging Reading
Alphabet books can also be used for encouraging reading and writing.
These books usually use only a few words to describe things. This can be good for writers as they learn to be descriptive and pare down their words to choose the very best ones.
It can also benefit those who don't like to see a lot of text on a page.
Some of the alphabet books for older readers found here can say a lot without a lot of writing. The illustrations speak volumes.
Engaging Illustrations
A bonus is that the illustrations in alphabet books for older readers are particularly engaging and impressive.
One of my favorites is Animalia by Graeme Base. This is a beautiful, richly illustrated book written with wonderful alliterations (more on this book below.)
Alphabet Books for Older Readers
Because our site is geared toward boys, these books were picked out especially for boys.
A is for . . .? A Photographer's Alphabet of Animals by Henry Horenstein. A letter and a photograph—no text. The photos are black and white and show only part of an animal. We got a few wrong (lol) because this one isn't quite as easy as some of these types of books where the animal is quite obvious. Grab it from a library if you can find it. It is worth searching for.
Museum ABC by The Metropolitan Museum of Art. In this book A is for Apple, go figure. What makes this book stand out is that each letter has four famous paintings next to it. You can use it as a game to guess the artist or as a guide to new art that you have not seen before. You can also use it as inspiration to create your own art alphabet book. Museum ABC
The Handmade Alphabet by Laura Rankin. A unique and interesting book. The images are of a hand signing the alphabet while interacting with the item that starts with that letter. For example, P is for Paint shows the sign for the letter P, a palette with paint and two fingers dipped in paint. The Handmade Alphabet
Alphabet City by Stephen T Johnson. This is an oldy but a goody. I remember reading this to my son when he was little. The illustrations are very realistic and at first glance some seem almost like a touched up photograph given an illustration style. Each letter is found in the cityscape of New York City. This alphabet book from the very talented Stephen Johnson is a gem. A 1996 Caldecott Honor Book. Alphabet City
Antics: An Alphabetical Anthology by Cathi Hepworth. Good words, fun images. The word for each letter has an "ant" in it J is for Jubilant! The images are unusual—a quick read. Antics!
Alphabeasties and other Amazing Types by Sharon Werner and Sarah Forss. OK. FYI, I love this book. Love it! For more details see our review. I liked it so much I pulled it out to do a separate review on it. This book is about typefaces as well as animals and letters turned into word pictures and so much more. We spent a lot of time exploring this book and had a ball. Alphabeasties: And Other Amazing Types
Alphasaurs and other Prehistory Types by Sharon Werner and Sarah Forss. Sharon and Sarah are at it again (see also Alphabeasties) in this book about dinosaurs. Filled with typography and facts about dinos this is also a winner. P is for Parasaurolophus. "Paleontologists think Parasaurolophus used its powerful tail as protection from predators." Yup, fun, with great word usage and practically perfect pictures (sorry—couldn't resist.) Alphasaurs and Other Prehistoric Types
Animalia by Graeme Base. As I said above, this is my favorite. I am very fond of anthropomorphic illustrations and these are tops! This is an amazing book. The illustrations are simply incredible, and it is easy to spend a lot of time on each page trying to find all the things that start with a certain letter. A is for "an armoured armadillo avoiding an angry alligator." You can then look about the page and find an abacus, an ace, an ape, an ambulance, and ant and many, many more "A" words. Beautiful, entertaining, incredible, ingenious . . . you get the picture. Highly Recommended! Animalia
Ballroom Bonanza: A Hidden Pictures ABC Book by Nina Rycroft. Hidden picture books are great fun and in this one mischievous monkeys hide 26 musical instruments from the band. This book has it all, rhyming, good illustrations, hidden pictures, counting, alliterations, plus a look at 26 musical instruments. Really nicely done. Ballroom Bonanza: A Hidden Pictures ABC Book
ABC Book of Early Americana by Eric Sloane. I know a couple of boys who are very into history and love to learn everything they can about it. This is exactly the type of book that they would enjoy. The ABC Book of Early Americana is an older book from 1963 so some of the language is not what we are used to (retarted, for example) but that is in the forward not in the ABC part of the book and makes for good discussion. Each letter is illustrated with a variety of images and includes text descriptions. Quite interesting to read. ABC Book of Early Americana
3-D ABC: A Sculptural Alphabet by Bob Raczka. A mini lesson on what sculpture is along with sculptures to behold. Great for an art lovin' boy. We were fond of the upside down piano—"a sculpture can make you look at things differently." Indeed it can. 3-D ABC: A Sculptural Alphabet
Discovering Nature's Alphabet by Krystina Castella and Brian Boyl. Wonderful. The prose that winds its way through the book is enjoyable as are the images that show each letter. Each letter is shown in several pictures and they are all natural plants, trees, rocks etc. A flower petal makes a swooping curve to form a D, two birch trees stand apart with a branch reaching between them showing an H, rock slabs crack to reveal a T . . . Filled with great photography, this book will inspire boys to look just a bit closer at their surroundings and maybe even get busy taking some alphabet pictures of their own. Recommended. Discovering Nature's Alphabet
Pigs from A to Z by Arthur Geisert. This book's illustrations stand out for their intricacy and detail. Each illustration includes 7 piglets (some are hiding) and the letter is disguised 5 times within each page as well. I like "seek and find" books as they let you linger on the page just a bit longer than usual. Pigs from A to Z
The Graphic Alphabet by David Pelletier. This is a Caldecott Honor Book. Letters are boldly colored with graphic design playing a huge role. It is interesting to look at and one of the most unusual books in this lineup. My favorite letter depiction is T is for trip which shows a T tipped and falling over a small circle. A bit of wit. The Graphic Alphabet
A is for Musk Ox by Erin Cabatingan and Matthew Myers. See, I told you A was not always for apple! My husband saw it on the table, picked it up and had to read through to the end to see what happened. I think that is a pretty good recommendation. My son and I thought it was goofy and funny. Musk ox doesn't want to wait until the middle of the alphabet for his turn and he is ruining Zebra's book in the process. A Is for Musk Ox
The Z was Zapped by Chris Van Allsburg. Saved the Z for last for several reasons. End of the alphabet and all that, but also because this is a super book for boys who like a bit of adventure and intensity to their books. Poor letters . . . The B was badly bitten, and C was cut to ribbons! We found if fun to look at the picture and try to figure out what the phrase would be before turning the page to see if we were right. Alphabet theatre with all the drama boys will enjoy. The Z Was Zapped: A Play in Twenty-Six Acts
When you are reading alphabet books for older readers you will be amazed at what you see, learn and experience.
I encourage you to try a few of these books and see what your older reader thinks.
I know my son and I enjoyed them—we hope you do too.
If you and your boy have a favorite alphabet book for an older reader, please leave a comment below.
We would love to have a look. We might even add it to the list.
See all of our great book lists for boys as well!