These are the very best LEGO backpacks out there right now.
I know because I did a lot of digging to find the coolest ones with a LEGO theme.
These are great for boys who are going to school but also for homeschoolers. We always use backpacks!
And I didn't forget the older guys who still love LEGO. There are some awesome choices for you as well. I know some AFOL (Adult Fans of LEGO) who proudly carry a LEGO backpack 🙂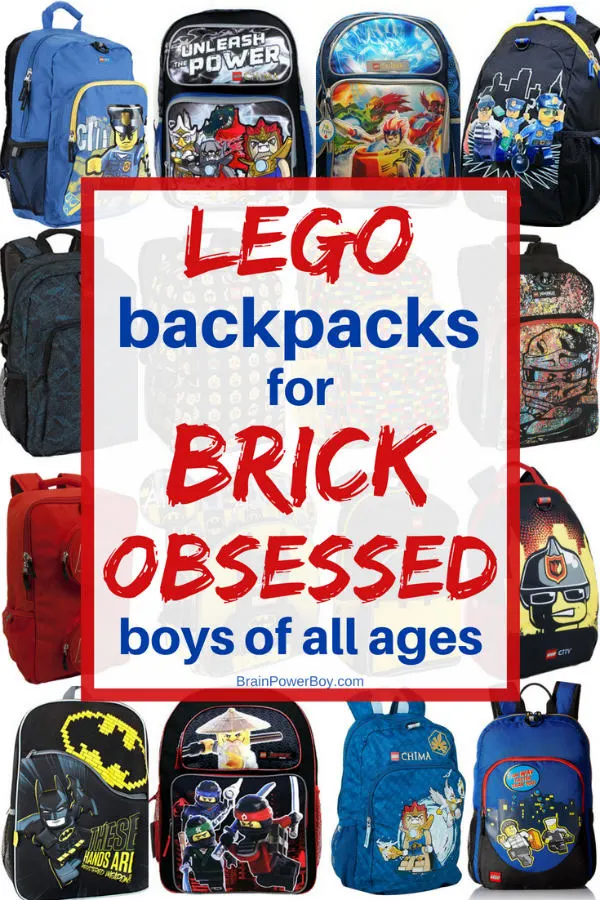 This post may contain affiliate links which means I may receive a small amount, at no cost to you, if you make a purchase through a link. All opinions are my own and I share things I think would be of interest to boys.
LEGO Backpacks
There are a lot of wonderful choices here so scroll down and check them all out!
Things to look for:
side mesh pockets for drinks
extra zippered compartments
interior slip pockets
space needed
size of backpack that will fit child well
reflective materials, mesh or 360 reflective so they can be seen in the dark
I am not adding each backpack's features as there would be a lot of repetition but you can easily check for specific features if you need them when you click through to see them.
I did want to point out that if you are looking for a pack that is a level above the rest, check the LEGO Heritage backpacks. They are of high quality and have a lot of extra features. I'll bold "heritage" in the list below so you can find them easily.
LEGO Ninjago
Kai is featured with his bright red signature color.
I wish I could have made the image of the middle backpack a bit bigger because it is really cool. If you think you are interested, go check it out because it looks even better close up. (Heritage)
If you want the whole Ninjago gang, grab this one!
LEGO City
For fans of fire stations or LEGO city the red backpack with the minifig fireman is the one to get. (Heritage) or grab this one instead with a lot of flames and three fire fighters (not pictured)
The blue City pack comes with a cool background and a tough LEGO police officer on the front. (Heritage)
"I'm way faster than you" has a chase happening! Comes in blue police (pictured,) yellow constuction with minifig, a crane and jackhammer, and a funny red fire truck "oh no – my hat" version.
LEGO Chima
Unleash the power of Chima! This is one of the most inexpensive choices on the list.
The blue bag featuring Laval has a fabric side pocket as well as the normal mesh side pocket which is a nice touch.
Laval and Sir Fangar are on the royal blue high quality pack and Chima fans love those characters. (Heritage)
LEGO Batman
Blue, grey and black versions of Batman on a LEGO plate background – You really can't go wrong! BONUS: This one can be personalized!!
Check out Batman in action with a neat blue outline, and is that the bat cave in the background?
The bat signal is done in LEGO bricks and the writing (in case it is hard to read) says "these hands are registered weapons."

LEGO Bricks & Minifigs
It was really hard to choose which of these I liked so I picked six that are perfect for guys who like a more classic look or for AFOLS who want to sport a LEGO choice.
The sky blue LEGO pack features piles of bricks on the front and it has a bonus pouch as well. (Heritage)
I really like the red LEGO brick backpack! The studs are zippered pockets – how cool is that?! Comes in red and 8 other colors.
You can't get one more colorful than this stacked bricks classic. (Heritage)
It is a little hard to see in the picture but the pattern on the black backpack is a blueprint of LEGO bricks. Very slick! I love the understated look. (Heritage)
The yellow and black single brick is great and it even has a LEGO brick pull on the zipper. You can see it on Amazon with their close-up feature. (Heritage)
And last, but certainly not least, is this incredible minifigure head bag. A must for minifig fans! (Heritage)
Which one is your favorite? Let me know in the comments.
If you know you want a specific one, go grab it right away as these do sell out.
I will be keeping this post as up-to-date as I can. If you notice one is out-of-stock feel free to bring it to my attention. If that happens, and it doesn't look like it is coming back soon, I will be replace it with a current LEGO backpack.
Happy shopping! I hope you find the perfect backpack.
Here are some other articles for you to enjoy:
LEGO Gift Ideas: The Ultimate Guide