Here are the very best grandpa and grandson books out there right now.
These books are sweet, funny, and oh-so-right for grandfathers and their grandsons to read together.
They also make great gifts!
I got my dad a grandpa book for him to read with my son and they always loved reading it together each time they saw each other. ~Memories!~
This post may contain affiliate links which means we may receive a small commission, at no cost to you, if you make a purchase through a link. All opinions are our own and we share things we think would be of interest to boys.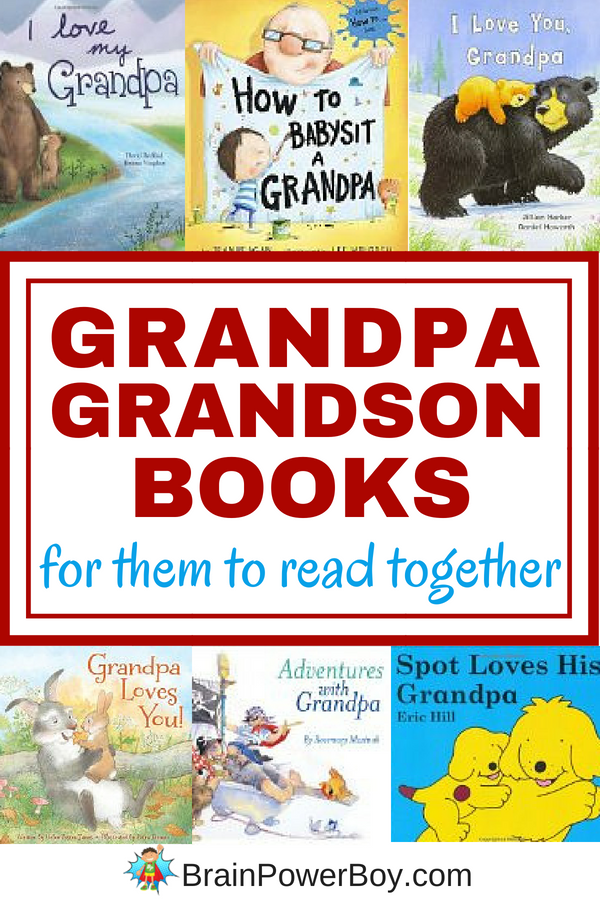 The Best Grandfather and Grandson Books Ever
We selected books and put them into two categories. Funny and sweet. There are some awesome titles to choose from.
Funny Grandpa and Grandson Books
These funny books for grandfathers and their grandsons are sure to be a hit.

How to Babysit a Grandpa
You will laughed out loud at this amusing book!
How to Babysit a Grandpa is a twist on grandpa coming and taking care of his grandson.
The young boy in this story takes care of grandpa with snacks such as ice cream with cookies on top, and other fun ideas for making sure grandpa will be ok until the parents come back.
The savings on the hard cover is the best.
With simple text and bold, bright illustrations, the Spot books are always a hit with the young boys.
Spot has a fun time playing with grandpa in Spot Loves His Grandpa.
Try this title for an easy to read book both grandfather and grandson are sure to enjoy.
A peak into the shed with grandpa can lead to adventures!
Grab a copy of Adventures with Grandpa for a boy who likes to use his imagination and enjoys spending time pretending with grandpa.
Actually everyone will enjoy this one!
Available in both kindle and hardcover.
---
Sweet Grandpa and Grandson Books
I am found of sentimental books that are sweet and cute. Yes, I'm a bit of a softy who may, just may, get teary-eyed when reading that type of book. Do you?
I Love You Grandpa is the story of a bear cub and grandfather bear.
The young cub is growing up and grandpa bear helps him to adjust to the new adventures he will be experiencing.
One reviewer said she had her kids write notes in the book and then gave it to her father as a gift. What a sweet idea.
These are cheap enough that you can grab two copies, one to keep at home and one for at Grandpa's house.
Here is another bear cub and grandfather bear story.
In, I Love My Grandpa, Cub is afraid of the water and grandfather helps him to become acclimated in a sweet and gentle way.
If you have a little one who is reluctant to try new things, this book might be just the the way to approach the topic and encourage him.
Either way, this is a sweet story that grandfathers and grandsons will enjoy.
Grandpa Loves You is a lovely book with very nice illustrations.
Bunny and grandpa are playing and spending the day together while grandpa provides some encouragement and kind words along the way.
There is a plate at the back of the book for grandpa to write a special letter to his grandchild making this a keepsake book great for gift giving.
I have such fond memories of spending time with my grandpa, and my son enjoys a special bond with my dad. Reading together makes those memories last even longer.
TIP: Be sure to take pictures of them reading together and catch the book cover in the picture too!
Aw – so many cute grandpa and grandson books! Makes me long for the days when my son was little. I hope you enjoy them all.
Be sure to see the best books for boys list and these other selections:
Books for Grandmas and Grandsons to Read Together
Books that Celebrate the Bond Between Mother and Son
10 Awesome Father-Son Activity Books