Alphabeasties and other Amazing Types by Sharon Werner and Sarah Forss.
I'll tell you straight out—I love the Alphabeasties book!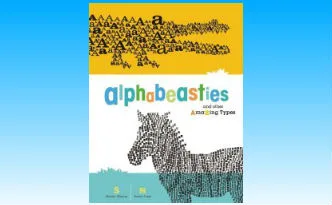 This book is fun to look at, makes one want to create their very own typographical animals, and is a delight to read. Both my son and I enjoyed reading this together. As an older reader I wasn't certain he would want to read alphabet books anymore but he was willing to give it a try when I told him that there are many alphabet books that are better for older readers than they are for younger kids. (See our Alphabet Book for Older Readers Roundup for additional titles.)
This post may contain affiliate links which means I may receive a small commission, at no cost to you, if you make a purchase through a link. All opinions are my own and I share things I think would be of interest to boys. Thanks for your support!
He agreed with me that this book is a winner. Alphabeasties gives readers a bit of background material on typefaces and they do such a good job of it. They show the different typefaces such as BLOCKY just how you would expect them to look. Not only that, but their illustrations are charming and wonderful. I have a couple of pictures here to show you what I mean. A is for Alligator and it is made completely out of A text. Awesome!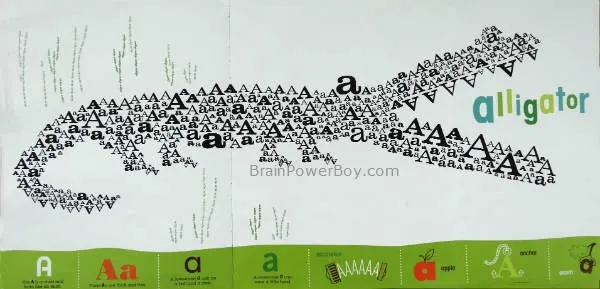 There are also some flaps to lift and other words for each letter. They don't just list other words, oh no, they make a little "a" into an apple and and anchor and an acorn. I never thought much about typeface but I can see a lot of possibilities for using it in many art projects.
I have never seen a book like this and I sincerely hope they continue writing publishing similar volumes. They came out with Bugs by the Numbers in 2011 and Alphasaurs and Other Prehistoric Types in 2012 along with flashcards, counting cards and the Alphabeasties Amazing Activity book. I checked on Blue Apple Books website but didn't see anything forthcoming. One can hope!
I thoroughly enjoyed this book and hope you and your boy will too. It is definitely worth spending some time with. I think I am going to have to buy it for myself!
Alphabeasties: And Other Amazing Types
Alphasaurs and Other Prehistoric Types
Bugs by the Numbers
Alphabeasties Amazing Activity Book
If you enjoyed this review you should check out our other book reviews for boys or our Alphabet Books for Older Readers Roundup. Plus, if you like animals and typography (and I just discovered I do!) you might also like this and this.