Today we are sharing a pattern to make a fun set of Pirate themed Perler Beads.
I was thinking about what we could make to share with you for the Talk Like a Pirate Day blog hop we are participating in and decided to try my hand at making some Pirate Perler Bead Patterns.
Quite a long time ago I used to create things out of polymer clay and sell them at craft shows and in art stores. It was really enjoyable. Now I am finding myself getting rather obsessed with these colorful little melty beads and am also enjoying the design process.
We are adding all of the Perler Bead Patterns we make right here on the site. So be sure to check back often.
I hope you like how they turned out, mateys! Be sure to try your own designs too! Part of the fun of Perler Beads is the creativity.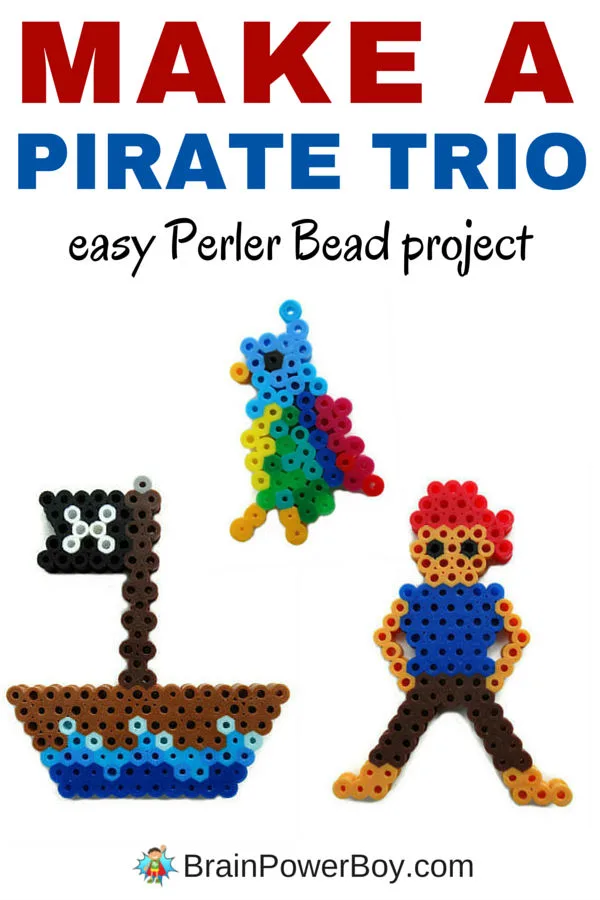 This post may contain affiliate links which means we may receive a small commission, at no cost to you, if you make a purchase through a link. All opinions are our own and we share things we think would be of interest to boys.
Perler Bead Pattern: Pirate Trio
So . . . I dug into my crazy supply of beads and decided to make something pirate-y. I though I should point out that they are not to scale 🙂 The ship and the pirate are around the same size. You can't get good detail on a piece if you go too small and I didn't want to make a humongous ship.
Perler Bead Supplies
See additional information on the best Perler Bead Supplies.
I am giving you basic instructions for making each piece. Please use the image for reference as well.
Pirate Perler Bead Pattern
The pirate is 21 beads high, 11 wide at the feet and 9 wide at the elbows.
There are a few holes between the body and the arms at the elbow area so it defines the arms better.
The head is 4 beads high and 5 beads wide at the widest part (eye row)
His shirt is 6 rows high and 6 rows wide, then 5 rows wide alternating
His pants are six beads high and 4 beads wide at the waist
He has black eyes, red bandana, dark blue shirt, brown pants, and sand (not peach) skin.
Pirate Ship Perler Bead Pattern
The ship is 16 wide and 21 high. The ship itself is 7 high.
The mast is 14 high and the flag is 5 wide at its widest and 4 wide where it goes in.
I sprinkled water colored blue beads at the bottom of the ship for 3 rows and then a few scattered up onto the ship.
The colors used are black, white, grey, brown, light brown, dark blue, pastel blue, turquoise, and toothpaste.
Parrot Perler Bead Pattern
The parrot was so much fun to do. Let your kids put the colors wherever they want them to go – I did!
The parrot is 14 tall from the tip of his toes to the top of his head feather.
At his widest part he is 7 beads wide.
I used black for the eye and cheddar for the beak and feet. The rest of the colors are pastel blue, dark blue, red, yellow, parrot green (appropriate eh?,) green, turquoise, and magenta.
Make a line of one darker color just to the left of where you want the wing to go and make his belly a bright color.
There you have it. An fun little Perler Bead project to do for Talk Like a Pirate Day, or any day!
For more pirate fun click over to our huge pirate unit study. Go see it – there is a ton of pirate goodness there including games, ship info, weapons, books and much, much more.
For more patterns like this pirate Perler bead pattern go to our Perler Bead Pattern Projects page which is linked at the top of this page. It has all of our pieces in one handy spot.
Or for another sea worthy pattern, try this one:
What we use and on the far right the next beads I am hoping to buy. They are striped!
Helen at Peakle Pie put together this awesome blog hop that I am so happy to be a part of. Be sure to check out the other pirate posts below from over 20 other bloggers.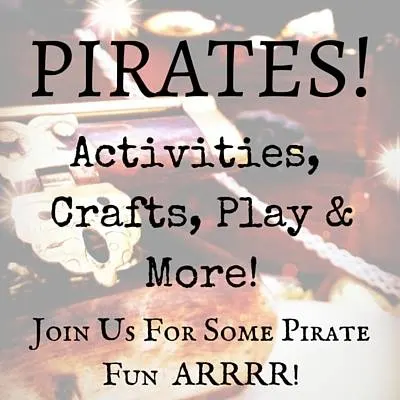 It's a Pirate's Life for Me – Study at Home Mama
Pirates Love Underpants Sensory Bin – Adventures of Adam
Free Pirate Play Dough Mats Numbers 1-10 – Life Over C's
Pirate Science: Fool's Gold, Parrots and Shipwrecks! – Share it! Science News
Pirate Colouring Pages – In The Playroom
Treasure Chest Craft – Messy Little Monster
How Did Pirates Navigate? How to Read a Map – Schooling a Monkey
How to Make Some Great Pirate Flags – Witty Hoots
Going on a Pirate Treasure Hunt – Play & Learn Everyday
Treasure Alphabet Match – The Kindergarten Connection
Make Your Own Pirate Map – My Little Poppies
Treasure Map Grid Activity – My Little Poppies
Make Your Own Map and Treasure Hunt – My Little Poppies
Create a FLOATING Pirate Ship! – Milk and Cuddles
Pirate Puppet Craft -Sugar Aunts
Hidden Treasure Cupcakes – Emmy's Mummy