My friend Clare from Just Bright Ideas has stopped by today to share these totally awesome Superhero Crafts That Boys Will Enjoy!
Is your boy a big fan of superheroes?
I believe that the best way for boys to learn is through play, and if your boy doesn't seem interested in craft activities sometimes you just need to find a way to inspire him to get involved.
Which is why I pulled together this collection of super cool, superhero crafts that your boy is sure to love!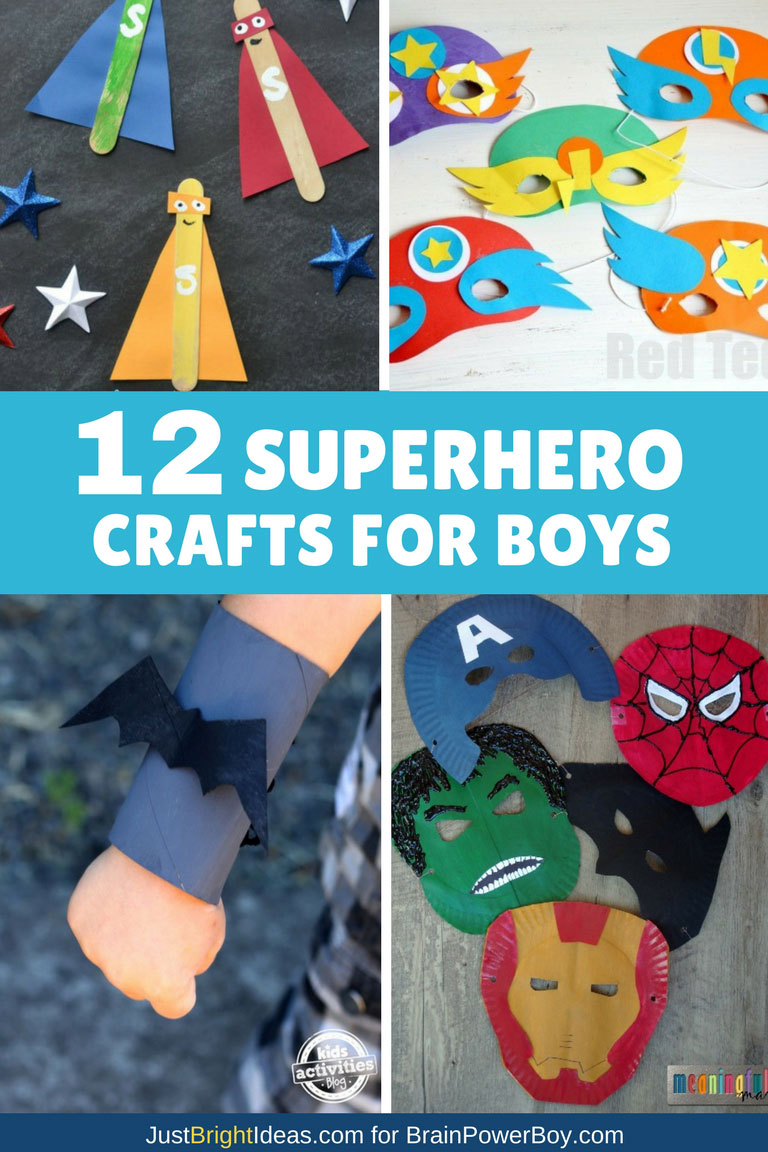 Superhero Crafts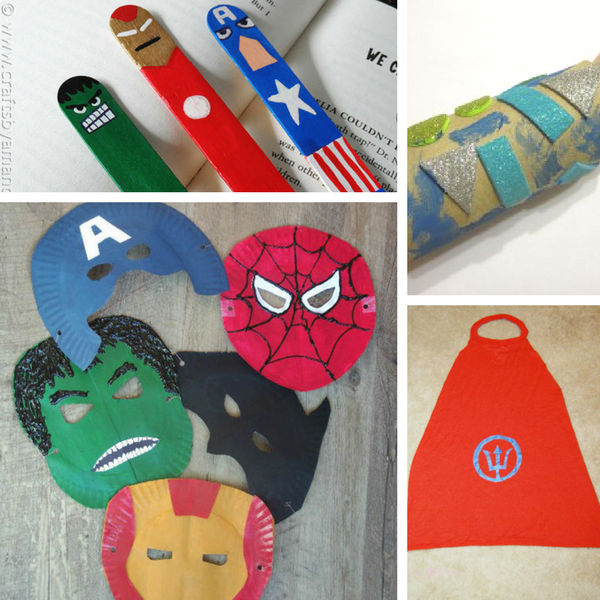 1. Avengers Bookmarks Craft for Kids "The Avengers have quite a few super heroes, these bookmarks include The Hulk, Captain America and Iron Man. Get creative and make more of The Avenger super heroes!" – Crafts by Amanda
2. Superhero Paper Plate Masks "My son absolutely loved making and wearing these superhero paper plate masks. These masks have been worn by all the kids since they were first made, and I made a free template printable for you so that you can easily duplicate the idea with your own kids. You will have templates for Hulk, Spiderman, Captain America, Iron Man and Batman." – Meaningful Mama
3. Superhero Cuff Craft "Dressing up is a must at our house. My son is never just chilling in his own clothes there is almost always a costume, some accessories or at the very least a hat to support his pretend play that starts when he wakes up and ends when we wrestle him into his PJs for bed. This cuff craft was done spur of the moment when my scarf wrapped around his shoulders was simply not enough costume to be a superhero. It was so easy and if you don't have foam on hand, felt, paper or even stickers would be great options. The foam has held up really well , we made this almost a month ago and it's still going strong." – No Time for Flashcards
4. T-Shirt Capes "With all the superhero movies around, my two youngest kids love to play supers. Capes are usually towels or old scarves we find at thrift stores. I decided to upcycle some old t-shirts into new superhero t-shirt capes. To make them special, I created superhero logos with stencils using Glad Press'n Seal. You can do this, too!" – The Tiptoe Fairy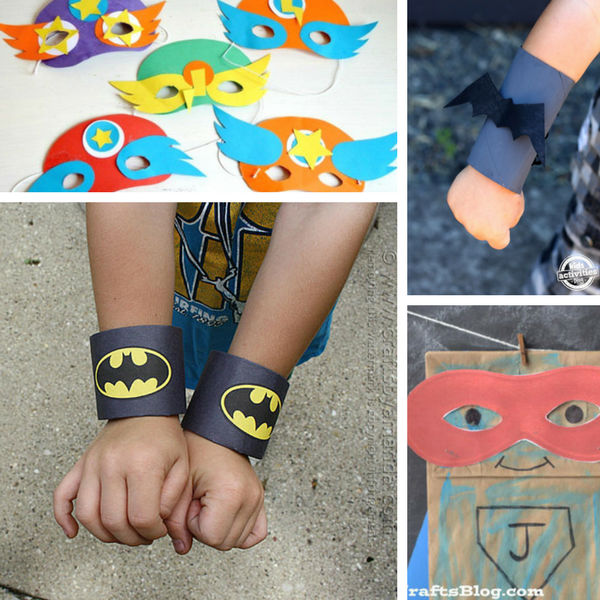 5. Superhero Masks  "Today, we are sharing our DIY Superhero Masks! I really wanted to do a birthday party craft activity of sorts with the kids at my son's Superhero birthday party. In my view the key to any party activity is simplicity and preparation. . . . Red Ted asked if we could make masks" – Red Ted Art

6. Superhero Cuffs  "I'm always looking for new and creative toilet paper roll crafts. I love making things with recyclables and everyone has toilet paper tubes! My four year old son is currently superhero crazy so I thought what better than making some superhero cuffs? We both had a blast with this simple project and the results yielded hours of imaginative play. We enjoyed some great creative time together and then Mommy got a nice break while her little superhero set out saving the world. You can't ask for much more than that! So don't toss those toilet paper rolls, they can be transformed into something truly super!" – Kid's Activities Blog
7. Cardboard Tube Wrist Cuffs "If your child loves Batman, then this Batman craft is the perfect project! They only take five minutes to make and use supplies you most likely have around the house. Spend a few minutes making these cute cuffs and your superhero fan will be courageously saving Gotham City in no time flat." – Crafts by Amanda
8. Paper Bag Superhero "With just a few simple steps you too can help create this awesome superhero guy in no time. Then use the leftover mask pieces to let the kids run around and play with. It's a crafty activity that can last ALL afternoon long!" – Glued to My Crafts Blog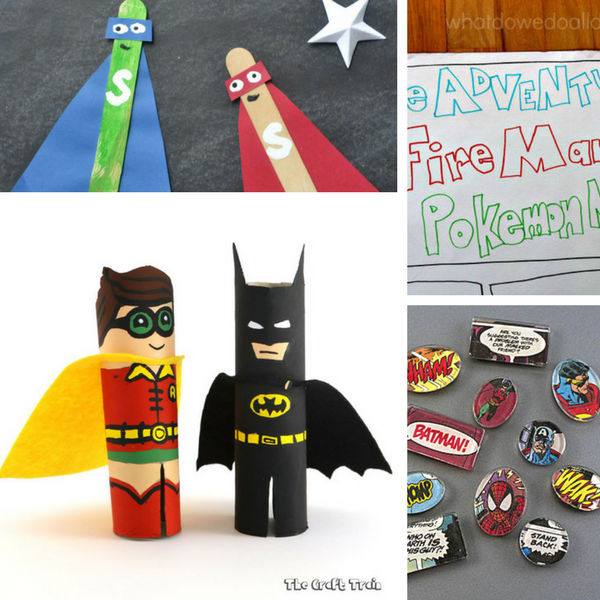 9. Popsicle Stick Superheroes "We really didn't do anything too special to the sticks themselves BUT the end result turned out pretty cool. PLUS this is a great craft for those crime fighting boys in your life, to get involved with since superheroes are the "thing" right now!" – Glued to My Crafts Blog
10. Batman and Robin! "These cute Batman and Robin characters are based on the Lego Batman Movie. They have been created from cardboard tubes – my all time favourite material!" – The Craft Train
11. Make Your Own (Giant) Comic Strip "Although we have worked on small books before, when he was obsessed with Star Wars, I knew I wanted to make the comic big because my son's fine motor delays means he had trouble drawing in small spaces. Plus, it's always good to combine gross motor movement with fine motor work." – What Do We Do All Day
12. Superhero Comic Book Magnets "The flea market has been literally packed with boxes of comic books lately. Sure there are some collectible books for sale, but there's an overabundance of older comic books that aren't worth a ton of money, and those are the ones I'm after. I had a bit of fun making these superhero inspired magnets: Superman, Spiderman, Batman, Captain America, and yes, even Robin." – Crafts by Amanda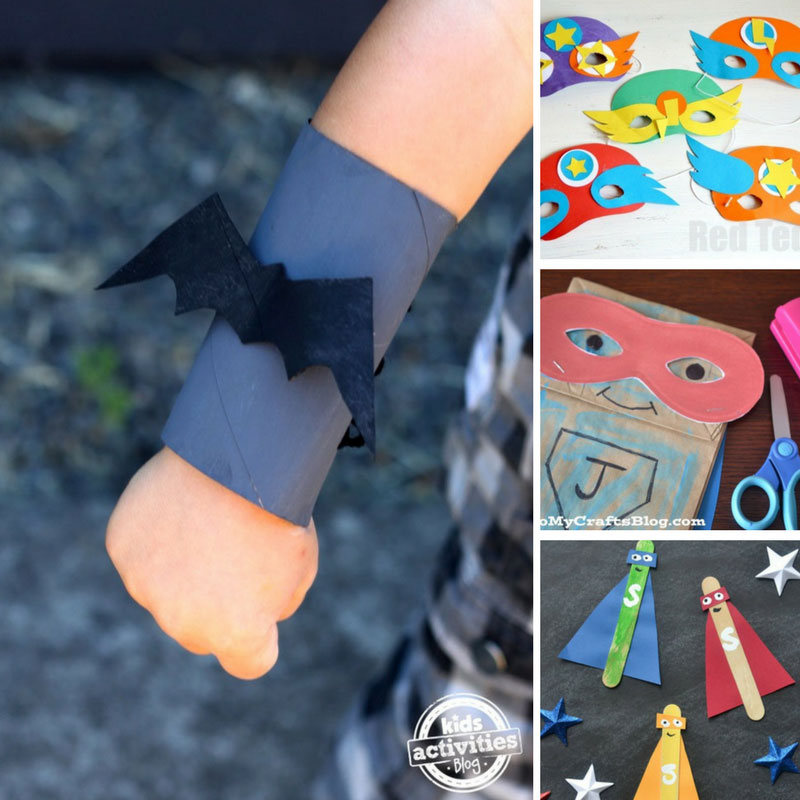 Clare sure knows her superhero crafts, doesn't she? If you enjoyed these projects Clare would love for you to stop by and visit her at Just Bright Idea where she rounds up the best crafts for kids she can find on the web. She has craft projects for kids of all ages from toddlers right through to teens (and even some for moms too!)
Be sure to check out our Superhero Craft Kits That Are a Big Hit With Boys! It has a lot of fun crafts for boys.