Superheroes are a perennial boy favorite and we didn't have a superhero list in our best books for boys series. Horrible ommision!
So let's take care of that little problem right now. Our first superhero list is for the younger set. We are featuring Superhero picture books that go beyond Batman and Superman.
We love to geek out on Batman in this house but I really like non-commercial books for young kids. These are very good and a lot of fun to read.
Our favorite is Traction Man is Here and if you have not read it yet, be sure to check out the details below.
Superhero books and boys are a natural together and we are glad to be able to bring you this super awesome, boom, pow, zapping list of books.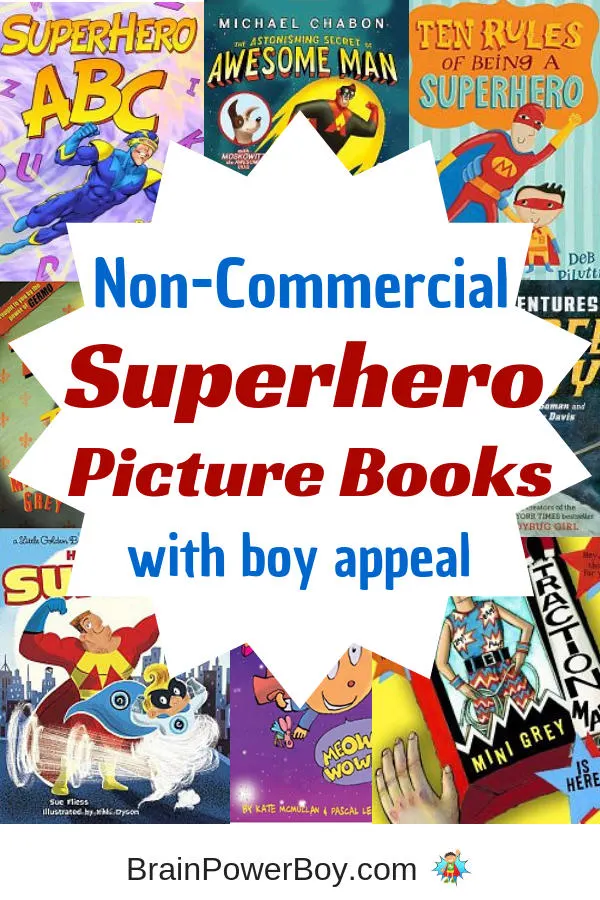 This post may contain affiliate links which means I may receive a small commission, at no cost to you, if you make a purchase through a link. All opinions are my own and I share things I think would be of interest to boys
Superhero Picture Books
Let's start off with a cuteness alert. Ten Rules of Being a Superhero
is "super" cute and colorful. It is also a good way to get in a number list from 1 – 10 for a bit of math. Younger boys will enjoy the rules of being a superhero. Superhero rule #2–Saving the Day is Messy 🙂 A fun read.
Pirates, dragons and saber-tooth lions are not going to stop Bumblebee Boy. But in The Amazing Adventures of Bumblebee Boy
he just might need a sibling's help when the aliens get to be a bit too much.
Here is an amusing entry: The Amazing Adventures of Supercat!: Making the World Safe for Blankies
. This book has a comic book style and is about a baby cat who says "My job is to help babies in trouble!" He takes little mini adventures on the cow who jumps over the moon and has a super mouse friend. Silly.
If you are looking for a colorful entertaining superhero book for all ages give SuperHero ABC
a try. The words are wonderful and the illustrations rock. For example under A – "Astro-man is always alert for an alien attack" plus the words avoids, asteroids, asthma, awesome and alien. I love alphabet books . . . if you do too try this post.
We had not read this one before but I really like it! The illustrations have a bit of an old-fashioned feel to them but are modern at the same time. The ending is a bit expected, but cute none the less. The Astonishing Secret of Awesome Man
is a winner.
This is a new addition to the superhero list but it actually looks like book from many years ago. Little Golden Books put out How to Be a Superhero
which is a short and amusing rhyming superhero book. Watch the release video for an idea of the style and more info.
I saved the best book for boys for last. Well, at least we think it is the best of the bunch. Traction Man Is Here!
is so good. We have read this book a ton. It starts with a gift and the adventures take off. Traction man sets out to save the day in his super cool outfits, until . . . a gift from Grandma sort of cramps his style. Keep in mind that Mini Grey's books are a tad odd–but in a good way! She has a quirky style of writing and illustrating that we really enjoy. Highly Recommended!
You can also check out Traction Man and the Beach Odyssey
and Traction Man Meets Turbo Dog
if your boy likes the first one. These are good too. I do love books that are in a series as they tend to keep boys interested and wanting more.
I hope you enjoyed this list of superhero picture books! If you are looking for more books for boys check out our big list.
Fun Food Spider-man Lunch for Your Superhero!
175+ Free Printable Superhero Coloring Pages
You can also use the search on our site and put in superhero for more choices.
If you know another mom who would like this list, please use the sharing buttons below. (thanks!)
Which book do you think your boys will like best?