We found more than 175 free printable Superhero coloring pages and superhero fans are going to love the selection.
If you have someone in your household who is all about superheroes then this post is for you.
Coloring is relaxing and can provide some down time for both moms and kids.
We gathered together the very best superhero coloring sheets for you to print completely free! Print them now so you will have them on hand for when you need them.
Every once and a while I will take a look to see if there are new pages available and will be updating this page when they release more free printables to add to our activities for boys articles.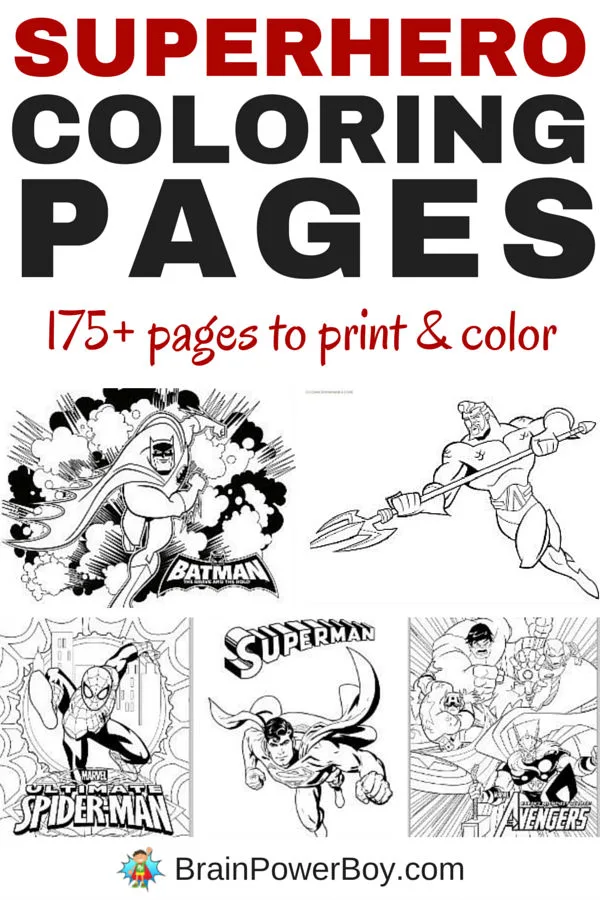 This post may contain affiliate links which means we may receive a small commission, at no cost to you, if you make a purchase through a link. All opinions are our own and we share things we think would be of interest to boys.
Free Printable Superhero Coloring Pages
It took me a long time to sort through all the sites and find these, but it is so nice to have them all in one place.
They are all from official Marvel and DC Comic sites, so you will not have any problems with downloading the pdfs.
I hope you will use this as a resource and refer back to it when you need some coloring pages. You can pin it or bookmark it for later.
Antman
Is your boy an Antman fan? Try these 4 Antman coloring pages.
Aquaman
10 Aquaman free superhero coloring pages printables. These are pretty neat. 6 here and 4 more coloring sheets here.
Avengers
The Avengers coloring sheets continue to be popular. Here are 3 different versions.
Another Avengers choice with 2 pages.
Plus 14 more including The Hulk, Captain America, Thor, Hawkeye, Iron Man and others.
Batman
Batman and The Blue Beetle. There are 4 printable Batman coloring pages available.
Batman The Brave and the Bold pages with mainly Batman on them but there are small pictures of Blue Beetle and Red Tornado whom you hardly ever see. 5 total.
If you are coloring Batman pictures, you can't forget the Batmobile! 4 views included.
Big Hero 6
5 Big Hero 6 coloring pages and 2 draw the scene coloring pages.
The Flash
5 slick The Flash pages to print including his logo.
Green Lantern
Green Lantern has 6 printables with his logo. The character pages are in two very different styles.
Hawkman
Hawkman with others, 4 coloring sheets in all featuring Hawkman and Hawkwoman, Batman, and The Flash.
The Justice League
5 The Justice League character coloring pages, Martian Manhunter (who I never heard of until now,) Hawkgirl, Wonder Woman, Superman, Green Lantern, Batman and The Flash.
7 Justice League Logos. Batman's prints out black – um, not sure what to say about that – weird eh? (hopefully they have fixed that since I wrote this!)
More Justice League! Here is a different style that might be nice for older boys. Each free superhero printable has 3 – 4 views of the superhero. Includes coloring pages for The Flash, Batman, Wonder Woman, Green Lantern, and Superman. These might work best with colored pencils or markers.
Find more Superhero coloring sheets below!

Spider-man
Ultimate Spider-man in 2 different versions:
Anna from In the Playroom has 3 coloring page Spider-man selections and activity pages.
Super Friends
5 DC Super Friends pages with a variety of superhero characters.
Superman
6 Superman free printables including his logo and "superman" wording.
6 different Superman coloring pages.
Plus 6 more pages. The logo and superman wording is duplicated in these but the coloring pictures are different.
Teen Titans and Teen Titans Go
5 Teen Titans coloring pages featuring Cyborg, Beast Boy, Robin, Raven and Starfire.
6 Teen Titans Go coloring pages including their logo.
Villains
If you are looking for the villains try these 5 DC Villains.
LEGO Superhero Coloring Pages
If you have a LEGO fan be sure to check out our article on 180+ LEGO Coloring Pages. There are some LEGO Superhero coloring pages included in the article.
I hope you like these Free Printable Superhero Coloring Pages as much as we do.
Print some out and keep them for a day when you need something relaxing to do. They are also great to print and take to a restaurant, to an appointment, or along on a trip.
Here are some additional options for you:
Here Come the Heroes! Jumbo
Marvel Mighty Avengers 2 books
LEGO Batman the Movie: Coloring
Danger From the Deep Deluxe
Superheroes Flip Color & Draw
Spider-Man Color & Activity Jumbo
Don't miss Star Wars Activity and Coloring Books and pop over and see my friend Clare's Kid's Coloring Pages as well.
Plus check out these cool Superhero Crafts!