Make a Fun Food Spider-man Lunch for your superhero fan. They are super easy to make!
This Spider-man lunch came about when I was asked to create some fun food lunch ideas and pins which were sponsored by Chobani Yogurt.All of our fun food articles will be put on our main
Fun Food for Boys
The lunches in this article were created by Brain Power Boy and sponsored by Chobani. This post may contain affiliate links which means we may receive a small commission, at no cost to you, if you make a purchase through a link. All opinions are our own and we share things we think would be of interest to boys.
&
Fun Food Spider-man Lunch Ideas
I really enjoyed this project as it gave me a chance to get creative and try some new things.
I guarantee this was the first time I have ever made a Spider-man hard boiled egg! I hope you and your kids will enjoy creating these.
---
Grab these tools to make a Spider-man lunch:
Gourmet Writer Food Decorator Pens, Assorted Colors, Set of 10
Fun Express Superhero Cupcake Liners With Picks – 100 Pieces
EasyLunchboxes 3-Compartment Bento Lunch Box Containers, Set of 4, Classic
&
---
Spider-man Tortilla Sandwich Lunch
The first fun food Spider-man lunch features a Spider-man tortilla sandwich. Ours is made with white cheese and lettuce. The sides are grapes, a tropical dried fruit mix, and Chobani Kids Strawberry Greek Yogurt. The Chobani line has changed and they now offer Chobani Gimmies for kids instead.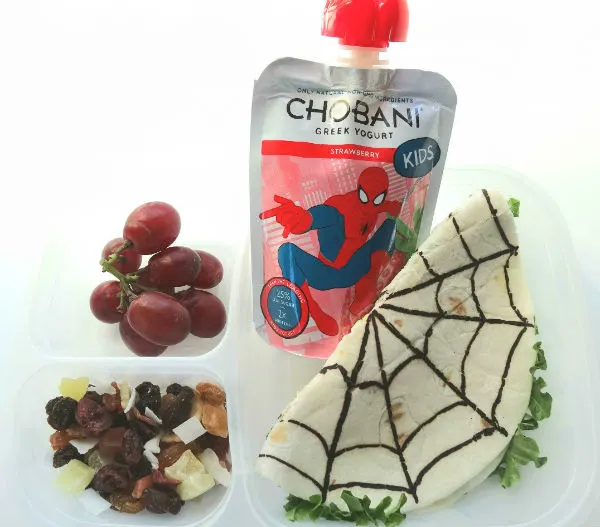 To make the spider web tortilla:
Fold tortilla in half
Find the center and using a black food marker draw a straight line from the center to just before the end of the tortilla.
Next draw four more straight lines to divide the tortilla into sixths. You will have 5 lines total.
Then make curved lines between your straight lines (see picture.)
Fill with whatever sandwich filling your kids like. It is so easy to make!
---
Spider-man Sub Sandwich Lunch
The next lunch has a Spider-man turkey and cheese sub sandwich with a Spider-man hard boiled egg. It also has whole-grain crackers and chicken broccoli pasta salad. I included Chobani Grape Greek Yogurt as well.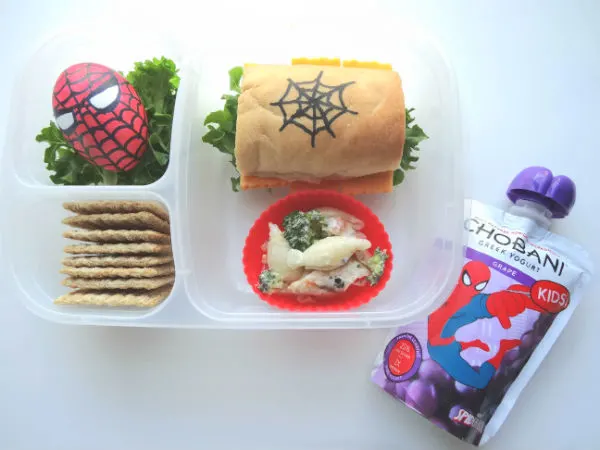 To make the Spider-man hard boiled egg:
Hard boil some eggs.
Use the red and black food markers
I was looking at a picture of Spider-man when I made it.
Draw the outline of the eyes in black.
Color the egg red.
Add in black web lines.
Start with the lines above the eyes and put in the vertical lines first.
Put two lines going down toward the bottom of the egg in the middle right between the eyes.
Add the rest of the lines. Remember, it doesn't have to be perfect! Just add in lines at fairly even spacing.
Then add your horizontal web lines which should be curved. Refer to our picture if you get stuck.
Feel free to ask any questions you may have in the comments below. I respond to all comments I get on the site.
If you are interested in making your own fun food lunches like Fun Food Spider-man Lunches for Your Superhero, here are a few other fun food ideas to try:
Fun Food Winnie-the-Pooh Lunches
Halloween Fun Food to Get Boys Cooking
Make a Fun Food Dinosaur from Pears