I just love cute fun food and Halloween is the perfect time for it!
Today we are featuring some Halloween Fun Food that your kids will love to make.
Grab their attention and have them take a look at the collection.
See which foods they may want to, and then get cooking!
From cute food to slightly gross, each of these fun food for boys selections is a real scream!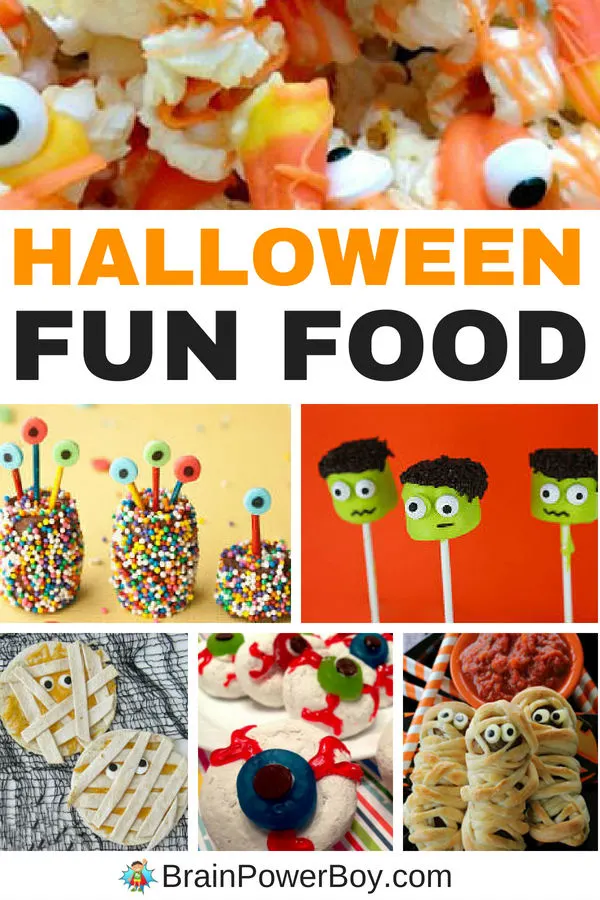 Halloween Fun Food
Cooking is important to me for many reasons, and they don't all have to do with feeding my family. Cooking is comfort and love and delicious enjoyment.
Cooking is something that I really want my son to know how to do and hopefully enjoy.
First up is Frankenstein's Monster. Please note that I have been informed by the guys in my life that Frankenstein is Dr. Frankenstein and the big greenish guy is Frankenstein's monster (not Frankenstein) and that almost everyone gets it wrong. These fun food marshmallow treats are a hoot and they are easy to make.
Oh my, these are such a great dinner idea. Meatball Mummies! Meatballs wrapped in pizza dough with a nice red (yes, like blood!) sauce on the side.
Um, Eyeball Donuts? Who would have thought! How funny. These are just gross enough that I'm sure they will be a hit to make and to eat.
How about some oh-so-easy Quesadilla Mummies? Slice up a few tortillas and you have a spooky winner here.
If you need a good beverage to go with your dinner or treats take a look at this one. Eyeball Punch – you have to see it, not only is it red, it has eyeballs floating about in it. Eww! I'm not sure I could drink it! Her graveyard cupcakes within the same link are super cute and would be a hit at any Halloween party.
These Mummy Pops are so cute. Try them with a younger child. They are made with snack cakes so they are super duper easy.
The little eyeballs looking up at you in this Halloween Monster Popcorn Candy Corn (yes it it sweet!) batch kind of crack me up.
Rolo Monsters are totally colorful and those eyes sticking up are a whole lot of fun. Love these!
For a whole bunch of Spider Fun Food Treats go over the my friend Clare's website The Super Mommy Club. She shares the best recipe roundups and this one is no exception. I want you to see #7. They are great and I really think boys will like making them.
For more articles like this Halloween Fun Food one stay tuned.
You can check out our Fun Food for Boys page to keep up-to-date as we will be linking all of our food posts there.