I know some boys who are big into all things space but are especially interested in astronauts and I can certainly see why. It is exciting to think about traveling to space and exploring the universe.
We wrote about non-fiction astronaut books earlier (see link below) and while we were searching for those books we ran across some fiction astronaut books that we have enjoyed and found some extras that we just had to share with you so here is your list.
Grab these best books for boys for your space fanatic today. Leave a few of them sitting out or plan a space reading session. Have fun!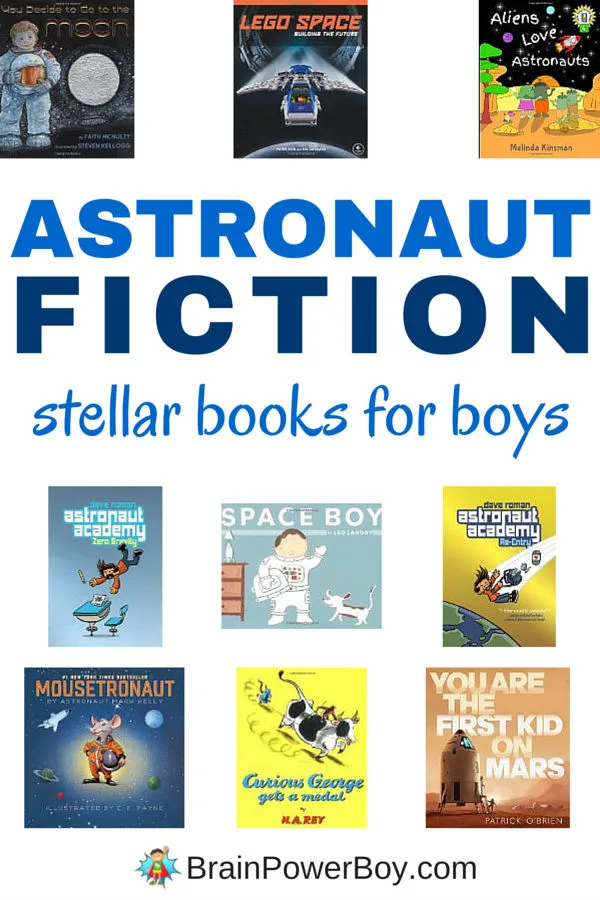 This post may contain affiliate links which means we may receive a small commission, at no cost to you, if you make a purchase through a link. All opinions are our own and we share things we think would be of interest to boys.
Fiction Astronaut Books
I have fond memories of reading Curious George books to my son. What great stories. Curious George Gets a Medal
is perfect for our list of astronaut fiction books. We love this for all of George's crazy antics and how he ends up going off to space.
Looking for a silly rhyming book with aliens and astronauts – this is it. Aliens Love Astronauts
is a funny book that the preschool crowd will enjoy.
If You Decide To Go To The Moon
is a winner. I remember reading this with my son and we both enjoyed it very much because it has details but is a picture book and is very approachable.
Mousetronaut
is the story of a tiny mouse who wants to go into outer space. Since mice really did go to space on the Endeavour this book lends itself to interesting discussions. The little mouse just might be what they need to save the day when disaster stikes.
When his world becomes too loud for him to take, Leo, aka Space Boy
packs a lunch and goes to space. This cute fantasy with charming illustrations will appeal to boys who like things quiet or love to image themselves taking off for a short trip to outer space.
What if You Are the First Kid on Mars
? What if you got a chance to actually live there? This fictional account of life on Mars for a 10-year-old boy gives one interesting things to think about. I would say boys around 7 – 10 would enjoy this title.
Astronaut Academy: Zero Gravity
is a graphic novel for ages 9/10 and up. Its comic book, graphic novel style will appeal to visual boys and the astronaut academy setting is fun. Think anti-gravity gymnastics and fire throwing. There is a sequel as well: Astronaut Academy: Re-entry
I am adding this on in because it has a neat space story with it and because it is LEGO! What a great combo, right? The bonus is that the stories revolve around the builds in this book. We love it. LEGO Space: Building the Future
If you liked Stellar Fiction Astronaut Books we think you need to check out Non-fiction Astronaut Books That Are Out of This World – worth the click 🙂