Within this book list you will find the very best books for 6 year old boys! Books that will engage him and make him want to read more. We have included both fiction and non-fiction titles he will love.
At this age many boys have begun their reading journey. (If yours has not, that is perfectly fine, especially if you are homeschooling. Many boys are naturally inclined to read at a later age.)
When they are beginning to read, you want to make certain you are providing great books that they will be highly interested in.
Boys are learning all about print, how it works, and what it takes to break the code of letters put together to form words. Then of words forming sentences, and sentences forming paragraphs.
I have gathered together some of our favorite books for six year old boys. These are the ones that keep their interest, get rave reviews and make them ask for more books (yay!)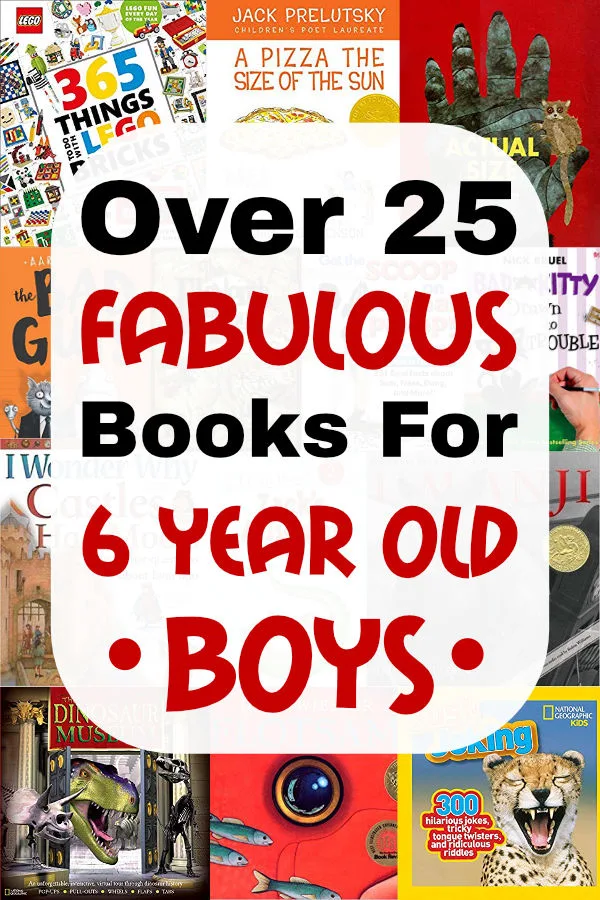 Best Books for 6 Year Old Boys
Reading Level
It can be tough to choose books for a specific age group. I hesitated many times before writing these lists because I like to focus more on interest than on reading level. However, you told me you really wanted lists by age so here you go . . . I aim to please!
That said, do keep in mind that boys read at different levels. Being six doesn't mean he will automatically be reading at a first grade level. Maybe he has not yet started to read or maybe he reads at a higher grade level.
The key to helping boys with reading is knowing where they are at in their reading journey and providing books that they love. Keep the focus on having them love books and reading, not on "progress."
Do be sure to check out our sight word games if they could use some practice. They are a fun way to get a grasp on Dolch sight words.
Below are my choices for the best books for boys age six.
Best Books for 6 Year Old Boys
I am breaking our by age book lists into two main sections. Fiction and Non-fiction. Within each section you will find the best books out there.
Many, many books lists for boys do not include non-fiction books and that is a huge mistake. Boys love non-fiction and it is an important way to get, and keep, them reading.
Fiction Books for 6 Year Old Boys
The books below are in no particular order. They are all great!
Bad Kitty
Bad Kitty Drawn to Trouble is an amusing title where Bad Kitty meets the author of her books. It is actually not only funny, but also informative. Nick Bruel tells you what an author is, how to draw Bad Kitty and proceeds to instruct you on good storytelling while dealing with Bad Kitty in the story.
This is a series that boys really like. There are currently over a dozen of these chapter books available, so feel free to grab any of the titles that you think your boy would like – see them all here. (Note: the recommended age for these books varies from 5 – 8.)
Jumanji
In a big leap from Bad Kitty, we will turn to a Caldecott Medal book. The award winning, Jumanji was make into a movie but the book is better. Should I recommend this for the illustrations or the fantastical story? Or both? Both it is!!
Boredom. Every child experiences it, as do the kids in the book.
What happens next is what makes this book a must read. The children go to the park and find a game. A very special game that is not at all what they expect.
While not inherently scary, this book can be a little bit nerve wracking for sensitive boys and you may wish to wait a year or so if that is the case. Others will eat this one up!
I've selected the 30th anniversary edition book that comes with a downloadable audiobook read by Robin Williams.

Nate the Great
We have read the over 26 books in the Nate the Great series multiple times. The favorites were read so many times I still have parts memorized.
Several boys in my boys book club also got hooked on these.
This makes it quite easy to add it to our list. The odds are pretty good that your boy will like them.
They are mysteries and Nate is the detective. His dog, Sludge, is usually involved in helping him solve the cases that his friends tell him about. The stories are funny and the illustrations help young readers figure out the simple sentences on the page.
In Nate the Great Goes Undercover, someone is getting into Oscar's garbage can at night and Nate needs to figure out who, even if it is a bit of a smelly mystery.
My favorite little part in the books are the notes he leaves for his mother.
Alexander and the Terrible, Horrible, No Good, Very Bad Day
Some days are terrible and sometimes there is very little we as parents, grandparents, or teachers can do to turn it around. However, there are awesome books that just might do the trick. This is one of those books.
We have all had bad days where it seem that every little tiny thing that could go wrong, does. That is Alexander and the Terrible, Horrible, No Good, Very Bad Day (longest link ever lol) in a nutshell.
When Alexander woke up he realized that he went to bed with gum in his mouth and that gum is now in his hair! Things don't really get much better as the day goes on.
This isn't an upbeat book that would be written today about how you need to think positively and all will be well, so if that is what you want, look elsewhere.
What this book offers is a way for boys to understand that everyone has bad days, and having a bad day is alright. It helps them to understand their emotions.
Almost every kid that I have read this book to has always ended up having an interesting conversation about bad days when the book was done.
Cloudy With a Chance of Meatballs
A bit crazy and weird is how I would describe this book and for some reason boys love it.
If food raining from the sky sounds strange to you then you will agree that crazy and weird are a good description. I think it is the strangeness and the idea that something so odd might happen, as well as the realization that some things are better off not happening (think of the mess!) that kids like so much.
In Cloudy With a Chance of Meatballs, a mishap at the breakfast table leads Grandpa to make up a bedtime story for his grandchildren, and the adventure begins.
The illustrations are ink and pencil with a lot of hash-lines that start out black and white. Over 3 million copies of this book have been sold so far!
Sleep Book
I had this book when I was a young girl (still have it!)
If you have not yet discovered this gem, because the other Dr. Seuss books are more popular, please do take a peek.
It is all about sleep and contagious yawns. It is Seuss, so that means it is fantastic and will twist your tongue as you try to read it producing giggles.
Dr. Seuss's Sleep Book is nice to read at night when you are trying to get your six year old to relax and actually go to bed.
Calvin and Hobbes
Everyone knows Calvin and Hobbes. It is a comic book, it is incredibly inventive and boys love it. Teens love it. Grown men love it.
Nab it and keep it, and the rest of the Calvin and Hobbes books, on your shelves if your boy loves comics.
The very best things about these books, in my opinion, is the language! My son was correctly using larger words than he would have been at his young age, had he not found, and read, Calvin and Hobbes. For that, I am forever grateful because I think language and communication are two very important things for our boys to have a good grasp of.
If your boy is sensitive, or struggles with sleep, you may wish to hold back on The Essential Calvin and Hobbes and Something Under the Bed is Drooling until he is a bit older. See them all here.
Paddle-to-the-Sea
This is a longer historical fiction book for boys who are interested in adventure.
Paddle-to-the-Sea is not your typical type of modern adventure, but a story about an Indian boy, the paddle person he carefully made, and the great lakes. It shows the flow of the rivers and so much more.
There are two things about this book that I cannot understand:
The first is the suggested age on Amazon for the book is ten, which I cannot understand in the least and think six is the perfect age to introduce it. I think we started reading it at either 5 or 6 years old.
The second is that some people think this book is racist. I am not going to go into a whole big conversation about that here but I completely disagree. It is a lovely story with amazing illustrations, and while the word "Injun" is used at least once, it was written long ago in 1940 when that was not unusual language to use. These things make for good conversations. You shouldn't shun a wonderful book because of it.
I recommend it for boys now, and will continue to do so. You decide if it is right for your boy.
The Eleventh Hour
Graham Base is another favorite author/illustrator of mine. Many are familiar with his classic alphabet book Animalia, but many have missed The 11th Hour which is why I had to include it here.
We really enjoyed it! His illustrations, as you likely already know, are unbelievably gorgeous.
In this book, The Eleventh Hour: A Curious Mystery, he writes about Horace the elephant's eleventh celebratory birthday party. Horace invites guests and will be providing a feast. And, you, the reader, will need to figure out exactly what happened to the feast.
If I may . . . this book is a feast for the eyes. It is delectable, and delicious. You simply must add it to your reading menu.

Flotsam
This is one of my favorite books . . . ever. I adore it. It is a well-deserved award winner.
When I found wordless picture books I dived in deep and found the best ones. I just loved them. My son has likely read more wordless picture books than the vast majority of boys.
Flotsam is highly recommended. It is a story with fantasy images that are so unreal and unusual that you wish you could visit the world you find within the pages.
Flotsam starts with a curious boy on a beach. I really don't want to tell you more because it is magical and the more you know, the less magic you will feel when you read it.
Read about it on Amazon if you must, or, if you and your boy enjoy fantastical worlds, just grab a copy to keep forever.
Zack's Alligator
Zack's Alligator is good for boys who can read on their own with a little bit of assistance on occasion. Or, if your boy is not reading, read it to him!
Zack gets a package in the mail from his uncle in Florida. It is a key-chain with an usual note that says "water Bridget."
From that point on, things get rather exciting! Bridget is indeed an alligator and after being watered, Zack must deal with owning a full-sized alligator and all that entails.
It is an enjoyable little read that makes boys laugh.
Iggy Peck, Architect
What a winner! If you have a boy who loves building, loves to build, or has some other passion that he talks about night and day, he will enjoy this book.
Iggy has rhyming text, is delightful and a tad obsessed.
In second grade, his teacher does not want to hear anything about architecture and buildings. This is devastating to young Iggy who lives and breathes building buildings.
We, however, learn a few tidbits as the story unfolds which is one of the charming things about this book. It teaches but doesn't "Teach." The bit about why she doesn't like buildings could be better but it really doesn't matter.
Follow your passion is the main message here and I love that.
The Bad Guys
If your boy likes the idea of things turned on their head, this is a good one to try.
In The Bad Guys there is an impressive lineup of bad characters. You have Mr. Shark, Mr. Wolf, Mr. Piranha and let us not forget, Mr. Snake.
Could these guys actually be good? The book starts with a little talk from Mr. Wolf. He knows you know him from The Three Little Pigs and Little Red Riding Hood but he wants to convince you that he is not a bad guy. The illustrations showing the animals are sure to make you boy laugh (and want to turn the pages!)
Can the bad guys spring 200 (!) dogs from the "Maximum Security City Dog Pound?" Your boy will want to read this to find out.
My Father's Dragon
I had to slip this one into our fiction section, because . . . memories. I fondly remember reading this one.
My Father's Dragon is a classic childhood book that is also a fantasy book many boys are attracted too. Even though it is an old-fashioned book compared to something like Bad Kitty, the story-line is engaging and entertaining.
A boy named Elmer Elevator, a talking cat, a captured dragon, tigers, a gorilla, crocodiles . . . need I say more?
It is so good. There are two more books after this one that you can get as well. p.s. The edition pictured is very inexpensive and I love the cover art.

Best Non-Fiction Books for 6 Year Old Boys
Pay close attention to non-fiction books at this age. Find ones that match there interests and/or grab some of these awesome titles.
The vast majority of boys I have know or worked with over the years really, really love non-fiction.
The Black Book of Colors
One thing I like about boys this age is that they are very compassionate and feel things deeply.
The Black Book of Colors is a book about color that is all black and white. Let that sentence sink in.
The pages have raised images that he can run his fingers over and descriptions of the colors, as well as braille. There is also a braille alphabet at the back of the book.
I've never found a better book to share that helps children understand what blindness may be like.
A Pizza the Size of the Sun
Poetry you say? Yes, indeed! Jack Prelutsky can hold a boy's attention and that is a fact.
A Pizza the Size of the Sun is one of the books that we turned to again and again. We read every poem. Many were memorized.
I would say that the thing about Jack is that he really gets kids. He understands what makes them laugh, he knows just the right turn of phrase to catch them, and how to keep them interested. He is a master.
If you are interested in getting your boy interested in poetry, this is the one to get.
Webster Children's Dictionary
There are over 3,000 photographs and illustrations in this dictionary and it covers over 35,000 words.
Getting your boy their own dictionary is a stellar idea. I do want to suggest that if they don't know how to spell a word, you don't say "go look it up." The dictionary is something to be worked with. They need to learn to use it. Use it with your child.
DK publishes this so you know it is good. Webster's Children's Dictionary is a very nice version of a children's dictionary. Pop over to Amazon to have a look inside.
Actual Size
If the cover didn't already make you want to buy it, let me tell you a bit more about it.
Actual Size is unique in that the beautifully done illustrations are made from cut paper collage. (There is a neat video here on how he makes his illustrations.)
It also shows animals in their actual size. From a very large bear head to a smallest fish in the world, this fascinating book is pretty incredible. I, personally, love the art aspect of the book. Boys who love animals will be paging through this one a lot.

I Wonder Why Castles Had Moats
Do you have a curious boy on your hands? Or one who likes all things knights and castles?
Try I Wonder Why Castles Had Moats and Other Questions About Long Ago.
I like that the book asks questions. For example: "why did knights wear armour?" Not only does it answer the question but it gets kids thinking about asking these types of questions for themselves. As they read a Q&A book they are more likely to start asking their own questions. When they do, you can research and learn even more about the topic.
The format is appealing. The question is on a two-page-spread which also includes the answer, illustrations, and additional snippets of info of interest.
Get the Scoop on Animal Poop
If your boy is not one who finds poop and farts funny, you may still like Get the Scoop on Animal Poop for the science aspect of it.
Extremely interesting. No kidding!
Find out about how animals use poop "to trick predators and prey, send messages, feed themselves and their babies, build homes, mark their territories, and more." I learned a thing or two myself while reading it.
I used this one in our boy's book club and it was a hit with all of the boys
365 Things To Do With LEGO Bricks
We got this for Christmas and it has been really nice to have in our LEGO collection of books (we have a lot!)
365 Things To Do With LEGO Bricks will obviously take you through a whole year and more of LEGO building, imaginative play, activities, challenges etc.
The best part is you learn a whole lot about building with LEGO while creating the different projects.
This is a wonderful book to get for a boy this age. As he gets older he will still be able to use it.
Just Joking
One way to get boys to communicate and use language more is through jokes, tongue twisters and riddles.
Just Joking covers it all. You may have to help them read it but this is a great addition to their bookshelf. If they like funny, they will use this book often.
Warning – you are going to have to listen to a lot of jokes if you get this! 😉 (And that is great because laughing together builds memories.)
Volcanos
This is more about the series of books than this particular book, however, Volcanos is very highly rated as the topic is fascinating.
National Geographic Kids has leveled readers that they put out and they are tops.
These books are informative, interesting and have great images.
A few other level two readers to consider from them are: Weird Sea Creatures, Planets, Sharks, and Wolves. See all of the level 2 books here.

The Boys Doodle Book
I got this for my son and it is a lot of fun. What I love about it is that is inspires them to use their imagination and at the same time provides some creative ideas to get them started.
The way it is set up is very nice as there are color pictures that are already there and you add to them or draw in their suggested topic. For example, there is a pirate's chest at the bottom of the sea and at the top it says "shiver me timbers, what's in the pirate chest." They can then draw anything!
Grab this as a gift because it is perfect for when they are bored, to add a bit of drawing into a day, for road trips and so much more.

The Dinosaur Museum
The Dinosaur Museum: An Unforgettable, Interactive Virtual Tour Through Dinosaur History is packed with interactive elements.
Your boy will experience a museum in a book!
You will go room-by-room on a tour of a dinosaur museum, learning about these prehistoric creatures through pop-ups, wheels you turn, lift-the-flap features and tabs to pull. There is even a cool sliding chart that lets you compare dinosaur size to modern animal size.
Conclusion
As your boy gets older, continue to read to him. It is important. Grabbing the best books for your boy is key. Use this list to find some high quality books that he will love.
I spend a lot of time writing these book lists because reading is so important and I want boys to really love it. I want you to be able to help your boy have a great relationship with reading and books.
If you need any help choosing titles for you six year old, please feel free to leave a comment below and I will help you find the perfect books for your boy.
You may also enjoy:
Best Books for 5 Year Old Boys
Best Book Series for Boys 5 – 7 Years Old