Looking for the best books for 5-year-old boys? We have them! You will find wonderful fiction and non-fiction books for your boy in this incredible list.
Boys that are age five still love picture books. Many of them are also learning to read. (If your boy is not learning to read yet, that is fine! Don't rush him.)
One thing you want to do is to make sure whether they are learning to read, or not, that you still spend a lot of time reading to them. It is so important.
There is nothing like having a story read to you, and boys really need to hear words spoken to make the connection between the written word and what they are hearing. They are also learning about communication and developing their conversation skills. Books are perfect for helping them do that.
All of these books can will be read multiple times. They are books they will want to read, or have you read to them, again and again. That is important, as repetition is another way boys learn about words and reading.
And, we made sure to select books that will also make them want to read even more books (see our best books for boys book lists for more ideas)!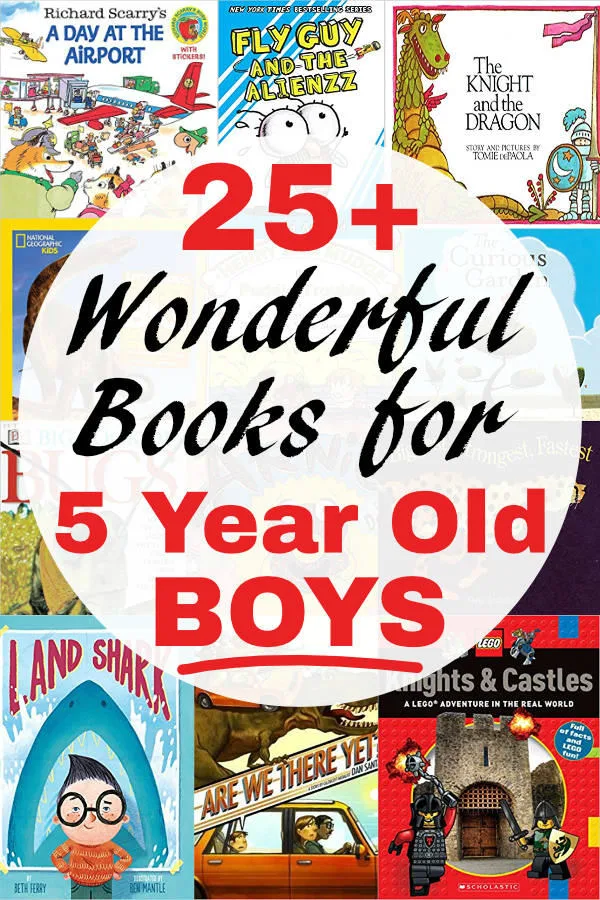 This post may contain affiliate links which means I may receive a small amount, at no cost to you, if you make a purchase through a link. All opinions are my own and I share things I think would be of interest to boys.
Best Books for 5 Year Old Boys
Reading Level
It is always hard selecting books for a specific age group, but that is what you told me you wanted, so that is what I am happy to provide.
Do keep in mind that boys read at different levels so just because a boy is five doesn't mean he is reading at kindergarten level. Maybe he isn't reading at all, or maybe he reads at a higher grade level.
The key to helping boys with reading is knowing where they are at in their reading journey and providing books that they love.
Below are my choices for the best books for five year old boys.
The Book List
I am breaking these book lists into two main sections. Fiction and Non-fiction. Within each section I am picking the best books out there right now. And, I will be updating this post from time-to-time as well.
There are a lot of books lists that leave out non-fiction books and that is a big mistake. Boys love non-fiction and it is a key way to get, and keep, them reading.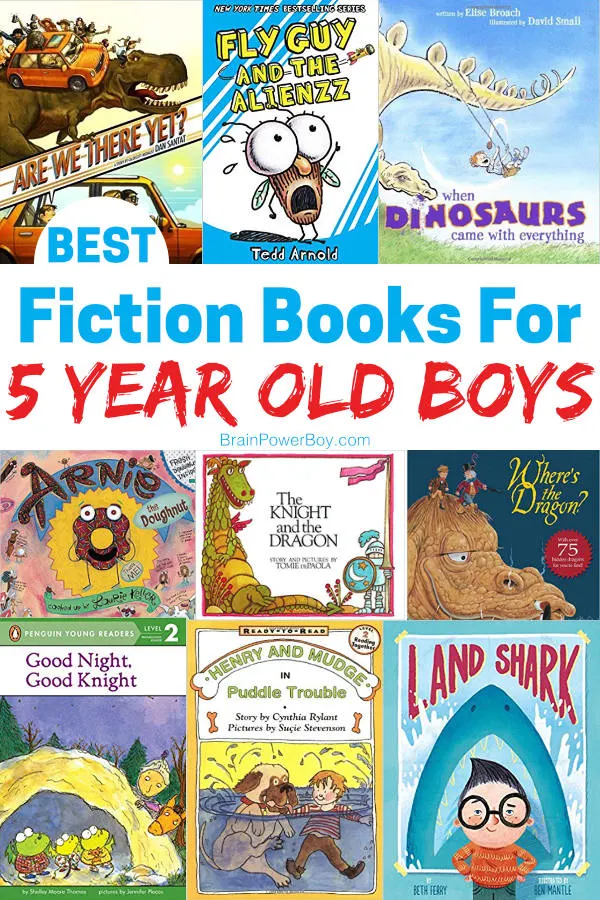 Fiction Books for Boys Age 5
The books below are in no particular order. They are all great for boys that are 5 years old.
Henry the Explorer
Ah, this little series takes me back, and I still love it now as much as I did when I was reading it to my son.
Henry the Explorer is a gem that many have not heard of. Get it. It is wonderful.
Henry and his dog Angus decide to go exploring. They pack appropriate items such as food, and of course a flag to lay claim to what they find. They may get a little bit lost, but they are not really lost because, remember, they are exploring.
There are three other books in the series so if your boy likes this one, he can read more about Henry and his dog.
Henry and Mudge
Another Henry, and another dog (a 180 pound dog at that)!
Henry and Mudge has been enjoyed by boys for a long time and will continue to be enjoyed because they are gentle stories that are amusing and delightful.
I picked one of our favorites, In Puddle Trouble, to highlight, but they are all good.
I believe there are currently more than 27 titles still in publication. We read every last one of them. There are great for getting kids hooked on series. (See them all.)
Arnie the Doughnut
So. Much. To. See.
This crazy, kinda strange, a bit weird book, is packed with things to see and little off-t0-the-side things to read.
Don't grab this one if you want a short, quick book to read.
Do grab it if you want to keep your boy interested until the very end. And, FYI you will have to read it multiple times.
In Arnie, the Doughnut, Arnie is (obviously) a doughnut. He is a talking doughnut. He is a doughnut who has been fried, frosted and sprinkled and he cannot wait to be taken home. However . . . Arnie doesn't realize what people do with doughnuts!
Fun!

Good Night, Good Knight
A kind Knight and some little dragons who need to go to bed meet in Good Night, Good Knight.
This book is quaint. No harshness, no unkind words spoken, no slaying of dragons, just a nice story that boys who like knights and dragons will enjoy reading.
The onomatopoeia and repetition are enjoyable. It is a level 2 reader but is nice for read-aloud as well. There are multiple books in the series, including picture books.
Land Shark
Bobby wants a pet. Not just any pet either, he wants a shark! And, he is going to convince his parents to get him one.
Land Shark is a cute and funny story about a boy who is determined to get what he wants. What he gets isn't exactly a shark. How does he react? What will he do?
This book will get your boy giggling. The illustrations are great with bright vivid colors.

Are We There Yet?
Have you every heard the question Are We There Yet? I'm sure you have!
If that question ever got on your nerves, grab this title! Not only does it address the question in all of the best ways, but it is so imaginative.
In the book a young boy is traveling to his Grandma's house. And he gets bored. Very bored.
What happens then involves the dinosaurs, and pirates and – Ben Franklin?? It is an adventurous story with awesome illustrations and you even have to turn the book upside-down a couple of times. << love that!
Perfect for road trips, but also for reading on the couch.

The Knight and the Dragon
A favorite! Why, because . . . knights, dragons and books!
Charming and wonderful, The Knight and the Dragon, tells the old tale of knights who were meant to fight dragons and dragons who where meant to fight knights.
Except this book has a twist.
A cute twist.
The knight is a bit afraid and the dragon isn't fierce. They both set about to research (in books!) what they are suppose to do with/to each other.
If you have not yet read it, please do. It is a keeper that you can pass down for generations to come.
Thomas the Tank Engine: The Complete Collection
If your boy is into Thomas the Tank Engine, grab this one now. It is out of print and copies are dwindling but is still available at an awesome price.
It has all of the original Thomas stories. Keep in mind that these are not tamed down.
Thomas fans will really enjoy it.
Thomas the Tank Engine the Complete Collection is a nice hardcover with original illustrations.
The characters look a bit different as they are not as cartoon-y.
The book provides many hours of reading about Thomas and all of this friends.
I'm not sure exactly how many times I have read this book, but I can tell you for sure that it is a lot.
Fly Guy
This series has been super popular among boys.
Fly Guy is a fly and a funny one at that. The one I am showing is #18 and one thing they all have in common, other than the star character Fly guy, is that they are all pretty silly.
Each one has a different theme. The one above, Fly Guy and the Alienzz is all about a secret fort built in the sky and being captured by aliens!
The comic drawing style is appealing to many boys.
I don't personally like the illustrations, but I do like the word play, and how easy it is get get boys reading when you hand them one of these books. See the whole series.

When Dinosaurs Came with Everything
When Dinosaurs Came With Everything is a winner.
You know how many boys think running errands is as dull as watching paint dry?
Well, what if dinosaurs came with everything? Would it be more interesting and even exciting then? You bet!
That is the premise of this book and if your boy is a dino fan, he is going to like this one for sure.
The Curious Garden
I still remember the first time I read The Curious Garden to my son.
The book is about a boy named Liam who finds a run down garden and decides to take it upon himself to save it.
The story starts out in browns and greys, looking a bit gloomy and then as he fixes the garden you see the changes occur. The illustrations are vivid and striking.
There is an obvious environmental theme to the book which imparts an obvious message, however, the book is very well done. This would make a great gift of a boy who has a naturalistic learning style or someone who loves the outdoors.
Pair it with a trip to a nursery to get a few plants and you have yourself a great reading and learning experience.
Be sure to look at the author's notes about how he came up with the idea to write this story.

The True Story of the Three Little Pigs
I so enjoy a good fractured fairy tale, and this is one of my top choices.
The wolf, Alexander T. Wolf, to be precise (but, you can call him Al,) tells the tale of the three little pigs from his point of view.
The True Story of the Three Little Pigs is perfectly executed.
Don't miss it!

How I Became a Pirate
Funny and very entertaining is how I would describe this one.
How I Became a Pirate is seriously a must have book for pirate fans and everyone else will enjoy it as well.
What young boy doesn't dream of sailing the high seas on a pirate ship!
Well, in this story, Jeremy is building sand castles on the beach when his whole life changes. This one makes story time fun.
Some call it a rollicking adventure, and I agree.
Where's The Dragon?
This book is amusing and a bit of a search and find with a twist.
Beautifully made, the book (we have the hardcover, not sure if the paperback is the same) has textured embossed areas that add to the story and help you find the dragon.
There are 75 hidden dragons to hunt for!
Where's the Dragon is about Mr. Jones who is obsessed with dragons but has never seen a real one. He and his grandson go on an adventure to find a dragon.
Mr. Jones reminds me a bit of Mr. Magoo!
This is a very fun and enjoyable book to read together.
Traction Man
I love this book. It has been read again and again and again, and we just pulled it out even though we are both "too old" for it.
Can you ever really be too old for picture books? No Way! So, we got it out once again to enjoy the quirky sense of humor, the fun illustrations.
Traction Man is Here features a different kind of superhero. He is wears a loud shirt, combat boots, and has a pet scrub brush.
It is multiple mini adventure stories in one bigger story that will have them from the first page and they will keep turning the pages to be sure to see how it all ends.
If they like actions figures, Toy Story, or other stories where toys come to life, this will be a hit.
p.s. It's really good!
p.s.s. It's is really, really good!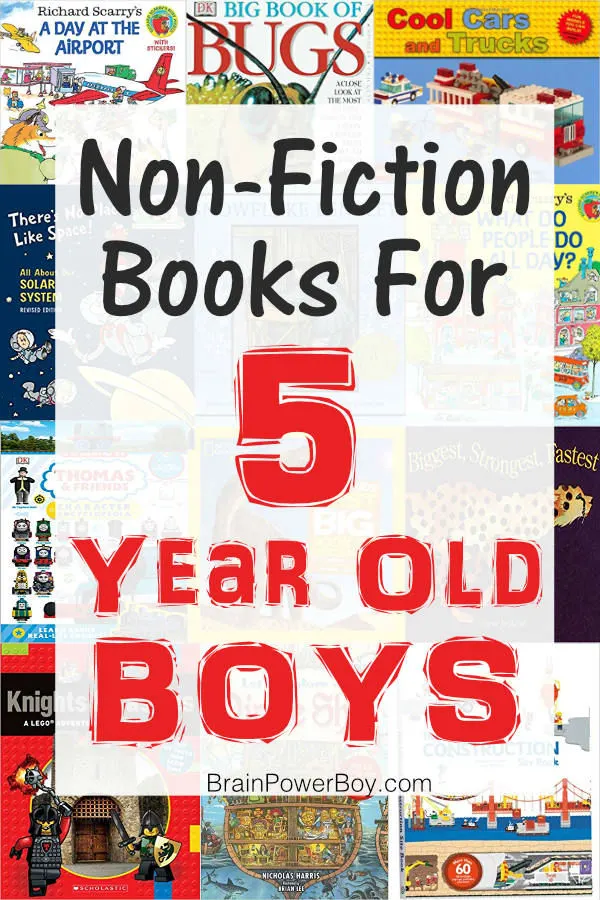 Non-Fiction Books for 5 Year Old Boys
Boys love non-fiction. That is a fact 😉
They love diving into information and learning about topics that are of interest to them.
Keep that in mind whenever you a selecting a book for your boy. Hit on their interests and you will have a much better chance of them not only reading the books, but learning about the topic, and more importantly, wanting more books to read.
These are the best non-fiction books for boys age 5.
I've chosen a variety of subjects that are popular with boys this age. If your boy likes something else, click through on a book style that you like, and search Amazon for the publisher and your topic.
Or leave a comment below and I will help you find the perfect book.
Thomas & Friends Character Encyclopedia
If they like Thomas, they will love this guide.
I've said it before, and I will say it again, DK makes great books. They make books that are very appealing to boys. Their books are both visual and engaging. This one is no exception.
In the Thomas & Friends Character Encyclopedia you will find all of the trains that your boy loves as well as pictures of real trains that the characters were patterned after!
How cool is that?!
Plus they have close-ups of real train parts. It is a great addition to your Thomas library.
There's No Place Like Space
726 good reviews can't be wrong, this one is a must.
There's No Place Like Space: All About our Solar System, is a rhyming book with the fun Cat in the Hat flare.
"I'm the Cat in the Hat, and we're off to have fun. We'll visit the planets, the stars, and the sun."
You also get Thing One and Thing Two, as well as Sally and Dick.
Features basic space facts in a fun format and is great for beginning readers.
Note: these books are not by Dr. Seuss. They are in the style of Dr. Seuss and put out by the Cat in a Hat's Learning Library.
A Day at the Airport
Fans of planes and airports will want to read this one.
When you grab a Richard Scarry book there is always so much to see! His illustrations are so fun.
In A Day at the Airport, there is a story but it is also packed with information. There are labels on many of the items (for example: arrivals, departure terminal, hangar etc.)
I chose it because the vocabulary is a bit of a stretch for many boys this age which is great. They may not know, or be able to read all the words yet, but you can read them to them. Hearing all of those words is what is important.
The paperback is super cheap.

Little Kids First Big Book of Dinosaurs
I really wish this wonderful series of books didn't start with "Little Kids" because I know a lot of boys in the 5, 6, 7 year old range that don't like being called a little kid.

If your boy can get past that one "little" thing, then this is an awesome book to get.
Little Kids First Big Book of Dinosaurs is packed with pictures (really nice illustrations that are so colorful and rich) and facts (tidbits as well as more in-depth factual info). Just packed.
The book is broken up into four main sections: small dinosaurs, big dinosaurs, giant dinosaurs and gigantic dinosaurs.
Bonus: includes parent tips for dinosaur games and activities in the back of the book.
National Geographic Kids is another good publisher to watch for.

Big Book of Bugs
Young boys are fascinated by the world around them. They love to explore. Encourage that by adding in this book.
The Big Book of Bugs (although technically, they should have said insects, – all bugs are insects, but not all insects are bugs, but anyway . . .) has amazing full-color images that are so interesting to look at.
In the traditional DK style, they also pepper the book with facts which are easy to digest.
The book covers a lot of different types of insects including bugs, beetles, wasps, bees, ants, caterpillars, butterflies, moths, damsel- and dragonflies, spiders, flies, mantids (think praying mantis,) stick and leaf insects, crickets, grasshoppers, and my least favorite because they kind of creep me out, centipedes and millipeds.
As you can see, it covers a lot!

Cool Cars and Trucks
Our next selection is a LEGO book. There are so many great LEGO books it is hard to choose just one for this age group so be sure to see our other LEGO book lists here.
Cool Cars and Trucks is great for this age because it has simple text and lots of pictures to follow for building. Sean Kenney did a great job on this series of books.
This one is packed with vehicles. What I like about it is that when he gives directions for, say, a truck, he also shows other completed items that your boys could, changing some bricks, build.
You do need to have wheels so if your boy doesn't have them in his sets, grab this LEGO box set that comes with wheels, axles and also eyes! Pairing the book with this set makes a super gift.
How Much is Million
While this book is also great for older kids, I think this is the perfect age to introduce it.
How Much is a Million shows in very kid friendly terms just how big one million is. For example, if you wanted to count from 1 to 1,000,000 it would take you about 23 days. Wow!
Because the examples are so great and they are illustrated in a memorable way as well, this is a good book to use to talk about math in the real world.
It is so well done, they keep reprinting it. The current edition is the 20th anniversary edition.
Curious kids will be thinking all about big numbers and how big they actually are.
Biggest, Strongest, Fastest
We are big fans of Steve Jenkins and have read many of his books over the years and owned a good few as well. His cut paper illustrations are incredible, and I don't say use the word incredible lightly.
Try Biggest, Strongest, Fastest.
They love to see who and what they are bigger than, wonder if they are strong and like to show off their muscles and want to know if they can be the fastest at everything from getting dress to racing. Because of that, this is quite perfect for them.
You know they are going to want to see an animal so small it can sleep in a spoon!

Let's Explore a Pirate Ship
If you can snag a copy of this book, do so. It is a very entertaining, interactive book about pirate ships.
The number of tiny details is amazing and the illustrations make the book even more enjoyable. There are flaps to lift and see through windows galore.
When you turn the page, you get even more details about what you just explored.
This one is worth seeking out. See if they have a copy of Let's Explore a Pirate Ship here , if they don't, check Ebay as well.
Snowflake Bentley
This is one of those books that you pick up thinking it is going to be about one thing, but it ends up being about something else altogether. Don't get me wrong, we learn about snowflakes but also so much more.
Snowflake Bentley, is a sad book in a way, but also a book that shows how important having a passion is and I think it is an important book to read to kids.
At it's simplest, it is about a man who liked to photograph snowflakes. At its core it is about his mother, his passion, and what being different means.
At this age they many not get the deeper meaning and that is fine. Get it now and read it each winter as they grow older.

What Do People Do All Day
When my son was this age we started to do quite a few field trips and learn more about what people were doing out in the world.
What Do People Do All Day is a good one for kids who are interested in people and what they do. Covers "construction workers, fire fighters, farmers, doctors, and more."
You can use it to discuss the different places you go and the people you see who do these jobs, as well as to talk about your relatives and the types of jobs they hold.

Knights and Castles
Knights and Castles is a LEGO adventure in the real world. Minfigures take you on a tour, so to speak, of the castle and tell about the knights, lords and ladies, jesters and more.
This is a full series of books on many different topics so if knights are not your boy's thing, they have a lot of other topics such as volcanoes, deep sea diving, sharks, dinosaurs and many more.
Go to our LEGO Adventures post to see them all.

The Ultimate Construction Site Book
Super detailed! Construction fans are going to love this book.
From the moment you open The Ultimate Construction Site Book to the very last page, there is so much to do and so much to see. By do, I mean that this is an interactive book with a whole lot going on.
There are "60 tabbed moving parts to pull, lift, and explore" and they will want to do them all and more than once! Worth getting!
Conclusion
I certainly hope if you have come all the way to the end, that you have found multiple books that your 5- year-old boy will enjoy
These books make me think back and remember reading for hours and hours and more hours until my voice was hoarse. When I really needed to get something to drink and maybe a bite to eat but had to read just one more book first. And then, we would start again. Good times and beautiful memories.
I write these book lists because reading is so important and I want boys to be able to enjoy it. I want you and your boys to have happy memories of reading together, exploring new books and enjoying a good story.
If you need any help at all, please feel free to leave a comment below and I will try to help you find the perfect books for your boy.
Tell me what he is interested in, his approximate reading level, or if you will be reading the books to him, and I will suggest some books he is sure to love.
For more books take a look at Fantastic Book Series for Boys 5 – 7