Find the best dinosaur fossil books available!
Dinosaurs!
There was a time when I read an awful lot of dinosaur books!
We write about the best books for boys here on Brain Power Boy because we love books, and because reading is so important.
Kids can learn a lot about dinosaurs from studying fossils.
These books will feed the need to know more about them.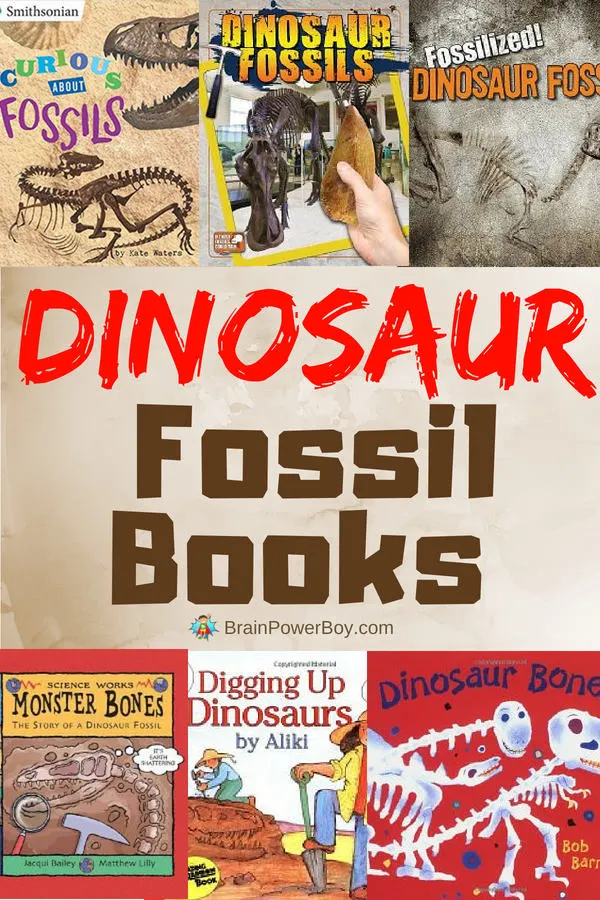 This post may contain affiliate links which means I may receive a small commission, at no cost to you, if you make a purchase through a link. All opinions are my own and I share things I think would be of interest to boys.
Dinosaur Fossil Books
We have gathered together these dinosaur fossil books for your dino lover.
Check the annotated list for help in selecting the books that will be just right.
Curious About Fossils highlights fossil information about dinosaurs. From how fossils form to modern use of computers and tech to dig up and analyze fossils, this book is packed. It also has a lot of picture. Oh, and they will like the part about fossilized poop!
Monster Bones
: The Story of a Dinosaur Fossil by Jacqui Bailey. This book has a sort of comic book style and shows the dinosaur actually talking. He dies in a fall and becomes a fossil. Some boys thought it was entertaining. There is a decent amount of information in it and a "try it and see" at the back of the book with info on how to make your own "fossil."
Digging Up Dinosaurs
by Aliki. I like Aliki's books as there are a lot of fun little details in the illustrations and they explain things very well. This book covers a lot including info on fossils, fossil hunters, people who work on excavation teams, and excavating. A great book for all boys though it is geared toward the younger set.
Dinosaur Fossils
by Natalie Hyde covers the many different types of fossils. It has general fossil information as well as dino mummies, the big dinosaurs, flying, polar and deadly dinosaurs and much more.There are directions for making your own dinosaur egg with a toy baby dinosaur (like this
) inside.
Dinosaur Bones
by Bob Barner is a popular title for young boys who love dinosaurs. It is a rhyming book with facts included. The illustrations are done in paper collage and are very appealing.
Fantastic Fossils
by Christine Petersen. This is a good book for boys who want more details. It talks about how they find the age of fossils, has a geologic time scale, tells how something becomes petrified and much more. Great pictures and a white glue fossil mold activity to boot.
Dinosaur Fossils
by Kathleen Connors is a short book with awesome pictures. There is dinosaur fossil information, of course, but this book shines because of their selection of images. Includes a dinosaur fossil facts, a glossary, and websites to visit.
Fossil
by Bill Thomson. This is a fiction book that I threw in because so many boys enjoy it. It is a wordless picture book in which a boy goes on an unexpected, and exciting!, adventure because of fossils.
Combine a book with our favorite plastic dinosaur fossil set
or this hands-on kit
for a nice dinosaur fossil gift idea.
It is rather interesting to see fossils, or replicas of fossils and realize just how big some of the dinosaurs were!
Enjoy these dinosaur fossil books with your boys and be sure to check out our other dinosaur posts as well.
Dig This Dinosaur Fossil Unit Study,
Tips for Planning a Dinosaur Fossil Dig Party,
Dinosaur Question and Answer Books